5 Lessons Entrepreneurs Can Learn From Chris Ducker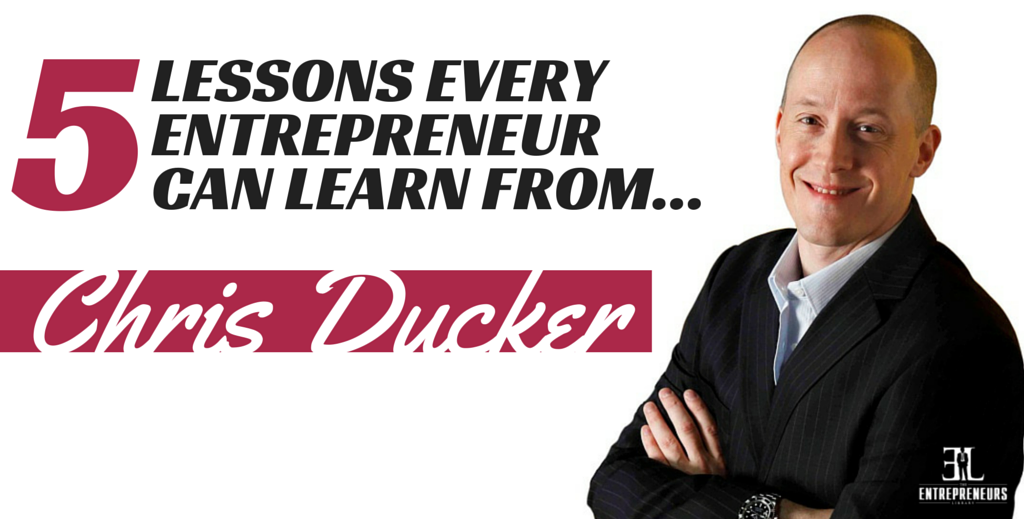 Who is Chris Ducker and what you can learn from him:
Entrepreneurs and those planning to be one in the near future can learn some essential job outsourcing tips from outsourcing guru Chris Ducker on how they can get on top and increase profits using simple low-cost outsourcing methods. Chris is also widely known for his book, Virtual Freedom that comes highly recommended by many successful entrepreneurs.
In his book and presentations, Chris Ducker teaches business people on how they can take their online marketing efforts to the next level with the help of virtual staff. These lessons will show you how to become more successful than you possibly thought using new mediums such as video. Online video is huge, and yet still many small businesses are not utilizing the power of online video to increase brand awareness and increase profits.
The following are 5 lessons entrepreneurs can learn from Chris Ducker:
1. Brainstorm Ideas for Online Video Content with Your Virtual Staff
One major reason why small businesses shy from creating web videos is that they don't exactly know the kind of topics to present to their audience. According to Chris Ducker, " It's all simple. Like blogging, you should offer solutions to problems that plague your target audience." You can do that with video presentations.
Ducker explains that brainstorming ideas with your virtual staff to know what exactly your target audience needs help with will be your first step. He goes on to emphasize the importance listing everything as this will be your source of video content. You can even list for the future too. Organize topic ideas into groups and see if you can create a video series that grow that list. Think of the common questions you get every day and consider making a video series to answer them.
2. Have Your Virtual Staff Perform Keyword Research
In today's evolving world, the best way of going about this is doing some keyword research. Ducker writes, " Think about it rationally, you certainly wouldn't go and launch a business if there wasn't money to be made by selling your services and products, likewise there's no need to keep creating content unless there is a real need for it."
You can use the latest Google Adwords Keyword Planner Tool, especially if you are just starting out. This will help you know if people are visiting search engines to look for the information that you're considering to record. Create a Google Adwords account to access this free tool.
If you're looking to take things higher, there are also other keyword tools like Long Tail Pro and Market Samurai which do much more than give search engine volume results and cost per click. With these tools at your disposal, you can view exact statistics, check search traffic and analyze competition.
3. The Need for Graphic and Web Designers
Fiddling around with Photoshop is a critical waste of time for any entrepreneur who hasn't yet figured out what they're doing. Ducker writes, "We enjoy the idea of allowing our Superhero Syndrome cloud us, and end up believing that we can do everything ourselves, even graphic and web design." He explains that we pay the right skills to do the right job, because they will do it right the first time. Doing this won't only make it look better, but it will also give you time spend on other marketing areas or putting in-place your next info-product!
Among other things, graphic and web designers will do the following:
• Design logos, icons, eBook covers, banners and headers
• Design infographic images
• Design websites and create mock-ups
• Design landing, sales and opt-in pages
• Do basic video editing, splice intros and outros with raw footage
4. Why You'll Need Virtual Video and Audio Editors
The use and need for virtual staff in video and audio editing is still fairly new—it only started emerging over the last couple of years. But as Chris Ducker writes "I can personally tell you that this has generated a ton of extra time for me. Without the need to edit my videos, even the most basic ones has given me more time to spend developing content instead of scratching my head over the details. I did the same for my podcasting and the end results are always sexier in appearance."
Virtual video and audio editors will do the following:
• Basic editing of video and audio files
• Remove background noise from video and audio
• Add intros and outros to videos
• Do basic Photoshop and edit images
• Setup podcasting
• Insert podcasts on blog posts
5. The Role of SEO and a Web Marketer
SEO (Search Engine Optimization) has drastically changed over the last couple of years. What worked before, doesn't anymore. And likewise, what works today may not work tomorrow. If you however create captivating and solid content, you'll be contender in the races. But what really happens after you've successfully promoted your online video, podcast episode or blog post through social media? The tide recedes right?
Ducker explains that having a firm SEO and Web Marketing virtual assistant will put you in a strong position for long-term and consistent traffic.
More Information about Chris Ducker
For a summary of Virtual Freedom according to Chris Ducker CLICK HERE
Buy Virtual Freedom by Chris Ducker on Amazon
Visit ChrisDucker.com to learn more about Chris, his book, and his exclusive content
Follow Chris Ducker on Twitter and Facebook
Are you implementing any lessons learned by Chris Ducker when it comes to outsourcing? Share with everyone in the comments below: