5 Ways Entrepreneurs Can Overcome Business Failure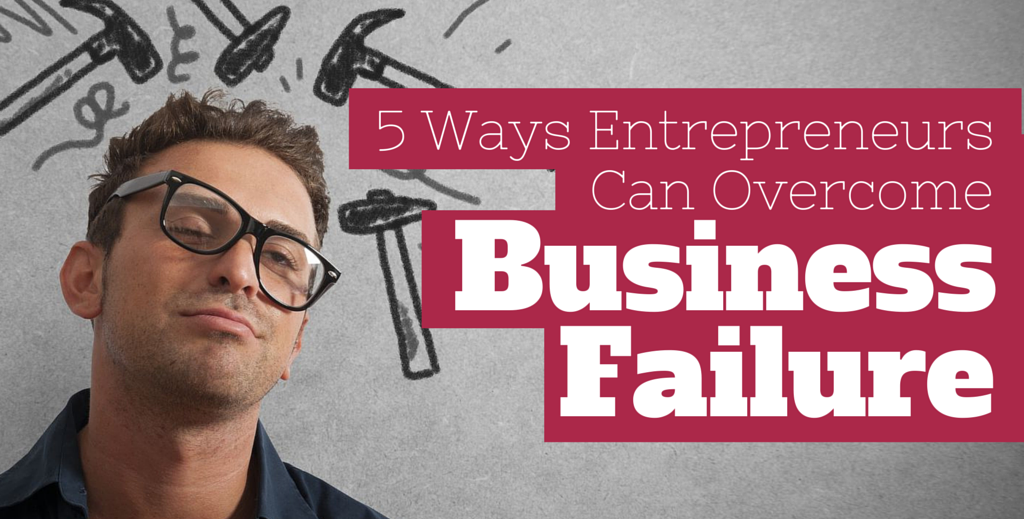 5 Ways Entrepreneurs Can Overcome Business Failure
Now that you have started a new business, brace yourself for failure. Sounds a little pessimistic – doesn't it? Well, every entrepreneur needs to be prepared for the worst. Even super successful individuals such as Walt Disney, Steve Jobs, Colonel Sanders, or Henry Ford didn't succeed at their first attempt.
In fact, it took most successful entrepreneurs and leaders multiple attempts to reach their goals. What was the likely key to their ultra success? It's their approach that differentiated them. As Edison summed it up – "I haven't failed; I've found 10,000 ways that don't work".
But the question is – why do startups fail often? The reason is simple – you just don't have the necessary experience to run a business. This leads you to make many mistakes, and soon they start to make a significant impact on your day. No planning, forgetting taxes, emotional pricing, wasting money on unnecessary details, and so on lead to trouble.
And if you don't identify your mistakes and rectify them on time, you end up as a failure. But if you think it is the end of the road, you are seriously on your path to a letdown in your life. It is at this time that you need to think and act and turn your failure into success.
How do you do it? Here's how I've learned that top entrepreneurs overcome business failure:
Switch to a positive mode
No, it doesn't mean you try to fake a smile and look happy even when you feel down in the dumps. It implies that you treat your failure as a life lesson. Don't fight it; embrace it. Only then you will be able to understand what an experience it was. Create a spreadsheet and write down what you did right and what you didn't.
Appraise your assets
Be it an office space that you have leased or great relationships that you have created – don't ignore their potential. Consider what worked splendidly for your startup – was it your employees, or, your certain client relations, or, your intellectual property? Draw up a chart to understand and evaluate your best assets.
Sell off whatever you can
Whether you want to give away your business or sell it, you need to get in touch with the right people. If you think that it may still work, keep a percentage in it. If not, just give it away to a new entrepreneur. If you decide to sell, don't be shy; contact everyone you know to see who you can sell it off to.
Read up
Akio Morita began Sony selling a rice cooker. But it burned the rice. Yet, Sony is one of the best success stories of today. Fred Smith almost failed his business management course with his business idea. It later developed into FedEx. And good old Edison actually failed more than 9000 times before he made the light bulb.
Most importantly, start again
Now that you have failed, you have two choices – you can leave it and go back to where you were before you tried entrepreneurship. Or, you can get up, brush off the dust from your fall and tread along towards your next venture. And when you choose the second option, you will have the lesson you learned to guide you.
Success in business, quite similar to success in life, is not dependent on whether you make it at the first jump. It relies on whether you have the courage to get up and get going and make your failure just a stepping stone on your journey to success.
For more actionable advice and tips to overcome business failure here are some resources I recommend you check out:
The Art of War for Small Business by Becky Sheetz-Runkle | Listen to my interview with Becky here
The Road To Reinvention by Josh Linkner | Listen to my interview with Josh here
Getting Things Done by David Allen | Listen to my interview with David here
Invent Reinvent Thrive by Lloyd Shefsky | Listen to my interview with Lloyd here
The Pumpkin Plan by Mike Michalowicz | Listen to my interview with Mike here
What recent act of business failure have you experienced recently? Share your story with everyone in the comments below: