A Preview of The Front-Line Leader with Chris Van Gorder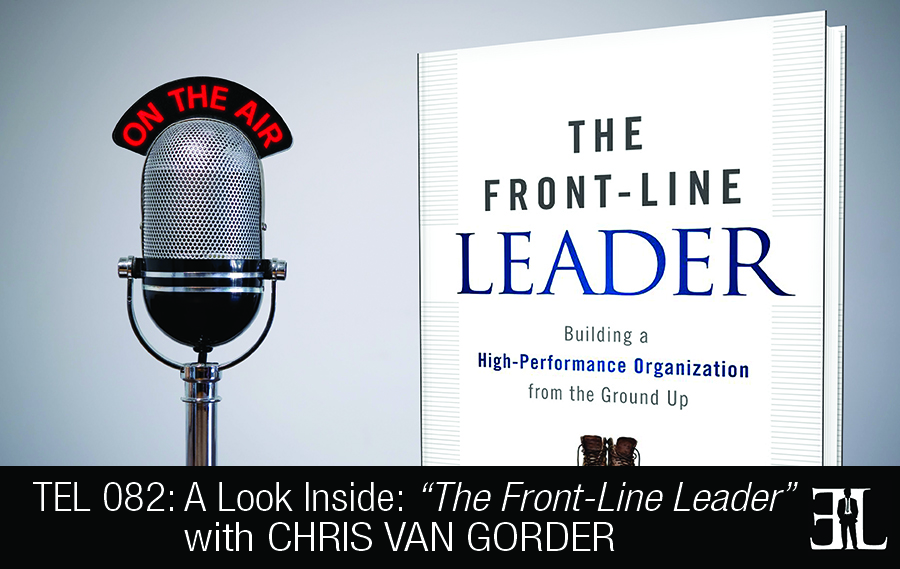 A summary of things you should know about The Front-Line Leader according to Chris Van Gorder
Introduction
In this episode Chris Van Gorder gives a deep dive of his book, The Front-Line Leader where he shares his story, from cop to CEO, and the leadership philosophy that drives all of his decisions.
In his book Chris Van Gorder outlines tactics you can use to take responsibility, inspire others, and achieve breakout results for your organization. The goal of the book is to help you chart a path to better leadership and a more engaged, higher-performing organization.
This book is perfect for entrepreneurs who are looking for actionable tips on increasing employee engagement and performance while creating a culture of high accountability.
The Book's Unique Quality (3:41)
Usually the books out there are written by academics and not necessarily by the people that live through a down turn, up swing and complete turnaround of an organization. I wrote this book so that it would be quick and easy to read and it's in some ways based on many case studies.
The Best Way To Engage (5:28)
This is a book that you can read from beginning to end but it's also one that you skip from different chapters if you want.
The Reader's Takeaway (18:59)
You have to balance your caring for your people with strict accountability. If you don't hold people accountable you're not going to be successful as an organization and if you're not successful as an organization you won't be able to care for your people.
A Deep Dive Into The Book (6:20)
The first chapter of The Front-Line Leader is titled Know Your People. This chapter is really about the heart of front-line leadership. I tell a story about when I was a young Vice President and running support service areas and to be honest with you I didn't know how they did their work so I went down and actually started running the floor buffers with them. I wanted them to know that what they were doing was important and that I cared about their work. I had no idea at the time that this kind of engagement was something they had never seen before. This chapter is all about the importance of knowing your employees if you are going to be a good leader.
Chapter two is called Get Outside of Yourself and this is where I tell my story about being injured in the line of duty and the fact that I had to start all over again. We all don't get to choose our ultimate direction in life and I found all along, even in my senior leadership roles, that it's good to think of myself as a trainee and recruit again.
The next chapter is called the Credibility chapter and that talks about gaining or regaining corporate credibility.
Chapter for is about telling stories. I tell a story about a group of information services employees I was with one day that were feeling very frustrated because they weren't getting blamed for an install that they had no real responsibility for the things that were going wrong. I told them about a young lady who came in to deliver her baby and ended up having seizures when 27 doctors, nurses and technicians that rushed in to ultimately save her life. All the equipment that they used to help save this lady and her baby's life was the systems that these information services employees maintained. I reminded them that even though they weren't in the room if the systems that they maintained had failed this young lady and her baby would have died.
The next chapter is called Create a Culture of Advocacy and this is really about taking care of your people and how you do that is by asking them questions. We use the Great Place To Work survey and I get over 27 hundred pages of single line comments every year and I read every single one of them. And what we do from there is develop programs from scripts to meet the needs of our people. This chapter speaks about all the different kinds of systems of ways we can get information and the programs we can build to help be the advocates for our people.
The chapter after that is called Take Care of Me. One of the fundamental principles I've always believed in is that it's all about me. Everyone kind of laughs when I say that but the reality is that everyone's number one responsibility is to care for themselves and their family. Usually work is second and fourth somewhere down the line. If people are insecure, employees are insecure and worrying about the "me" they will not be focused on taking care of the welfare of the company. The whole idea of this chapter is that we need to take the "me" out of the equation. If we can developed the systems and the since of security that our employees need then they will take care of the company.
The next chapter is building loyalty and engagement from the middle and that speaks to building corporate culture from the middle. CEO can't write a memo and change culture because front-line employees would have a very difficult time doing that. My philosophy has always been that if I can build it from the middle we can actually build a robust culture. In this chapter I speak about programs we have developed to continually educate and build trust with our middle management group. And that in turn has changed the culture of our organization to make it as successful as we are today.
The ninth chapter is Bring People Together and that speaks to the systems that we build, our physician leadership cabinet and our horizontal management. I speak to the different systems that we put in place to take more than three hundred and twenty million dollars of operating cost out of the system over the last four years without a single layoff.
And the last chapter is Ask What If and it speaks to contingency planning. Unfortunately many managers and leaders don't build contingency plans and as a result when something unexpectedly happens they have to react and it usually cost people their jobs.
Notable Quotes From The Book (19:42)
"To succeed as a leader borrow this simple lesson from me a former cop…Protect and serve your people." – Chris Van Gorder
The Credibility/Inspiration Of The Author (0:45)
I am the CEO for Scripps Health 2.6 billion dollar integrated healthcare delivery system in San Diego California. I started here 15 years ago of the Chief Operating Officer and found myself bolted in to the position of Chief Executive six months after I arrived when the company was kind of going under in many ways. I've been in healthcare for more than 30 year all in California. I started my career as a police officer in LA County when I was injured in the line of duty and was in and out of hospitals for the next year. The city retired me and the hospital that took care of me ultimately hired me as a department director. I eventually went back to graduate school and ended up in healthcare administration. I also volunteer back in law enforcement today and am the Reserved Assistant Sheriff with the San Diego County Sheriffs Department responsible for the law enforcement and search and rescue reserves.
Our organization has been rated as a top 100 employer by Fortune Magazine for the last seven years. In March of 2013 the Fortune Magazine ran a story on me that was spotted by a literary agent who contacted me and encouraged me to write this book. I thought about it and felt like I didn't have the time to do so but he convinced me otherwise and with the support of the organization I decided to write a book.
Other Books Recommended By The Author
The Trust Worthy Leader by Amy Lyman
More Information About This Book and The Author
Buy The Front-Line Leader by Chris Van Gorder on Amazon today
Visit Scripps.org to learn more about Chris and his organization
Visit Wiley.com to find more information about the book
More Information About This Episode
Download the full transcript here (coming soon)
Listen on iTunes, Stitcher , and SoundCloud
Related books: Conversational Intelligence by Judith E. Glaser | The Signal and the Noise by Nate Silver | Patients Come Second by Paul Spiegelman
What did you like and not like about this episode? Fill out this one minute survey here.