A Preview of The Happiness of Pursuit with Chris Guillebeau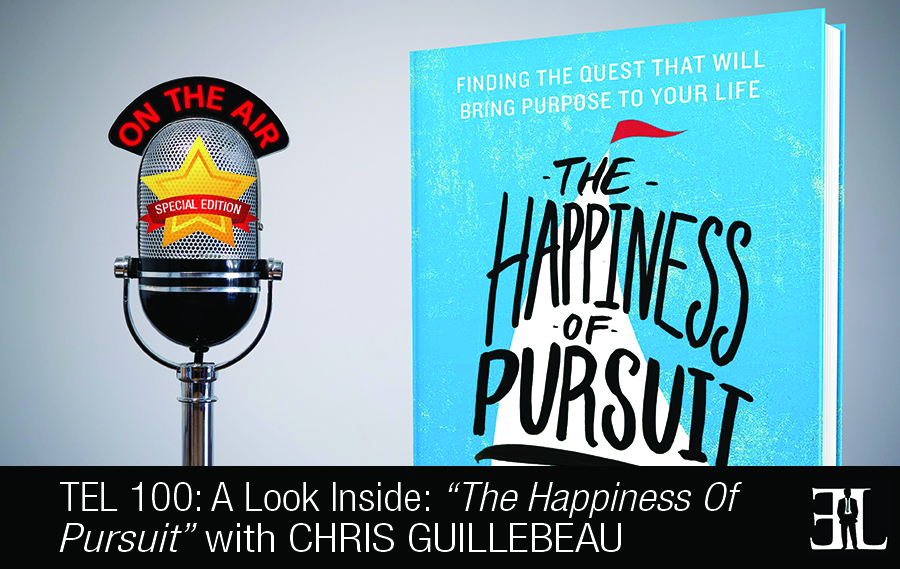 A summary of things you should know about The Happiness of Pursuit according to Chris Guillebeau:
Introduction
In this episode Chris Guillebeau takes a deep dive into his book, The Happiness of Pursuit where he reveals how anyone can bring meaning into their life by undertaking a quest.
In his book, Guillebeau shares his journey around the world where he found ordinary people doing extraordinary things and reveals their secret motivations. The goal of the book is to challenge you to take control of your life and help you find what it is that makes your life count.
This book is perfect for entrepreneurs who not only want to make money doing things that they love, but want to make an ever-lasting difference throughout their lives.
Special note: In celebration of the 100th episode of The Entrepreneurs Library we are giving away free books. Lots of them! Listen for the special announcement inside the episode for more details.
The Book's Unique Quality (5:35)
It's not primarily an "entrepreneurial" book. It's something that's much more about creating meaning and purpose in our lives. This book is much more about the meaning behind why I started a business and part of the reason was because I value freedom. I valued that freedom because it allowed me to do other things.
The Best Way To Engage (7:04)
It's probably easier to start at the beginning and read all the way through.
The Reader's Takeaway (17:20)
There is something greater out there and a calling for all of us and the more we take steps toward it, the easier it becomes. Don't stop or ignore that calling.
A Deep Dive Into The Book (8:02)
In the beginning of the book I started with a story of me going to Guinea-Bissau in West Africa. After many obstacles and difficulty of getting there I begin to really ask myself why I am going through the trouble. It was then that I reminded myself that I am honoring this quest that I have chosen to go on and decided to finish it. I realized along the way that the greatest thing that came out of this adventure had nothing to do with be but rather from all the great people I met throughout the journey.
I begin talking about others who took on a quest and share their success stories. I talk about this guy who took on the four year MIT Computer Science Curriculum which is supposed to be one of the most difficult computer science curriculum and he did it in one year. I talk about why he did that and what he learned through that process. I also talk about a guy who walked across America and a guy who produced the world's largest symphony. Throughout the book there are 50 stories that try to draw the reader in.
I organize the book around three sections. The first section is Beginnings. This section talks a little bit about my journey and about how people come to a quest. Each quest should involve challenge, difficulty and a possibility of failure. I talk about how a lot of people are discontented and that's how they come to their quest.
The second section of the book is called Journey. In this section there are a lot more stories and it looks at the values that these people have. I not only tell the stories but also what we can learn from it and how we can apply it to our own lives. I tried to focus on what I call everyday adventure and showing how people can cultivate the value of adventure in their own lives even if they aren't ready to do it just yet. I talk about how people do these quests, how much money it cost and how much time it takes. I try to help people strategically craft a quest for their life no matter who they are or what their situation is.
The last section is called destination and that is about arrivals. I talk about when I came to the end of my quest and what exactly that was like. Often that moment can be bitter sweet so I show the ready how to process that and give advice on what to do next.
In all three sections I am essentially trying to give the reader tools for how they apply this in their own life and their own pursuit. My goal in writing this book is for the reader to walk away and take action. I want inspiration combined with action.
Notable Quotes From The Book (19:12)
"It's better to be at the bottom of a ladder you want to climb than the top of one you don't." – Steven Kellogg
The Credibility/Inspiration Of The Author (2:11)
I am a writer, traveler and entrepreneur. I have spent the past 10 and ½ years on a personal quest to visit every country in the world. I also wrote a few other books which are The $100 Startup and The Art of Non-Conformity.
This was probably my most personal book yet. It took me a little bit longer to write than the other two. I came to this 10 and ½ year journey and as you might imagine that was such an incredible experience for me personally. And so when it came time to write about it I didn't want to just write a travel memoir but I wanted to look at something deeper. The model that we used for The $100 Startup was essentially a case study model of looking at all kinds of people who have started a business without going in to debt and without going to business school. I really liked that model because we pulled out all these different examples and showed how people had done it very specifically. I use this same model for The Happiness of Pursuit, and I look at all kinds of people who have taken a quest and try to understand why they did it and learn about their obstacles along the way. The goal was not just to provide a bunch of stories the goal was to present this agenda to the reader. Ultimately the focus of the book is on the reader and why a venture can be a good value for our lives.
Other Books Recommended By The Author (21:29)
Mountains Beyond Mountains by Tracy Kidder
Wishcraft by Barbara Sher
More Information About This Book and The Author
Buy The Happiness of Pursuit by Chris Guillebeau on Amazon today
Visit ChrisGuillebeau.com to learn more about Chris and his books
Follow Chris Guillebeau on Twitter and Facebook
More Information About This Episode
Download the full transcript here (coming soon)
Listen on iTunes, Stitcher , and SoundCloud
Related books: The Greatness Zone by Hal Elrod | Dream Year by Ben Arment | Vision to Reality by Honree Corder
Relevant advice and tips: 7 Signs That You Have What It Takes to Be An Entrepreneur | 5 Personal Qualities That Make Up A Lifestyle Entrepreneur
What did you like and not like about this episode? Fill out this one minute survey here.
When you pass on, what do you want Wikipedia to say about you? Share with everyone in the comments below: