TEL 249: Strategic Business Leadership with Allen E. Fishman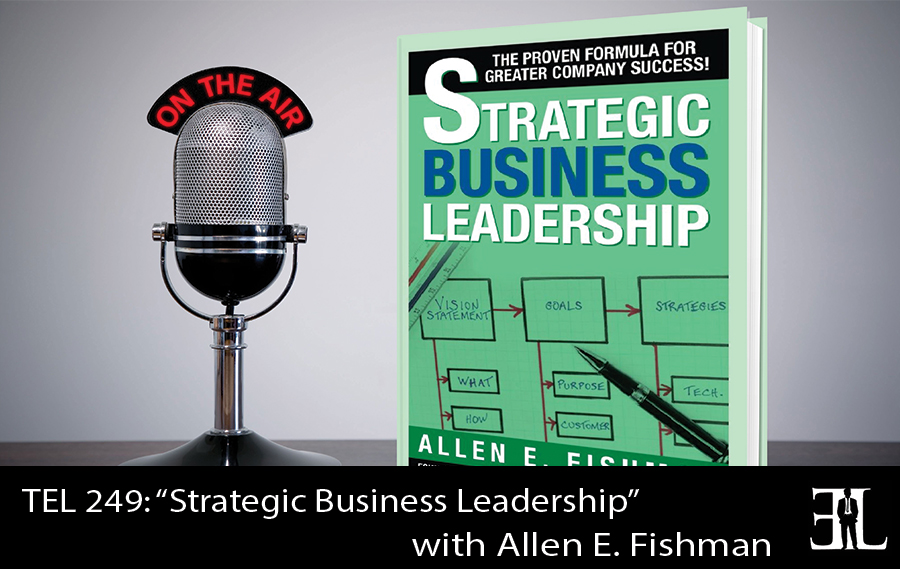 A summary of things you should know about Strategic Business Leadership according to Allen E. Fishman
Introduction (0:35)
I'm an entrepreneur and the company I have right now is not the first company I've formed. My previous company I was part owner of went public and then I retired for a few years and then I started TAB, which is a membership organization for business owners of closely held businesses that now operates from eleven countries.
The Book's Unique Quality and Deep Dive (03:36)
There are many very well done professional planning books out there but they don't start where we start. With Strategic Business Leadership we first focus on the vision, the long term dreams of the entrepreneur. Everything works off of and must tie into the dreams of the entrepreneur. Those dreams may not be to have the most profitable business, the dreams may be to have something that allows them to have a certain lifestyle.
Secondly, every other strategic planning book out there focuses on get together and you start off with a couple of day retreat and you get your management team involved in everything top to bottom. But this doesn't work with privately owned businesses. First of all, most of them do not have the time available to just drop everything and develop four to five major plans. So what I have done is worked off of coaching processes that are worked on over a period of time. It's a twelve months we work on different pieces and then it circles around. For example, we start off with the personal vision and then we go into the point of having to have a personal business statement that is no less and no more than one hundred words. Only when that is done do we start going into the company vision statement. Then in another month we look at an in depth study of what we call the company merit, what many people refer to as the swan. What are the companies strengths, weaknesses, and opportunities? Because until we have that information we don't even try to identify the critical success factors to making the company successful. So at a different month, not all at once, we try to look at what are these critical success factors that if they don't happen then you won't achieve the vision you have for your company. Once we have done that, in a different month, we get involved in what are the company plans. We talk about finding our goals that lead to succeeding with the critical success factors. Then another month we talk through exercises about what strategies are needed.
I've developed this book based off of three different sized company case studies so as we go through each of these factors we have examples from a larger company, one from the million to five million dollar level, and we have one that's below a million dollars. We do this because how they do their planning changes greatly and even the amount of plans they have differs greatly.
NOTE: That was just a summary. To get the full deep dive, play the audio clip at 03:36
The Reader's Takeaway (11:36)
I would say for an entrepreneur to take the time to develop a written personal vision statement. Everything that you do in your business should lead towards attaining that. What we find is that it is rare if ever that an entrepreneur already has one. So I would say if you do anything then take the time to read that chapter and develop a personal vision statement.
Notable Quotes From The Book (12:38)
"The unique vision an individual business owner has may not be maximizing profits and potential selling price." – Allen Fishman
The Credibility/Inspiration Of The Author (02:09)
I started TAB in 1990, I had a background that was with bigger businesses than most sized businesses for privately owned companies. With a big business that's a public company we were able to spend a lot of time with our managers and focus intensely on strategic planning. That's not a reality for private companies unless they get very big. So what I did was adapt the key elements of strategic planning and all the realities that are involved that make private business different. Recognizing that entrepreneurs are not driven the same way as someone that's part of a public company. I tried to come up with something that with bite sizes could become digestible by a privately owned business.
Other Books Recommended By The Author (13:51)
Taking People With You: The Only Way to Make Big Things Happen by David Novak
More Information About This Book and The Author
Buy on Amazon today
His Website: thealternativeboard.com
Add him to Twitter: https://twitter.com/TAB_Boards
Facebook: https://www.facebook.com/TheAlternativeBoard
More Information About This Episode
Download the full transcript here
Listen on iTunes, Stitcher , and SoundCloud
Related books:
Relevant advice and tips:
What did you like and not like about this episode? Fill out this one minute survey here.
What do you think about Allen's book, Strategic Business Leadership? Share your review in the comments below: