5 Lessons Every Entrepreneur Can Learn From Simon Sinek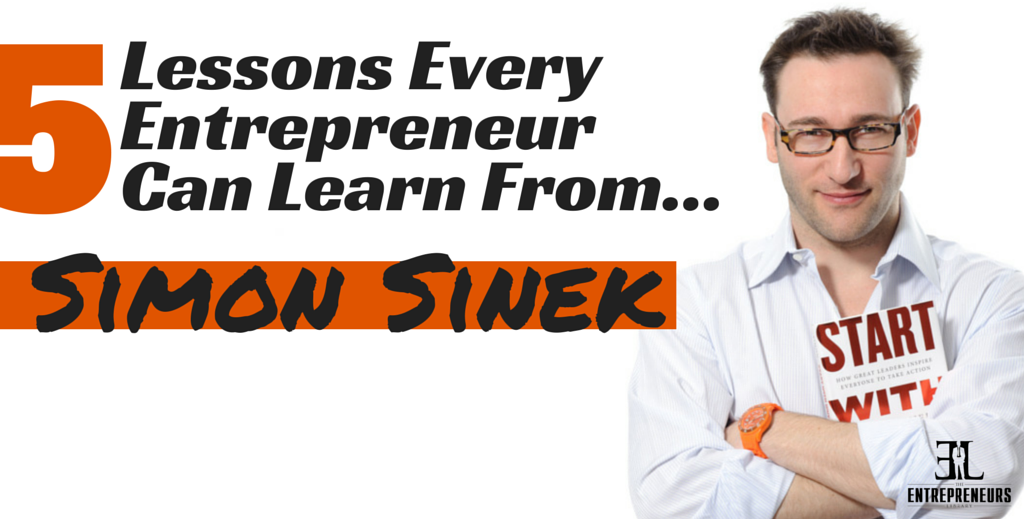 Who is Simon Sinek and what can entrepreneurs learn from him?
Simon Sinek is one of the nation's top motivational speakers. He is also the author of two popular books, Start With Why and Leaders Eat Last, and is very active in the world of non-profit ventures. Most notably Simon Sinek is a TED speaker where he motivates others in regards to leadership and is also a professor at Columbia University.
His books pertain to teaching leaders how they can motivate others to inspiration. Innovation is about building the future, but not just building it. It is also about solving the problems that are in the present. Simon Sinek helps us to learn this. The main gist of the leadership courses is to teach leaders how to inspire and take action. Mr. Sinek also has a 30-minute course available that teaches the art of these subjects. There are many ideas that one can take from the books and courses he gives. Some of these are listed here with brief explanations.
1. When entering a locale, do not speak out of nerves when you enter.
When people enter on a stage or in a room and start speaking immediately, it is most often done out of fear, or insecurity. Rather, walk in quietly, gather your thoughts and take a deep breath before beginning. This will show your group or audience that you are confident and in charge.
2. Do not be a taker, be a giver instead.
Most people will lose interest when they feel they are being sold on something. When they lose interest, you lose. When you give people something of value, you gain their attention. When you have their attention, teach them something unique, something valuable and something that will inspire them. The audience gives a gift of thanks when they applaud for you, give them the thanks they deserve by thanking them first.
3. Although, most often you as a speaker are on a stage, find a way to make eye contact.
Eye contact is key to trust and understanding. Spanning the audience visually is obvious to that audience. Take the time to look each person in the eyes, or as many as possible. By doing so, you will see a look of confusion, or the look of understanding. Either way, you play off that. If further explanation is needed, do so. If not, move on. When giving a speech or a lecture, speak slowly and enunciate each word. This will give your audience members a clear understanding and clear communication builds trust and value. When a person is nervous, their speech pattern picks up and you speak faster, the faster your heart races. When you speak slowly, you capture the attention of your audience.
4. Turn nervousness into excitement.
Telling yourself that you are excited, and not nervous this will build that excitement higher, in turn transferring that excitement to your audience. When you are a great leader you inspire greatness in others. By being the leader that others look to, you build value in the company and the employees. When you articulate everything about why you do what you do, will you succeed at inspiring others to do what they do.
5. Your passion will diminish if you allow it to.
Keep the motivation and inspiration happening. Beginning with why will teach all what it is. A person needs to set goals in all areas of their lives, not just in business. These goals should include discipline, clarity and consistency in all areas. No action should be changed even one time for any reason. A good leader will lead by example and listen to his followers. Give some service to those who serve your purpose.
All successful leaders know that there is a method to what they do and how they do these things. They teach, they listen, they follow and they believe with all their being that the business is right and it is successful. They are willing to do what it takes, while setting the limits on themselves to prevent over-doing many things. Good leaders make their followers feel safe and secure.
Begin with innovation. Innovation is not just the dream of a person; it is the action one takes to achieve the dream and the goals. In order to achieve the future, one must solve the problems of the present. One must figure out another way to achieve success if the original idea does not work or function as intended.
Simon Sinek teaches his attendees that leaders must be grateful for his followers. They must give back, which is innovation in its purest form. When you have the positive in your speeches, in your actions, you will also have the ones that do not believe, that do not understand. In order to stay confident, focus on the positive reactions. The people who are shaking their heads in the affirmative, who nod in agreement and who are visibly engaged, these are the ones who want to succeed.
More Information About Simon and His Books:
Check out Start With Why and Leaders Eat Last on Amazon
Follow Simon Sinek on Twitter and Facebook
Have you read any of the book by Simon Sinek? Share what you learned from him in the comments below: