A Preview of Unstoppable with Pete Wilkinson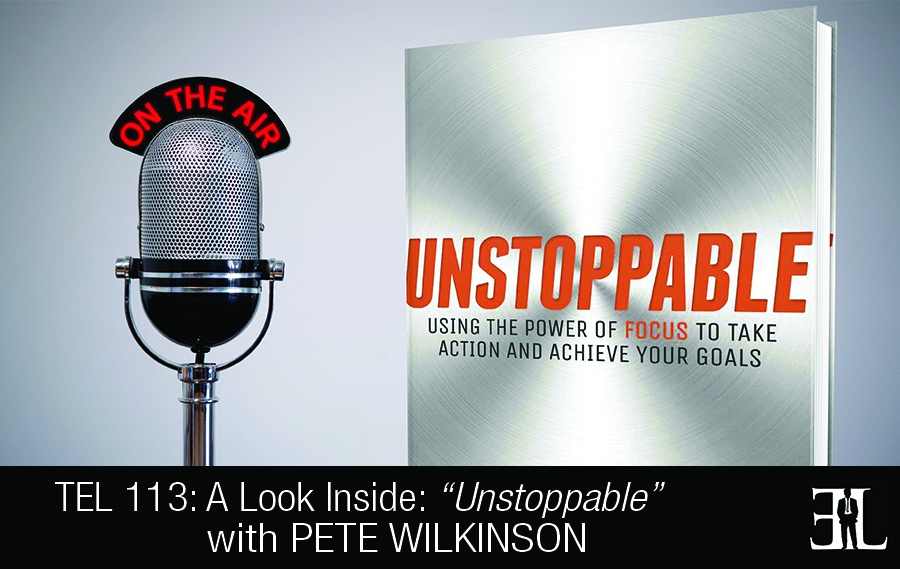 A summary of things you should know about Unstoppable according to Pete Wilkinson:
Introduction
In this episode Pete Wilkinson shares his book, Unstoppable where he shares his expertise on becoming super determined, motivated, and focused.
In his book Wilkinson provides a roadmap to eliminate procrastination, seeing plans all the way through, and doing more than you ever thought possible. The goal of the book is to help you focus your attention on key goals, improve the relationships in your business and personal life, learn how to be an effective leader, and build an action plan around your main strengths.
This book is perfect for entrepreneurs who want to be driven, determined, and unstoppable, yet lack the proper motivation techniques to make a move in the right direction.
The Book's Unique Quality (2:52)
Unstoppable is a four part system and a process to becoming unstoppable. It isn't just about giving you a couple of tips but rather the whole foundation of the book are my one, three, five action plan. It's not just a book to read but I also answer some of your questions you might have and help you with the process. The main reason the book is different from others is because I am sharing a system that I have proven time and time again with other entrepreneurs on how to be unstoppable and make the most of yourself.
The Best Way To Engage (4:19)
This book is really designed to be read from front to back. I created four different parts of the book that you could jump into separately if you wanted to.
The Reader's Takeaway (12:11)
You must answer the question if I was the very best version of me, what could I achieve. Once you answer that question you need to have a crystal clear vision of what success and happiness looks like for you and make that happen.
A Deep Dive Into The Book (5:26)
I built the book around four different parts. Part One I have called The Beginning and the reason just to go into the background of why I believe it's important to develop an unstoppable attitude. I am very passionate about how important attitude is and I think you need to have a very process driven attitude that allows you to achieve what you're capable of achieving. Part one emphasizes as to where you are now is not where you need to be. You don't need to just stay where you are now if you want to improve. This first part frames and goes into detail on what I call the one, three, and five action plan which is the foundation of the unstoppable attitude system.
Part Two is where we really get into the detail and that's where we start the foundation. We have various chapters in here and things emphasizing that the beginning is all about your habits and how successful people have successful habits. As we progress from the habits we then go into the actual components of the action plan which start with a crystal clear vision. In this section I share my vision and a hand written drawling of what my plan looked like. We talk about the different steps of creating a picture, describe what your perfect day look likes and imagine what life might look like when you achieve it. I show the reader a very systematic process of creating a vision by asking certain questions that would allow you to get a crystal clear vision. If you're going to achieve this vision then you need to focus on three core objectives. Realizing that it's not going to be an overnight thing but by breaking it down you are directing your attention exactly where you should be. The final part of the foundation process is the goal part. We all know we need goals but what I am suggesting in this system is to have five stepping stone goals for each objective. So what you have is a very simple vision up on top, you then have three core objectives sitting beneath that and then feeding from each core objective you have five goals.
We then look at key skills. I believe there are four key skills we need as entrepreneurs. We need to be better at leadership and I think we should start with self-leadership. We then need to look at personal organization; we then need to really focus on relationships and finally strength development.
Finally we look at Part Four which is the next 12 months. Here we do a review of various things, your product, your people, your team, and time. So what we are doing here is optimizing you to have the best next 12 months. And that's where we go through a very simple process and we look at different levels of value. We look at how you need to go about making sure your products, team and time are right. It's really from start to finish beginning with the idea of why to have this unstoppable attitude then showing you how to have an action plan to create a plan that fits on a single page so it's very easy to use. From there we look at the execution skills and then finally looking at the next 12 months ahead.
Notable Quotes From The Book
"The key question many of us need to ask ourselves more often is if I was the very best version of myself what could I achieve?" – Pete Wilkinson
The Credibility/Inspiration Of The Author (0:58)
I am primarily in the space of focus and consistency – taking action. Everything I do whether it's with clients, speaking or workshops, is around the focus and consistency and using my skills. So it's all around the space of how to be focused and consistent to get the results that you should really be getting.
I was sharing the system that the book identifies with my clients but really only making a small impact in the number of people I was reaching. I was getting a little frustrated that people were making some really good gains with the system but it wasn't being shared enough. The idea of writing the book was to give them a system that could be shared to a large number of people and have an impact with someone that they have never met before.
Other Books Recommended By The Author
Think and Grow Rich by Napoleon Hill
More Information About This Book and The Author
Buy Unstoppable by Pete Wilkinson on Amazon today
Visit PeteWilkinson.com to learn more about Pete, his book, and blogs
Follow Pete Wilkinson on Twitter and LinkedIn
For questions contact Pete by email here
More Information About This Episode
Download the full transcript here (coming soon)
Listen on iTunes, Stitcher , and SoundCloud
Related books: Limitless Energy by Brandon Epstein | The Greatness Zone by Jay Forte | Powerhouse by Mike Clayton
Relevant advice and tips: 10 Bad Habits That Successful People Avoid
What did you like and not like about this episode? Fill out this one minute survey here.
What do you think about Pete Wilkinson's book, Unstoppable? Share your review in the comments below: