A Preview of Powerhouse with Mike Clayton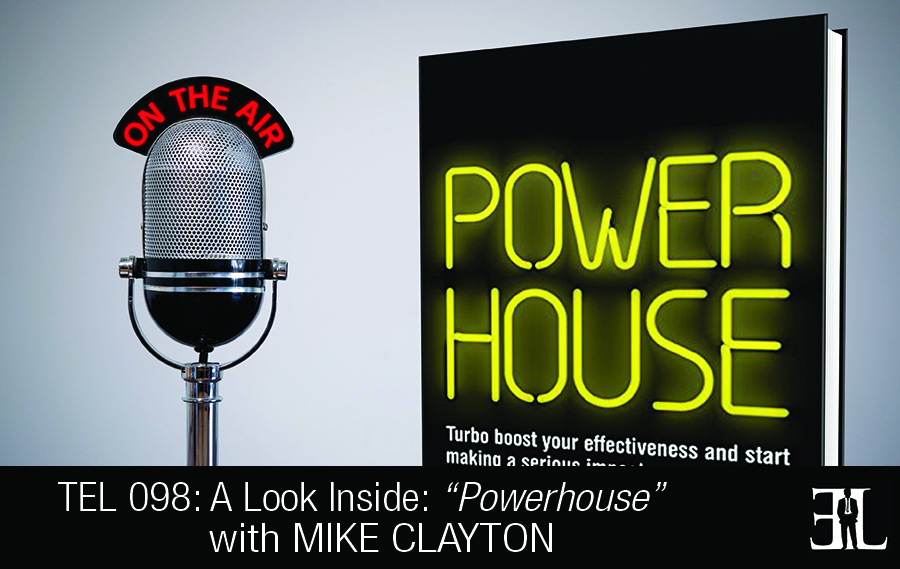 A summary of things you should know about Powerhouse according to Mike Clayton:
Introduction
In this episode Mike Clayton takes a deep dive into his book, Powerhouse, where he presents proven ways to boost overall effectiveness and start making an impact immediately.
In his book, Clayton shows you how to raise your personal effectiveness to dynamic levels, make solid decisions, stand up for your decisions, and gain tremendous support from others. The goal of the book is to help you be able to meet any challenge you cross while boosting your performance and making the right choices.
This book is perfect for entrepreneurs that are not performing at the highest levels or are not brightening the outlook of everyone around and need a roadmap to craft a solution.
The Book's Unique Quality (2:48)
It goes beyond productivity to effectiveness and not just doing lots but making the right choices and carrying those choices through. Even beyond personal effectiveness I wanted to create a book which helps the reader to understand how to create contagious attitudes that will motivate the people around them so they too can be more effective and productive.
The Best Way To Engage (3:39)
For the first time reader the reader will get a lot more from reading it from beginning to end. But if you don't have time you can skim through and pick where you need to start.
The Reader's Takeaway (14:25)
There are two core ideas in there. The idea of the compelling cause, that to be a powerhouse you have to know exactly what you are focusing on and why. And then the idea of a powerhouse loop, the idea that if you follow that compelling cause blindly and you get tunnel vision, you run the risk of missing an even better opportunity. You must identify and analyze what's going on to find your compelling causes, plan how you are going to do it and take action.
A Deep Dive Into The Book (4:32)
The book is divided in to 10 chapters and the first 9 follow a sequence. Each of the chapters has a theme hooked around a personal attribute that is going to bring effectiveness and real power to your work.
The first chapter is about self-control and the theme is really about doing the right thing. This chapter carries a lot of burden of the ideas of the book because it sets out the idea of a compelling cause and the idea that there are lots of things that you could be doing but what will make you successful is not scattering efforts across many ideas but making a real choice. I also introduce the idea of the powerhouse loop which is a cycle of identifying the opportunities, analyzing what those opportunities are and then making your choice of compelling causes to pursue. We then make time to plan on how we are going to deliver on those compelling causes and then take action. I think real effectiveness is about gauging your process at each stage and having taken action, getting a measure of the progress and identify what's next.
The second chapter focuses on the idea of judgment and it asks the question why you are doing what you are choosing to do and it suggests that we need to do the right things for the right reasons. I give the reader some understanding of what I consider to be a good quality decision and the need for good proof for strong process. I also suggest that a good decision is not enough unless you are able to carry people with you.
Chapter three suggests that you have to do the right things right and this chapter really focuses on productivity. I divide it in to four stages which are planning, preparation, performance and my idea of post-paration. We prepare in advance, we post-pare after we have done something. I think a lot of work gets wasted when we do the bulk of the work and then we walk away and get caught up with something else.
Chapter four focuses on relationships to be successful in the world of work and creating a new business you have to work with the people around you. I talk about strategic networking and tactical networking in this chapter to give the reader ideas about to plan and manage a campaign of engaging stakeholders and building support for whatever it is that they are seeking to do.
Chapter five is also around people but now we are starting to take a leadership role and this chapter is about how to get the best from the people around you. In this chapter I talk about how to motivate your team, how to actively manage your team, and I introduce some of the ideas from a positive organization of psychology around evaluating, excellence and celebrating success. There is a pivotal diagram in this chapter that shows the difference between moving from under performance to standard performance.
My personal favorite chapter is chapter six. The idea behind this chapter is conduct and the need to get the best from yourself. What I like best about this chapter is it opens with an analysis of the different ways that we think and the ways our brains work. I also introduce the reader to other modes of thinking which they can use to round out their performance. The final step in this chapter is to articulate what I think are five important powerhouse attitudes.
Chapter seven is about perception and the need to be prepared for the unexpected. I talk primarily about two things. One is reading the future and how to be alert for what's coming down the line. And secondly I talk about how to read people and suggest there are five critical questions we can ask if we want to understand the people around us and anticipate their actions.
Chapter eight recognizes something I have found very important when I was managing projects and starting new businesses. And that is the need to be resilient and handle the unexpected and also to cope personally with the challenges that the unexpected throws at us. This chapter gives a range of different tools such as different modes of working when things go wrong and understanding how we ought to respond the stress and overcome the feeling of being overwhelmed.
Chapter nine is about growth, knowing when and where to stop, and how to harvest the lessons that you may have learned from delivering on your compelling causes.
Chapter ten sets out seven principals for taking your personal effectiveness ideas from powerhouse and extending them to an organizational level. I articulate seven principles that an organization can apply to start to create systemic powerhouse performance in its people.
Notable Quotes From The Book (16:47)
"The world is full of opportunities, start by focusing on the right ones." – Mike Clayton
The Credibility/Inspiration Of The Author (0:36)
I am a business author and speaker. My background is as a consultant with Deloitte consulting when I was delivering projects and program management services for my clients. For the last 12 years or so I've spent my time delivering seminars and training all around the UK and some of Europe as well. And over the last six years I have developed a writing career and Powerhouse is my 13th printed book.
Some of the ideas have been buzzing around since a much earlier book called Smart to Wise. These are the more practical aspects of wisdom that I wanted to get across of how to get things done. The sources of these ideas come from my experience as a project manager, my fascination with personal psychology, and my interest in positive organization scholarship.
Other Books Recommended By The Author (17:38)
Thinking, Fast and Slow by Daniel Kahneman
More Information About This Book and The Author
Buy Powerhouse by Mike Clayton on Amazon today
Visit BeAPowerhouse.co.uk to listen and learn more about the book
Visit MikeClayton.co.uk to learn more about Mike and his books
Follow Mike Clayton on Twitter and Facebook
For questions contact Mike by email here
More Information About This Episode
Download the full transcript here (coming soon)
Listen on iTunes, Stitcher , and SoundCloud
Related books: The Greatness Zone by Jay Forte | Hit The Mark by Erik Fisher | The Experiment by R Michael Anderson
Relevant advice and tips: 5 Ways Entrepreneurs Can Overcome Business Failure
What did you like and not like about this episode? Fill out this one minute survey here.