5 Lessons Entrepreneurs Can Learn from Mike Michalowicz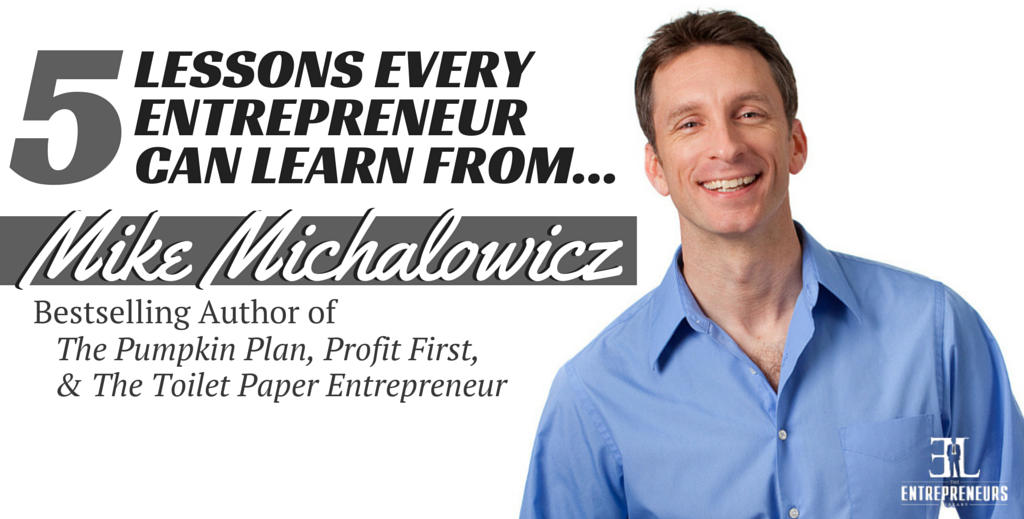 Who is Mike Michalowicz and what you can learn from him:
Mike Michalowicz launched his first company when he was 24 years old. After selling it in 2002, he founded PG Lewis & Associates, which he sold in 2006. He now works as a writer, speaker, and consultant through Provendous Group. He helped found the company, which is a profit sharing venture group, and currently serves as the CEO.
Mike is more than happy to share his success with other aspiring entrepreneurs. His books are full of advice, and his blog is loaded with helpful articles. Here are his top 5 pieces of advice for new business owners.
1. Be Patient
Get rich quick schemes are a fool's dream. You can build a large and successful business. But it will probably take 10 to 15 years. If you go into a new project expecting instant wealth, you are setting yourself up for disappointment. When you don't reach your goals, you'll likely become discouraged and may give up on your dreams too soon. Setting realistic goals is the most important thing you can do for your new company.
If it was common place to become a billionaire by opening your own business, everybody would be doing it. It isn't uncommon for people to open a new business planning on astronomically large financial returns. Realistically, just managing a business that keeps its doors open is a huge success. Don't expect to make millions by doing it.
You also need to step back and watch for long term results. Any new venture is going to have setbacks. Keep reminding yourself that big success takes time and perseverance. It also takes a little luck much of the time. As long as you see forward progress towards your goals, be content with the pace at which things are moving. The only really bad sign is if your company remains stagnant for a long period of time.
2. Be Prepared for Competition
Just because nobody else has the exact same idea as you doesn't mean that you won't face competition. Any available alternative to using your product or service is competition for your business. This includes the possibility that people choose to do nothing.
It isn't enough to convince people that there isn't anything like your product on the market. A truly superior product almost always costs more- you need to convince your customer base that the extra features of your product are worth the extra money it costs. People might recognize that you have the best product on the market, but they don't need anything that does what your product does. You need to convince them that they do.
3. Take Time Off
Many entrepreneurs make the mistake of putting their entire lives on hold as they focus on getting their business off the ground. If you don't take care of yourself, however, your business will suffer. Everybody needs time off to relax, de-stress, and remember why they do what they do. A little time away from your company can serve to remind you how much you love it and send you back to work with a renewed enthusiasm.
Nobody can fire on all cylinders 100% of the time. As you get more stressed, you will become harder to work with and for, affecting your employees. As you get more tired, you will start to miss little details that just slip right past you in the rush. If you run yourself too hard, your health will start to suffer. In order to take care of your business, you need to take care of yourself.
4. Have a Clear Message
Startup companies succeed in attracting employees away from established corporations by having a worthy goal for people to rally around. A dedicated team of people focused on the same outcome is a very powerful force. But if you attract different people with different messages, you aren't going to have a unified objective. It's okay to tailor your pitch to each party a little, but the core message has to remain the same.
This is also true in marketing. There are countless outlets for you to use to raise brand awareness. Different outlets lend themselves to different messages and you're going to want to refine your message to reach your target audience with each marketing campaign. Newspaper ads, for instance, as far more likely to be seen by an older audience, so you'll want to present yourself slightly differently than you would on a social media site with a young following. But you company image has to be consistent across all these platforms. If people don't know who you actually are and what you do, they aren't going to become customers.
5. Be Upfront
The Internet is not known as the Information Highway for nothing. One tiny leak can spread across the globe in seconds. For this reason, it is very important that you are always upfront about everything. It is almost certain that anything you try to cover up will become public knowledge. People will forgive and forget a mistake that you own up to relatively quickly. But a cover up that gets exposed in a juicy scandal will hang over your company for years. Your reputation may never recover from such a blow.
More Information About Mike Michalowicz and His Books
Preview The Pumpkin Plan with Mike Michalowicz himself
Buy The Pumpkin Plan by Mike Michalowicz on Amazon today
Preview The Toilet Paper Entrepreneur with Mike Michalowicz himself
Buy The Toilet Paper Entrepreneur by Mike Michalowicz on Amazon today
Preview Profit First with Mike Michalowicz himself
Buy Profit First by Mike Michalowicz on Amazon today
Visit MikeMichalowicz.com to learn more about Mike and his books
Follow Mike Michalowicz on Facebook and Twitter
What is one thing you have learned from Mike Michalowicz and his books? Share in the comments below: