A Preview of 13 Things Mentally Strong People Don't Do with Amy Morin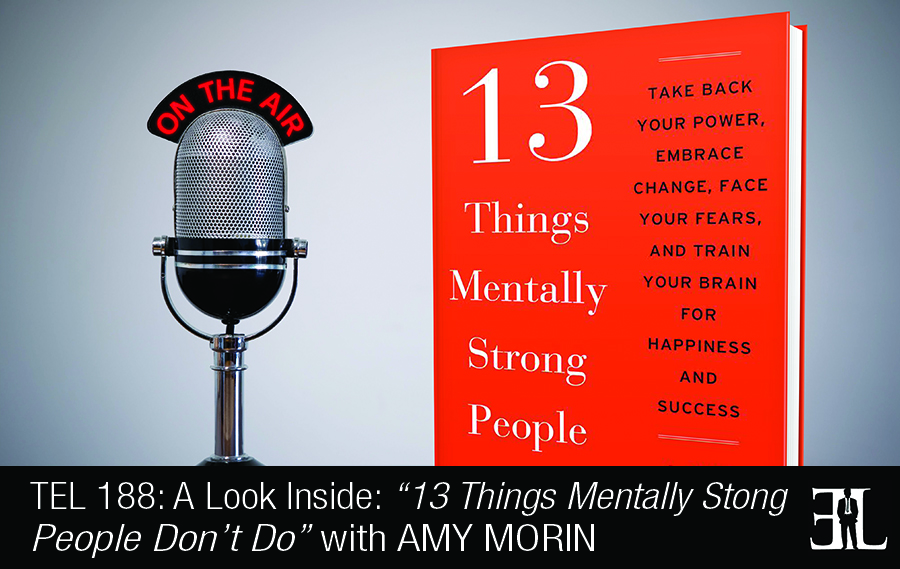 A summary of things you should know about 13 Things Mentally Strong People Don't Do according to Amy Morin:
Introduction
In this episode Amy Morin reveals all her insights on 13 Things Mentally Strong People Don't Do where she helps you train your brain for success and happiness.
In her book Morin combines interesting stories with simple solutions that will take your outlook on life to the next level when it comes to health, wealth, and relationships. The goal of the book is to teach you how to overcome the bad habits that suppress success, how to strengthen your mental capacity, how to cope with the setbacks of life, and how to avoid negative behaviors.
This book is perfect for entrepreneurs that are tired of feeling sorry for their selves, being jealous of other people's success, and holding personal grudges from failure.
The Book's Unique Quality (5:06)
There are some other books on mental toughness but I found that a lot of times a lot of people focus on being tough instead of acting strong. I don't know of any other books on the market that are specifically about mental strength and how to become stronger regardless of whether your goal is to become strong in your personal life or your business.
The Best Way To Engage (5:54)
My book is divided up into 13 chapters, one chapter for each of those 13 things. I find that some people focus specifically on the chapter that affects them most but you can very well read straight through.
The Reader's Takeaway (17:13)
The biggest thing is to change the way we think. We know that if people want to change the way we feel we have to change how we think and change how we behave. One simple way to do that is to practice gratitude on a regular basis.
A Deep Dive Into The Book (6:56)
My book starts out with the introduction which gives a little about my personal journey and the story behind it. And it also gives an overview of what mental strength really is and explains why I talk about what mentally strong people don't do.
From there we dive into the 13 chapters which focus on each of the 13 things. The first one is that mentally strong people don't waste time feeling sorry for themselves. For every moment you spend focusing on the problem you can't look at a solution and it keeps you stuck and you don't move forward.
Chapter two talks about how mentally strong people don't give away their power. And by that I mean it's a combination of emotions and blame other people for the things we do. Sometimes just changing our language and the way we view things can make a big difference in recognizing the choices we have in everyday life.
Chapter three is that mentally strong people don't shy away from change. We all like to stay in our comfort zones but when we do that we don't grow better and take on new opportunities and become the people we won't to be in life.
Chapter four is that mentally strong people don't waste energy on things they can't control. If we put our energy into the things we can control we'd be much better prepared for if something bad does happen.
Chapter five is that mentally strong people don't worry about pleasing everyone. So often I think it becomes a problem where people lose sight of their values.
Chapter six is about how mentally strong people don't fear taking calculated risks. You need to figure out how to accurately calculate the real risk and when you do that you can't make choices that aren't so scary anymore.
Chapter seven is that mentally strong people don't dwell on the past. The solution is to figure out how to make peace with the past and sometimes that's a matter of letting go or forgiving.
Chapter eight is about how they don't make the same mistakes over and over. We all know that it would be great if we learned from our mistakes the first time but sadly we don't and so it's all about figuring out how to learn from each one.
Chapter nine is that mentally strong people don't resent other peoples success. It's usually easy to be happy for other people when you are on top but when you feel like you are on the bottom it seems to be a lot harder to be happy for others.
Chapter ten is that mentally strong people don't give up after their first failure.
Chapter eleven is that mentally strong people don't fear alone time and what I mean by that it's really about being alone with your thoughts.
Chapter twelve is that mentally strong people don't feel that the world owes them anything.
Finally, chapter thirteen is about how mentally strong people don't expect immediate results.
At the end of the book we have a conclusion that explains how to move forward and how to keep building mental strength on a daily basis.
NOTE: That was just a summary. To get the full deep dive, play the audio clip at 06:56
Notable Quotes From The Book (18:49)
"Never allow inaccurate beliefs about yourself to hold you back from reaching your greatest potential." – Amy Morin
The Credibility/Inspiration Of The Author (0:38)
I am a license clinical social worker and psychotherapist. I am also a college psychology instructor and a few years ago I started writing articles for the web and now I write for places like Forbes and Psychology Today.
It had started out as an article and then morphed into a book from there. The reason I had written the article was because of some personal issues that were going on in my life. As a therapist I inherently was interested in psychology and mental strength in general but back in 2003 my journey became personal. I had just bought my first house, I was married and things were looking good when my mother passed away suddenly from a brain aneurism and I had to figure out how to publicly help people still deal with their problems when I am very privately grieving. And if you fast forward to three more years my 26 year old husband died suddenly of a heart attack and again had to figure out how to go to work to help people with the same problems that I was facing. I knew then that I had to sort out the things and tools I needed to do to become the very best that I can so that I can balance these two things in my life. If you fast forward a few more years things were looking up and I decided to get remarried but shortly after that my father-in-law was diagnosed with terminal cancer and unlike the sudden death of my mother and husband this time I knew what was coming. That is when I sat down and wrote this list of 13 things mentally strong people don't do to basically remind myself of the things that could hold me back in life if I allowed them to.
Other Books Recommended By The Author (20:19)
The Last Lecture by Randy Pausch
More Information About This Book and The Author
Buy 13 Things Mentally Strong People Don't Do by Amy Morin on Amazon today
Visit AmyMorinLCSW.com to learn more about Amy and her book
Follow Amy Morin on Facebook and Twitter
More Information About This Episode
Download the full transcript here (coming soon)
Listen on iTunes, Stitcher , and SoundCloud
Related books:
Unstoppable by Pete Wilkinson
Mindset: The New Psychology of Success by Carol Dweck
Inside Job by Mark Sephton
Relevant advice and tips:
10 Bad Habits That Successful People Avoid
8 Resolutions For Improving Your Health And Happiness
What did you like and not like about this episode? Fill out this one minute survey here.
What do you think about Amy's book, 13 Things Mentally Strong People Don't Do? Share your review in the comments below: