A Preview of Inside Job with Mark Sephton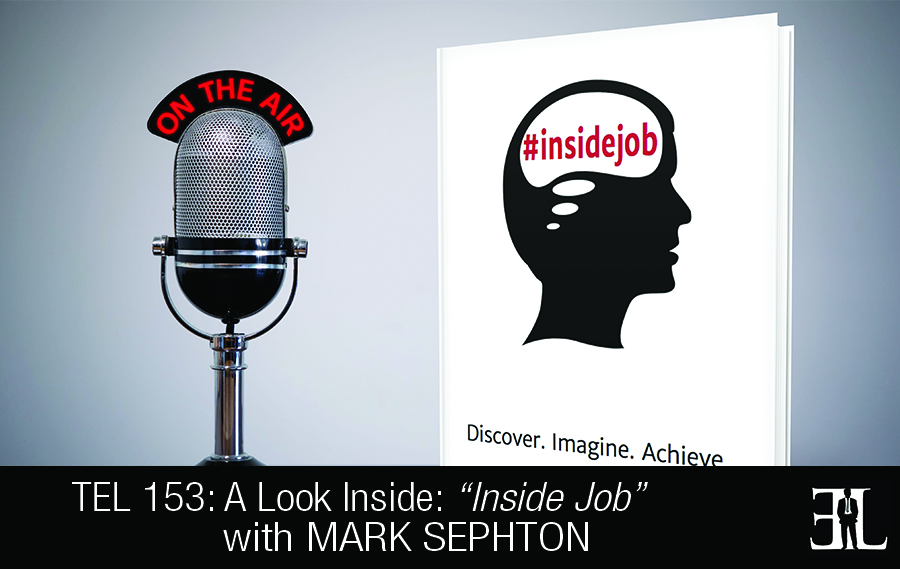 A summary of things you should know about Inside Job according to Mark Sephton:
Introduction
In this episode Mark Sephton reveals all his insights on his book, Inside Job where he shares earth-shattering methods and mindset shifts that will turn failing businesses around.
In his book Sephton provides an inside look into his personal struggles with entrepreneurship along many other success stories that have resulted in the ability to turn dreams into reality. The goal of the book is to help you strengthen your mindset, build your character, harvest your thoughts, and stimulate your personal growth in order to turn your struggles into actionable advantages to achieve your dreams.
This book is for entrepreneurs who are struggling with their inner abilities to overcome entrepreneurial failure and need help in developing a stronger mindset that will get them through their struggles.
The Book's Unique Quality (3:20)
I share my own story in the first few chapters because I really want people, when they read the book, to understand that I wasn't born with a silver spoon and I went through many setbacks to get where I am today. This book isn't just about business but also about connecting your heart with your head.
The Best Way To Engage (4:41)
The reader can jump in and out of the book. There are 23 chapters in the book and 20 of them are only 3 to 5 pages long.
The Reader's Takeaway (23:39)
The whole book is really about how we are only as good as the thoughts we think. We have got to be mindful of the fact that once we find out who we are, and what we were created to do, that then is when we really start to live. Sadly some people go to the graveyard not knowing who they are.
A Deep Dive Into The Book (5:50)
The first few chapters are very much about my own journey and I've titled them Discover, Imagine, and Achieve. Discover is my childhood and what I had to go through, some of the challenges there. I really want people to be able to relate; everything I do needs to be athletic, real, and provoke people's emotions so that they realize that I know what I am talking about. The chapter titled Imagine is about that transition from me being a teenager into becoming a man. And the Achieve chapter launches into all that I've achieved in the last few years.
The next chapter is titled Entrepreneurship and the concept of this chapter is about having an idea and pointing it into reality. And along those lines is the fact that we have to take risks as entrepreneurs and the ability to take a thought and put it into action. Entrepreneurship is about having a create idea and about having a market where the product or service is required because if you want to make a lot of money you've got to find a solution to others problems.
Chapter two I have titled Personal Revolution – Be you, everyone else is taken. It's important that, as entrepreneurs, we create the environment and culture of an inner sniper. The whole concept of the inner sniper and creating your own personal revolution is based on the fact of what is the right environment and culture for you to be able to execute and come alive and to make sure that your business and your life really embrace that concept.
Chapter three is called Bread for Your Head. Far too many people are backseat drivers in their own lives. Bread for the head is the concept of educating your mind. I encourage and inspire people to take the wheel of their lives. If you want to change the way that your life is moving you can do that by the thoughts that you think and by what you feed your head with.
Chapter four is Focus – Life is a marathon not a sprint. Here I share some of the challenges that we have to really focus in today's world that we live in because there are so many voices.
Chapter five is Sleep R&R and timeouts – Breaks lead to breakthroughs. I find that people often see startups as having a baby where you have to give it around the clock treatment and investment. Which I agree with but there is a time and a season to pour into that. This chapter is really about the whole concept that breaks lead to breakthroughs.
Chapter six is positive habits. It's about making the mental shift from problems, obstacles, and excuses to solutions, thanks, and gratitude. I share some of the habits that I have formed in my own life and other entrepreneur's life's. One of the habits is the power of gratitude because gratitude enables you to focus on what you have and taking you away from what you don't have.
Chapter seven is titled Love Mondays. I absolutely love Mondays and I believe that the success of your Monday will determine the rest of your week. In this chapter I share a number of rituals, journal, and prayer about my upcoming week.
Chapter eight is Value – Small victories today will change the course of tomorrow. This concept is around how we add value to our clients and our customers. Are we building our business around their needs and wants? Or are we so self-absorbed that sometimes we tailor our business around what we like and what attracts us to it?
Chapter nine is Balance – When we try to burn the candle at both ends we are destined for trouble.
Chapter ten is Self-Discovery – turn yourself loose. The concept of this chapter is about the key to a successful and fulfilled life. I believe that once you know who you are and what your purpose is, that's when life gets exciting and so the importance of self-discovery is vital. I talk about adversity being a great opportunity for self-discovery because it's when we go through difficult times and challenges when we really find out who we are and what we are all about.
Chapter eleven is Authenticity – we are all a working progress.
Chapter twelve is Vitality – the opposite of depression is vitality. This chapter is about combating our negative thoughts. When you fill your live with positivity it starves depression and negative thoughts.
Chapter thirteen is Fear – turn adversity into your advantage. So often we allow fear to stifle us and to hold us back.
Chapter fourteen I talk about failure. I have learned so much from my mistakes that I decided to make more. This chapter is about me sharing some of my own learnings that I've messed up on and to encourage other people that when they do fail to take the lesson from it.
Chapter fifteen is Setbacks – the only people that don't get flat tires are those who don't drive.
Chapter sixteen is Diversion – It's vital we pay attention to our own mental GPS. We go through times where we get diverted and we can either shut down our project or we can find a solution. This chapter is really about unlocking the ability to be able to divert and to not give up but to find a different way to do it.
Chapter seventeen is Success. For me success is about being at peace with yourself. It's a journey, not a destination.
Chapter eighteen is called Heart. "I have learned that people will forget what you said, people will forget what you did, but people will never forget how you made them feel." – Michelangelo. The purpose of this chapter is if we are not living out of our heart, are we really living at all?
Chapter nineteen is Maxims – if you don't change direction you end up where you are now. In this chapter I sure my 10 maxims which is being authentic, be grateful, be intentional, be a river not a reservoir, invest in yourself, expand your network, practice forgiveness, wear a smile, and do not quit.
Chapter twenty is the law of Attraction. Google it, research it, picture it, and live it. The concept of this chapter is to encourage people to get the mindset that creates the impression that it's already within your life and how to make it a reality.
Chapter twenty-one is Influence – effect the environment in which you were planted.
Chapter twenty-two is Change Agent – Disrupting the environment for the greater good. This is a call for people to really stand up for who they are and what they believe in.
Chapter twenty-three is trailblazer. This chapter is about what impression are you going to leave behind for those who are to follow you.
NOTE: That was just a summary. To get the full deep dive, play the audio clip at 05:50
Notable Quotes From The Book (24:58)
"If you don't change direction you end up where you are now." – Mark Sephton
The Credibility/Inspiration Of The Author (0:35)
I am involved in a number of things but they've all got the same common denominator and that is that I have a passion to positively influence all that I meet and come in to contact with. My main business is that I mentor entrepreneurs and I mentor them over a number of different ways. I build a GPS system which is based on eight key fundamentals of what I believe makes up a person's basic DNA. What that does is it reveals blind spots. I also host a show as well where I interview entrepreneurs and I just recently launched my first book titled Inside Job.
I think everybody has got a story to tell and it was clear from working with different entrepreneurs in different fields of expertise. Some of my ideas and mentoring techniques started to pay off and I thought it was time to help reveal some of these tactics and mind shifts.
Other Books Recommended By The Author (26:27)
Spirit Driven Success by Dani Johnson
More Information About This Book and The Author
Buy Inside Job by Mark Sephton on Amazon today
Visit MarkSephton.com to learn more about Mark and his book
Follow Mark Sephton on Twitter and Facebook
More Information About This Episode
Download the full transcript here (coming soon)
Listen on iTunes, Stitcher , and SoundCloud
Related books:
The Energy Bus by Jon Gordon
Mindset: The New Psychology of Success by Carol Dweck
Unstoppable Entrepreneurship by Ilkka Lavas
Relevant advice and tips:
7 Morning Routines of Very Wealthy People
10 Bad Habits That Successful People Avoid
What did you like and not like about this episode? Fill out this one minute survey here.
What do you think about Mark Sephton's book, Inside Job? Share your review in the comments below: