A Preview of Sell Your Business For More Than It's Worth with Michelle Seiler-Tucker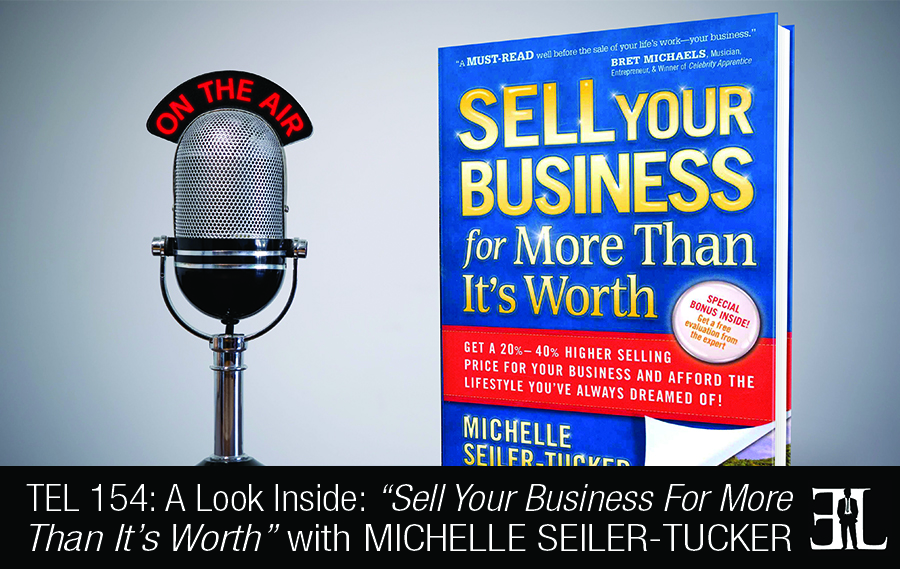 A summary of things you should know about Sell Your Business for More Than it's Worth according to Michelle Seiler-Tucker:
Introduction
In this episode Michelle Seiler-Tucker takes a deep dive into her book, Sell Your Business for More Than it's Worth, where she shows you how to get a twenty to forty percent higher selling price for a business.
In her book Seiler-Tucker provides valuable advice on the commercial real estate industry, reveals the issues that add value to your business, and many more inside tricks that selling advisors use to maximize the value of a business. The goal of the book is to help you increase your market share, make your business more profitable, develop a solid exit plan, and take advantage of a dying industry.
This book is perfect for entrepreneurs who plan on selling their business in the future, want to discover if their industry in thriving or dying, or simply want to increase the value of their business.
The Book's Unique Quality (5:39)
What makes my book unique is that I am an actual business broker and considered a leading authority in buying, selling, and approving businesses. Plus I have owned and operated several successful businesses so I am writing from that perspective.
The Best Way To Engage (6:43)
The book is a step by step process of how to get your business ready to sell and how to sell your business.
The Reader's Takeaway (17:25)
I think the most important thing is to plan your exit and build your business to sale.
A Deep Dive Into The Book (8:03)
Chapter one is titled What Will Make My Business Sell For Maximum Value In The Quickest Amount Of Time. In this chapter I walk my readers through everything a buyer looks for and at the end of the day buyers want to know what type of industry you are in. Is it in an industry that is on its way up or on its way out? The first thing we do is talk about industries that are on their way out and industries that are on their way up.
In chapter three we talk about the more years in business the greater the return. If the business owner has only been in business for less than five years the chances are is that they are not going to get a very high multiple for their company.
In chapter four we really dive into the business and we talk about how customers are the fill in your business and without them you run out of gas. We work with our clients and readers in how to expand and improve their client base.
In chapter five we ask the question – is your business based on brown loyalty or location loyalty? Brown loyalty means that consumers go out of their way to purchase your products and services because you have a great brand. Location loyalty means that consumers are coming to your business because you have a convenient location but if you were to lose that location or lease for whatever reason it would be detrimental for your business.
In chapter six we talk about whether you are selling your business or selling a job. This is crucial because many business owners think they have a business but they really have is just a job in which they go to work every day. So we work with our readers and our clients to create a business that works for them rather than them working for it.
Chapter seven is Report All Your Income or Lose Huge Profits in the Sale of Your Business. This is a very difficult process where I come in and help my clients determine what they are really making and help them do financial house cleaning.
Chapter eight is the key elements to determine what a business is really worth and selling it for more.
NOTE: That was just a summary. To get the full deep dive, play the audio clip at 08:03
Notable Quotes From The Book (18:00)
"No rearview mirrors." -Michelle Seiler-Tucker
The Credibility/Inspiration Of The Author (0:38)
I have always wanted to write even since I was a little girl and I was not your typical little girl. At the age of 10 most girls are playing with dolls but I was walking around with a notebook and pen asking everyone a hundred questions and write short stories based upon what they would say. I have sold hundreds of franchises and businesses for years and many of my clients inspired me to write this book because the sale of a business is very confidential.
Eight out of ten businesses do not sell because the business owners have not planned their exit strategy and the best time to sell is when the business is doing well. The main purpose of the book was to help entrepreneurs plan their exit strategy and know their end game.
Other Books Recommended By The Author (18:38)
The Millionaire Mindset by Thomas J. Stanley
Rich Dad Poor Dad by Robert Kiyosaki
The Art of the Deal by Donald Trump
More Information About This Book and The Author
Buy Sell Your Business for More Than it's Worth by Michelle Seiler-Tucker on Amazon today
Visit MichellTuckerInternational.com to learn more about Michelle and her book
Visit BetterBusinessBrokers.com to learn more about Michelle's company and services
Follow Michelle Seiler-Tucker on Twitter and Facebook
More Information About This Episode
Download the full transcript here (coming soon)
Listen on iTunes, Stitcher , and SoundCloud
Related books:
The Exit Strategy Handbook by Jerry Mills
Sell Your Business for an Outrageous Price by Kevin Short
Final Act of Ownership by Jerry Baltus
Relevant advice and tips:
7 Important Things You Need To Know When Selling Your Business
What did you like and not like about this episode? Fill out this one minute survey here.
What do you think about Michelle Seiler-Tucker's book, Sell Your Business for More Than it's Worth? Share your review in the comments below: