A Preview of The Energy Bus with Jon Gordon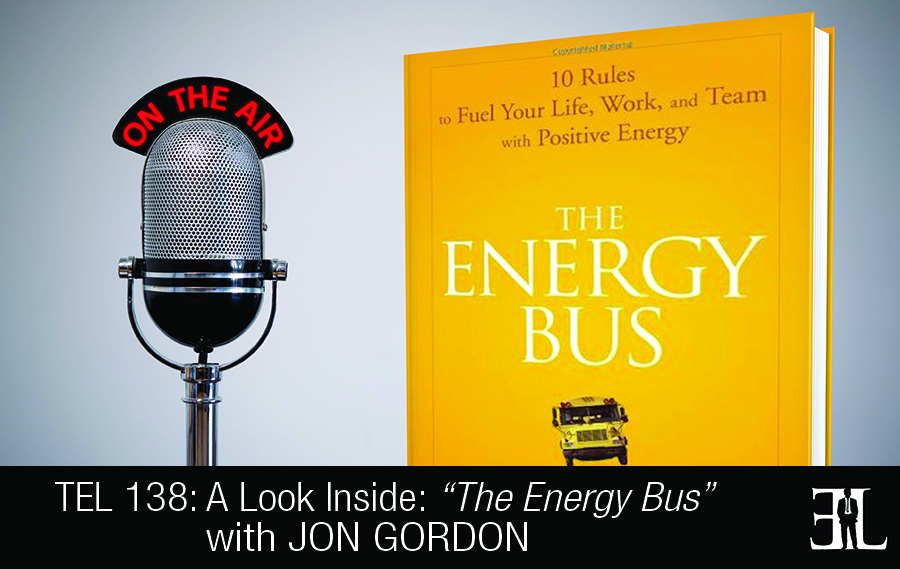 A summary of things you should know about The Energy Bus according to Jon Gordon:
Introduction
In this episode bestselling author Jon Gordon reveals all his insights on his book, The Energy Bus, where he shares 10 rules to fuel your life, work, and team with positive energy.
In his book Gordon reveals 10 secrets for approaching life and work with the kind of positive, forward thinking that leads to true accomplishment. The goal of the book is to help you overcome negativity, build trust with others, improve your enthusiasm, and stop holding grudges in order to bring out the best in yourself.
This book is perfect for entrepreneurs who have a hard time accepting the everyday challenges that come with life and are searching for a way to eliminate negativity from their lives.
The Book's Unique Quality (4:18)
I think the fact that's it's a fable and it was one of those first books to really talk about the importance of positivity and overcoming negative energy.
The Best Way To Engage (5:16)
A lot of people read it from front to back within a day or two. And then after you read it you will find an action plan in the back of the book.
The Reader's Takeaway (7:16)
In the book I tell you about the man who goes to a village to speak to the wise man and he says to the wise man that he feels like there are two dogs inside of him. He has a positive and generous dog but also a mean spirited angry negative dog. These dogs fight all the time and he doesn't know who is going to win. The wise man tells him that the dog that will win will be the one he feeds the most, so feed the positive dog.
A Deep Dive Into The Book (6:01)
The Energy Bus is 10 rules for the ride of your life. It's about a guy name George who is miserable and negative, his team at work is in disarray and he has problems at home. He wakes up Monday morning with a flat tire and he has this important meeting to get to so he ends up having to take the bus to work. George gets on the bus and meets Joy the bus driver who calls him Sugar and shows him 10 rules for the ride of his life. These 10 rules not only help him become a more positive leader but a better father and a better husband. George learns these 10 rules and then applies them to his business, life and work.
NOTE: That was just a summary. To get the full deep dive, play the audio clip at 6:01
Notable Quotes From The Book (8:44)
"The goals in life is to live young, have fun, and arrive at our final destination as late as possible because the goal is to enjoy the ride." – Jon Gordon
The Credibility/Inspiration Of The Author (1:22)
I am a writer and speaker, I consider myself a writer first. I love writing fables that inspire and encourage people. I am a husband and a father to two teenagers.
I was walking, praying, and struggling in my own life and the idea just came to me. The idea of a bus driver who inspires their passengers to change their life and to become a better leader at work just came to me. And I wrote the book in about 3 and ½ weeks of pure inspiration.
Other Books Recommended By The Author (10:07)
Rich Dad Poor Dad by Robert Kiyosaki
More Information About This Book and The Author
Buy The Energy Bus by Jon Gordon on Amazon today
Visit JonGordon.com to learn more about Jon and his books
Follow Jon Gordon on Twitter and Facebook
More Information About This Episode
Download the full transcript here (coming soon)
Listen on iTunes, Stitcher , and SoundCloud
Related books:
The Upside of Your Dark Side by Todd Kashdan
Mindset – The New Psychology of Success by Carol Dweck
Memoirs of Normalcy by Joleene Moody
Relevant advice and tips:
10 Bad Habits That Successful People Avoid
5 Lessons Entrepreneurs Can Learn From Brandon Epstein
What did you like and not like about this episode? Fill out this one minute survey here.
What do you think about Jon Gordon's book, The Energy Bus? Share your review in the comments below: