A Preview of The Now Habit with Neil Fiore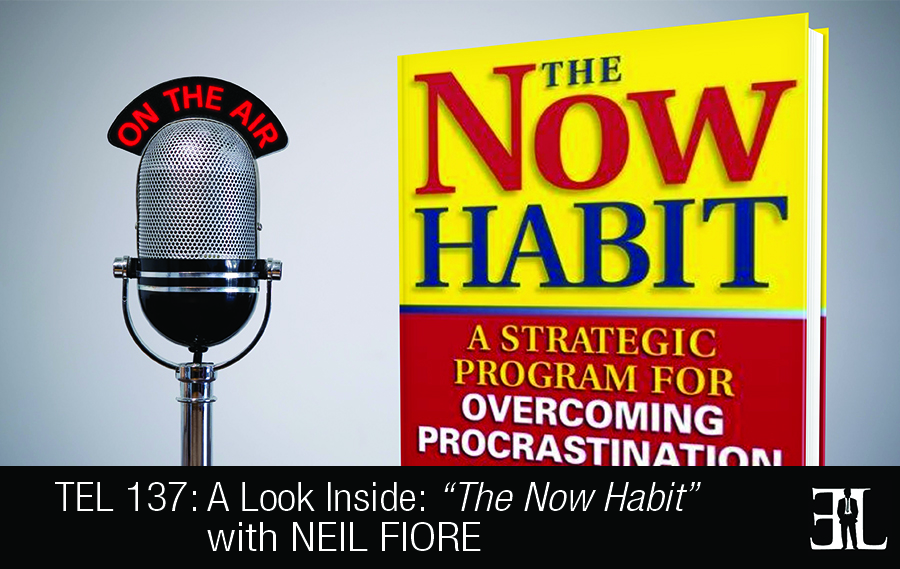 A summary of things you should know about The Now Habit according to Neil Fiore:
Introduction
In this episode Neil Fiore takes a deep dive into his book, The Now Habit, where he reveals all his insights on one of the most effective programs to combat procrastination.
In his book Fiore offers a comprehensive plan and actionable strategies to help you lower your stress and increase your time to enjoy guilt-free play. The goal of the book is to help any busy person start tasks sooner and accomplish them more quickly, without the anxiety brought on by the negative habits of procrastination and perfectionism.
This book is perfect for entrepreneurs who are struggling to get things done in a timely manner and are looking for an effective strategy to become more efficient when it comes to large projects.
The Book's Unique Quality (6:07)
The other books come from what I call a puritanical view where you have to work harder and longer. My book works more strategically and psychologically in shifting around motivation and how to talk to yourself in a voice that is a voice of an affective but compassionate manager.
The Best Way To Engage (7:56)
You can jump in where needed.
The Reader's Takeaway (26:03)
Focus your mind specifically on a time to start for about 5 to 15 minutes. This will replace the usual getting things done idea or I have to finish idea.
A Deep Dive Into The Book (10:40)
One of the reasons we procrastinate is that we have created a since of a burden that our life is just a long list of to-do's. The typical way of trying to solve our problems in this society that we live in is to create greater pressure which only creates more rebellion. So one of the big psychological concepts here is that choice is a third place, it's neither have to or want to. When you look at chapter one, Why We Procrastinate, you are probably going to identify yourself about having a long list of have-to-do's and being unrealistic about your time.
In chapter two we talk about how we procrastinate. I have a schedule there which is you taking a few days or a week and writing down how you spend your time and where it goes. You will hopefully find some productive time but you will also get a sense of what your default habits are that take you away from focusing on the top priority issues.
In chapter three we go over a major concept of how you talk to yourself. If you are saying you have to, want to or need to, you are not telling your mind and body when to start or what to do.
From there I'll skip to chapter six which is titled The Unscheduled. This chapter is called the unscheduled because it has two parts. In part one I give you a blank schedule that is 168 hours and you start off by not filling in work but play, meeting time, commute time, and sleep time so that you get down to a possible maybe 60 hours to work on your projects. From there you schedule in more play time so that it's on your schedule and therefore it's legitimate. In part two you use your schedule like a time clock and you begin to punch in and out every time you need at least 15 to 30 minutes of quality focused uninterrupted work.
The last chapter in this book is dealing with the procrastinator in your life and it has some very specific recommendations on gaining someone's commitment rather than forcing them to comply.
NOTE: That was just a summary. To get the full deep dive, play the audio clip at 10:40
Notable Quotes From The Book (28:36)
"Procrastination is not your problem; procrastination is your attempted solution. It's your attempted solution for dealing with the stress and anxiety of starting or completing a task that is overwhelming or boring" – Neil Fiore
The Credibility/Inspiration Of The Author (0:33)
I was born and raised in Jersey City, New Jersey and that's relevant because coming from a working class family without a lot of money I started working fairly young. By the time I was in high school I was working 15 hours a week at a local supermarket and in college up to 20 hours. I had to learn how to be a lot more efficient than my fellow students and I learned to start writing right when I was assigned an assignment and flesh it out on the bus going to work and finish on the bus coming home. So without realizing it I started to develop those skills very early.
The Now Habit was written while I was on a new job at the University of California. I was working 40 to 45 hours a week, enjoying California, and putting in 15 to 20 hours a week to work on my dissertation so I was extremely focused while busy. I was attempting to work with doctorial students and graduate students and noticed that they were procrastinating. So I realized that I had something valuable that I had taken for granted and wanted to help other people by sharing it in this book.
Other Books Recommended By The Author (29:57)
Working with Emotional Intelligence by Daniel Goleman
More Information About This Book and The Author
Buy The Now Habit by Neil Fiore on Amazon today
Visit NeilFiore.com to learn more about Neil and all his books
Follow Neil Fiore on Twitter and YouTube
More Information About This Episode
Download the full transcript here (coming soon)
Listen on iTunes, Stitcher , and SoundCloud
Related books:
Getting Things Done by David Allen
Habit Stacking by Steve Scott
SCRUM: The Art of Doing Twice the Work in Half the Time by Jeff Sutherland
Relevant advice and tips:
7 Productivity Tools For Entrepreneurs To Make Life Easier
What did you like and not like about this episode? Fill out this one minute survey here.
What do you think about Neil Fiore's book, The Now Habit? Share your review in the comments below: