A Preview of Fail Fast or Win Big with Bernhard Schroeder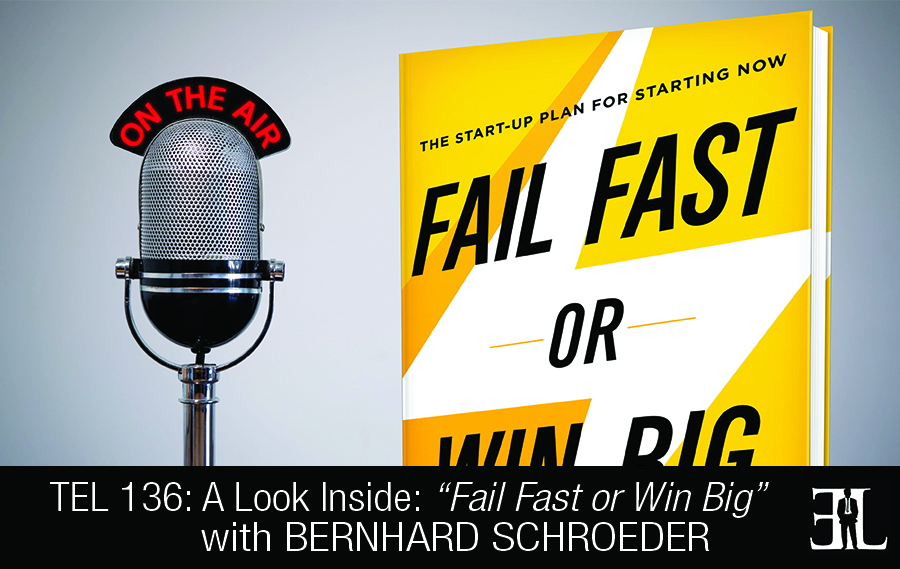 A summary of things you should know about Fail Fast or Win Big according to Bernhard Schroeder:
Introduction
In this episode Bernhard Schroeder reveals his insights on his book, Fail Fast or Win Big, where he reveals how the right kind of risk and embracing fast failure can really pay off.
In his book Schroeder teaches you how to create a quick prototype of your product or service, develop a business model, test it repeatedly with customers, and continue to refine your business model. The goal of the book is to help you determine quickly whether your business idea is worth pursuing, needs new direction, or should be abandoned altogether.
This book is perfect for entrepreneurs who are starting a brand new business and need help figuring out the best way to create a business model, test a product or service, and pinpoint any failure.
The Book's Unique Quality (3:00)
I think there are some great books and content out there on entrepreneurship. I am an entrepreneur who has built a billion dollar company and helped build multiple others and so I have a lot of context and experience. I wanted to give the reader a book that was full of rich content on how you can actually test something quickly and that's the idea behind Fail Fast or Win Big. I've taken some of the best principles that have come out in the last five years and I put them all together in this book.
The Best Way To Engage (4:14)
I designed the book to be read jumping in and jumping out but if you wanted to read the whole thing you could.
The Reader's Takeaway (14:16)
The main concept would be that you really weren't born to do anything and you should do what you want. I wasn't born to be an entrepreneur, I became one.
A Deep Dive Into The Book (4:57)
I am on a college campus and I am teaching college kids in 2008 how to write business plans and at the same time I am looking at what is happening with the recession. I am looking at the idea that it's not about business plans anymore, it's about moving faster. It takes too long to write a business plan. I have met people that have spent a year writing a business plan only to see someone else move into the market. So in chapter one I explain why we are at the end of business plans and what you have to do next.
In chapter two I introduce the lean model framework and the four elements. The four elements are customer truth, business model, lean resources, and rapid prototyping.
The title of chapter three says it all, Ideas Are Great but Business Models Rule.
In chapter four I get into another element of the framework which is lean resources and the chapter is titled Lean Resources, Less is More. This chapter explains what the lean resources are that are out there that you can leverage.
Chapter five is about rapid prototyping. I don't know if there has been a better time in the history of the world for creating a company. In this chapter I explain why rapid prototyping is important and how you can test it with customers so that you can get the right feedback to know whether or not you have a good idea to move forward.
In chapter six I talk about a really critical element of the model which is the customer truth. Since I started my marketing career I believe that if you really want to understand the customer you have to meet them face to face. In this chapter I explain how you can get at customer truth and what are all the ways you can get it very cost effectively.
In chapter seven I talk about why we might not need BC's in the future. I explain regular crowd funding and I explain the new crowd equity funding that the SCC is now getting ready to release the rules on. This chapter is titled Entrepreneurs have a New Investor, the Crowd and I honestly believe this is an amazing way to fund a small startup or to get a company started without giving up very much at all. I explain exactly how to go about it including how to create a crowd funding or a crowd equity campaign.
In chapter eight I talk about where I see opportunity today. In this chapter I explain what I think the top 10 to 15 opportunities are and how people can go after them.
In chapter nine I provide people with something they don't have easy access to and that is the first two to three years of the back story of what top entrepreneurs did to make it.
And in chapter ten I sum it up and I talk about the steps people can take if they want to be an entrepreneur.
NOTE: That was just a summary. To get the full deep dive, play the audio clip at 4:57
Notable Quotes From The Book (15:49)
"As an entrepreneur you are not in the business of writing business plans." – Bernhard Schroeder
The Credibility/Inspiration Of The Author (1:04)
I am a director of Lavin Entrepreneurship Center at San Diego State University. I also teach in the entrepreneurship program and I was a career marketing guy who happened to build a billion dollar company with three other people and launch some amazing companies like Amazon and Yahoo.
After I built my marketing career and a billion dollar company I decided that none of that was motivating anymore and I wanted to somehow figure out a way to help other people have an amazing life. I decided to go back to a college campus and teach and as I was teaching I was asked to Speak at a Ted event. The topic at that event was Why Failing Fast is Great. The next day I got an e-mail from a publisher in New York who said he'd heard about the talk from a friend of his who attended and he wanted to see the power point because he thought it was a book. Before you know it he gave me feedback that this is the kind of thing that can help a lot of people and so I wrote the book.
Other Books Recommended By The Author (17:36)
Spin Selling by Neil Rackham
More Information About This Book and The Author
Buy Fail Fast or Win Big by Bernhard Schroeder on Amazon today
Visit BernieSchroeder.com to learn more about Bernhard and connect with him
Follow Bernhard Schroeder on LinkedIn
More Information About This Episode
Download the full transcript here (coming soon)
Listen on iTunes, Stitcher , and SoundCloud
Related books:
How To Ruin A Business Without Really Trying by MJ Gottlieb
Selfish Scared and Stupid by Kieran Flanagan and Dan Gregory
Scaling Up by Verne Harnish
Relevant advice and tips:
5 Important Things That Every Entrepreneur Needs To Know About Starting a New Business
What did you like and not like about this episode? Fill out this one minute survey here.
What do you think about Bernhard Schroeder's book, Fail Fast or Win Big? Share your review in the comments below: