A Preview of How To Ruin A Business Without Really Trying with MJ Gottlieb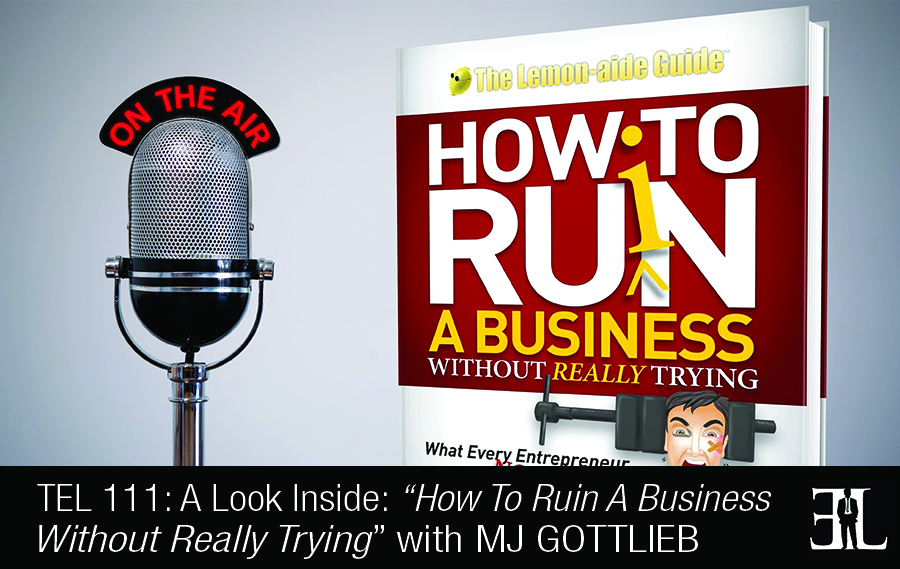 A summary of things you should know about How To Ruin A Business Without Really Trying according to MJ Gottlieb:
Introduction
In this episode MJ Gottlieb shares his book, How To Ruin A Business Without Really Trying, where he shares what every entrepreneur should not do when running a business.
In his book Gottlieb gives you 55 of the most painful and destruction mistakes and failures many entrepreneurs make when running a business today. The goal of his book is to help you learn from other entrepreneurs' mistakes while taking the ego out of the equation allowing you to enjoy the freedom of your own experience.
This book is perfect for aspiring entrepreneurs who are thinking about starting a business and need a stepping stone to help promote faster growth in the beginning.
The Book's Unique Quality (3:02)
Most of the books that are out there tell people what to do. I believe that this is really the first book that tells people what not to do. And the reasoning behind that is that I don't believe entrepreneurs like to be told what to do.
The Best Way To Engage (3:48)
You can absolutely jump from one section to the next and it doesn't necessarily have to be read from front to back.
The Reader's Takeaway (8:01)
I would say doing your due diligence. I think that doing your due diligence is one of the most recurring themes of the book.
A Deep Dive Into The Book (4:31)
The book is separated in to two sections. The first section is 39 case studies starting with the top do nots and never evers. These are the most common and prominent mistakes entrepreneurs make and I do that by highlighting the mistakes that I have made. Every case study has the mistake that I made and then it goes into the right thing to do which is what I know about it now and how I would go about doing things differently. Even though I came from the fashionable background it is applicable for all business whether you are product driven or service driven.
The second part of the book has everything to do with people that are in pursuit of the deal, raising capital, the different types of investors, the whole process of looking for money, the value of resources compared to just money, different problems with technology and different ways that we can take advantage now of the technology that we have. Sections also contain things that you would never learn in a business class such as something like Murphy's Law. It is full of information that happens in the real world of being an entrepreneur that you really can't be taught in business class.
Notable Quotes From The Book (9:20)
"The jack of all trades is a jackass." – MJ Gottlieb
The Credibility/Inspiration Of The Author (0:48)
I have been typically in the offline business for about 20 years having owned and operated five fashion brands since 1991. The last one I owned was up until 2007. I recently wrote a book about all the mistakes I made in hopes that aspiring entrepreneurs can actually learn from those mistakes.
I had just lost my second business and I was writing down all the mistakes that I had made just to get it out of my system. A friend of mine said it was great that I was doing it but asked if I had any idea the value that this information can have for those people that are looking to start a business. He said to call it What Not To Do When Starting A Business and then years later I made it into a book.
Other Books Recommended By The Author
How To Win Friends and Influence People by Dale Carnegie
More Information About This Book and The Author
Buy How To Ruin A Business Without Really Trying by MJ Gottlieb on Amazon today
Visit HustleBranding.com to learn more about MJ and his company
Visit HowToRuinABusiness.com to learn more about the book
Follow MJ Gottlieb on Twitter and Facebook
For questions contact MJ by email here
More Information About This Episode
Download the full transcript here (coming soon)
Listen on iTunes, Stitcher , and SoundCloud
Related books: Business in Blue Jeans by Susan Baroncini-Moe | All In Startup by Diana Kander | People Tools For Business by Alan Fox
Relevant advice and tips: 5 Ways Entrepreneurs Can Overcome Business Failure
What did you like and not like about this episode? Fill out this one minute survey here.
What do think about MJ Gottlieb's book, How To Ruin A Business Without Trying? Share your review in comments below: