A Preview of Body Of Work with Pamela Slim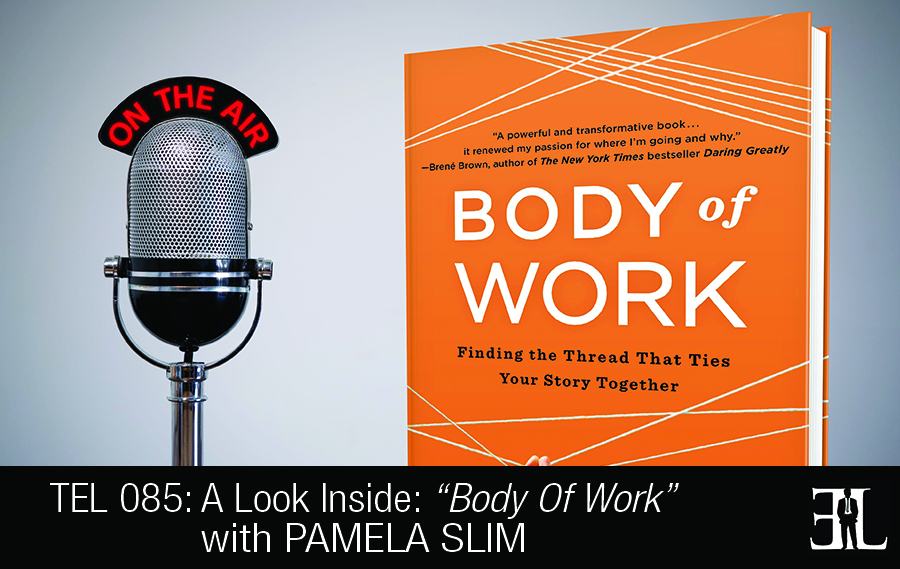 A summary of things you should know about Body of Work according to Pamela Slim
Introduction
In this episode Pamela Slim shares her book, Body of Work, where she gives you the tools to tie your story together in order to have a meaningful career.
In her book, Slim teaches you how to find the right connections for your accomplishments, sell your story, and continually reinvent and re-launch your personal brand. The goal of this book is to guide you through today's complex career landscape to better understand the importance of the work you do.
This book is perfect for entrepreneurs who are struggling to understand their true passion while working multiple jobs and need a way to find fulfillment, joy, and inner peace.
The Book's Unique Quality (5:09)
On one hand it really is a different way of looking at work. I am the kind of coach were I feel fiercely passionate about not being totally prescriptive. I feel so strongly that people need to be designing a life and work situation that fits for them and their particular situation. I think it's easy to be prescriptive sometimes and tell people what to do and I didn't want to do that with this book and it's what sets it apart.
The Best Way To Engage (6:30)
I wrote it to have real stories of real people who are demonstrating the key skills that I talk about. I wanted to make it interesting to read, engaging and conceptually understandable which is why a lot of people tend to read it all the way through first to understand how the pieces fit together. It is a way of looking at the world of work that may not make too much sense if you jump in in the middle of it.
The Reader's Takeaway (19:56)
The heart of the book for me is to create and innovate. When we are able to clearly define what it is that we want to create that is the skill that will be the most important for you as an entrepreneur. It's also very important to share your story.
A Deep Dive Into The Book (8:06)
The first chapter lays out the overall concept of Body of Work. My premise is that our body of work is everything that we create, contribute, affect and impact throughout the course of our lives.
Then we begin to dive in piece by piece at what you can examine in order to build the body of what is going to be personally meaningful and significant and also have a good impact in the world. The piece of that is defining your roots which are identifying your values, beliefs and the problems that you want to solve. We go through a process of the things that are going to drive your work forward.
The second piece is name your ingredients and this is where you go in to understanding specifically your skills, strengths and experiences.
From there we go in and explore different work modes.
That moves us in to create and innovate which is to me the heart and body of work. I think that we realize our potential and contribute the most when we are creating specific projects.
The next section is what I call Surf the Fear. If there is one thing I know over working 20 years with people around their work lives is that any kind of change and transition involves fear, doubt and uncertainty. I do not believe that we need to ignore or crush fear but rather learn to harness positive components of fear.
The next chapter is on collaborating and this is a skill that is so useful and important. It covers everything from collaborating with our market and it's also about being very specific about how you are collaborating with people in order to strengthen yourself.
The next to the last session is on your definition of success. This is where I have seen many people fall into unhappiness which is where they are not conscious about what truly defines success for them in their life and business. This chapter focuses on how you can create a definition of success that really works for you and makes you happy while you are building it.
The final chapter is about sharing your story. Once you do have this very clear understanding about the work you want to do, your unique strengths, your purpose and why you are doing the work, you have a strong consistent story. One thing that I find with many entrepreneurs who have many interests is they have a hard time explaining exactly who they are and what they do. You need to figure out a way to take all of your diverse ingredients and offerings and communicate it in such a way that people can clearly understand what you do.
Notable Quotes From The Book (21:00)
"But I say to you that when you work you fulfill a part of earth's furthest dream assigned to you when that dream was born and in keeping yourself with labor you are in truth loving life. And to love life through labor is to be intimate with life's inmost secret." –Kahlil Gibran
The Credibility/Inspiration Of The Author (0:36)
I am a speaker, writer, business coach and a very happy mom. I have spent time in just about every work mode that you can possible imagine. I spent time as an employee, a nonprofit professional, volunteer executive director, a consultant and independent business coach. I find great joy and interest in figuring out how people express themselves through their work.
My inspiration came from the work that I was doing specifically for about nine years which was working with people who were in corporate jobs that wanted to leave and start a business. Operating in the startup phase for nine years I began to see specific gaps and things that were missing from the way of framework for understanding the new world of work.
Other Books Recommended By The Author (22:55)
Resonate by Nancy Duarte
More Information About This Book and The Author
Buy Body of Work by Pamela Slim on Amazon today
Visit PamelaSlim.com to learn more about Pamela and join her mailing list
Follow Pamela Slim on Twitter and Facebook
More Information About This Episode
Download the full transcript here
Listen on iTunes, Stitcher , and SoundCloud
Related books: Own Your Future by Paul B Brown | Dream Year by Ben Arment | Hello My Name is Awesome by Alexandra Watkins
What did you like and not like about this episode? Fill out this one minute survey here.
What story do you tell when selling yourself to others? Share with everyone in the comments below: