A Preview of Lean Branding with Laura Busche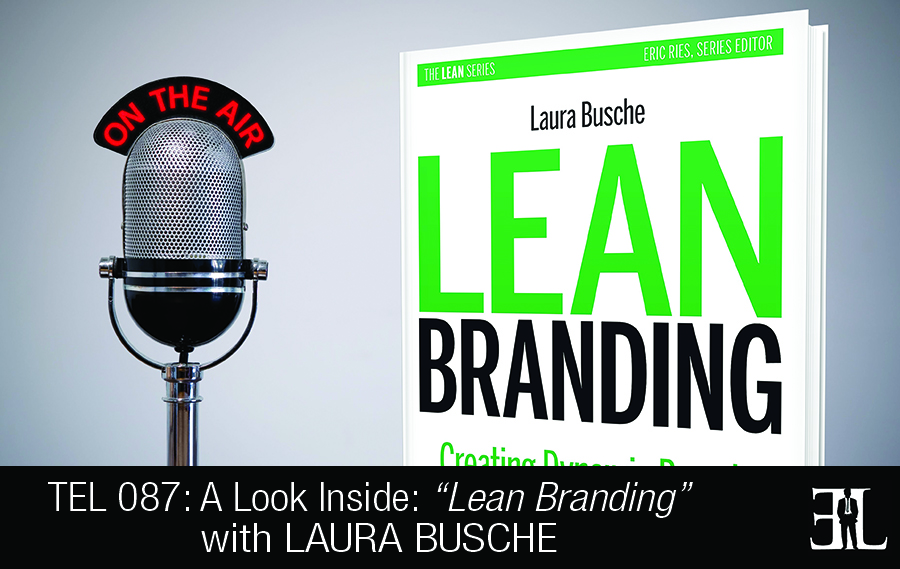 A summary of things you should know about Lean Branding according to Laura Busche
Introduction
In this episode Laura Busche shares her book, Lean Branding, where she gives you over 100 do-it-yourself branding tactics that teach you how to create brands effectively.
In her book, Busche helps you build your own brand with inspiring case studies and step-by-step instructions for measuring and building logo designs to demo pitches. The goal of the book is to provide you with a brand personality and story that will convert with your audience.
This book is perfect for entrepreneurs who are thinking about creating a company or want to rebrand an existing one, but need step-by-step guidance for building the perfect brand.
The Book's Unique Quality (5:36)
Lean Branding is a very tactical book and brings more than 100 tactics to hack the creation of a value story, visual symbols and effective communication strategies. Unlike other branding books that are out there we are not here to introduce complicated theories but to show you how these theories can actually be applied. The book is also different because I am combining insights from business and also combining design.
The Best Way To Engage (8:50)
There is a chapter at the beginning of the book that gives you 3 or 4 ways to read it.
The Reader's Takeaway (16:54)
The key takeaway is that mastering branding has never been more crucial for you. Developing a unique story to identify your offer in your costumer's minds can make or break you in our marketplace.
A Deep Dive Into The Book (9:19)
Lean Branding is divided in to three sections called Build, Measure and Learn and for each of the sections you will find strategic branding tips and tools with step by step instructions to create your own brand components.
In the Build section we will teach you how to build 25 minimum viable brand components that you will need to enter the marketplace.
In the measure section we will give you the tools that you need to measure how well these components and doing in the marketplace.
The lean section will give you examples and advice on how to iterate based on the data that you find and the metrics that you take in to account as you are measuring.
It all starts when Lean Branding defines what a brand is. In the book a brand is defined as the story that consumers recall when they think of you. And this brand that we define is made up of three parts. Most people think that brands are just logos and the book makes it clear that a true brand is made up of three components which are a value creation story, a set of visual symbols, and a strong growth strategy that can communicate the story. As you go through the build, measure and learn section you will find ways to create and iterate on your stories, symbols and strategy.
The specific things that you will learn in the book include naming your brand which I know is hard for some entrepreneurs who are just starting. You learn to create a brand story that is very engaging. You also learn how to design your visual identity that will represent your value story. You will build a brand personality and a voice that can let you conquer your audience and you will develop something we call buyer personas that will help you clarify what your audience looks like. I also introduce learn research methods like ethnography and this method will help you learn about your consumers' needs and aspirations. You will learn how to design landing pages, videos, press releases, ad campaigns and many other essential brand assets that startups need to grow.
You will also define a brand journey that will help you optimize growth before, during and after conversion. And you will learn how to set up and measure the impact of your social media and marketing strategies. As you do all of this you will learn how to reduce waste because the book will show you how to formulate hypothesis's and validate them which will make your branding less wasteful.
Notable Quotes From The Book (17:50)
"People relate to people and if your brand feels like people they'll relate to you too." – Laura Busche
The Credibility/Inspiration Of The Author (0:37)
I am originally a business major with a master in design managements and I am doing doctoral studies in psychology. I have been working with startups from every field imaginable for the last five years. For the last two years I have been working specifically with tech startups in a methodology called Lean Branding. We have been working to make it easier for startups to develop their brands and to thrive doing so.
The inspiration was definitely entrepreneurs. Entrepreneurs in all stages and walks of life are the reason that I do what I do. For the last five years I have been mentoring startup founders in order to help them build a brand that can really communicate what their product and service can do for costumers.
Other Books Recommended By The Author (19:10)
Business Model Generation by Alexander Osterwalder
More Information About This Book and The Author
Buy Lean Branding by Laura Busche on Amazon today
Visit LeanBranding.com for more information about the book and some exclusive tips
For questions contact Laura by email here
Follow Laura Busche on Twitter and Facebook
More Information About This Episode
Download the full transcript here (coming soon)
Listen on iTunes, Stitcher , and SoundCloud
Related books: Hello My Name is Awesome by Alexandra Watkins | Digital BACON by Alex Rodriguez | Startup Mixology by Frank Gruber
Relevant advice and tips: 5 Mistakes Entrepreneurs Make With Marketing and Branding
What did you like and not like about this episode? Fill out this one minute survey here.
What other branding books have helped you find success? Share with everyone in the comments below: