7 Steps To Improve Networking Skills For Entrepreneurs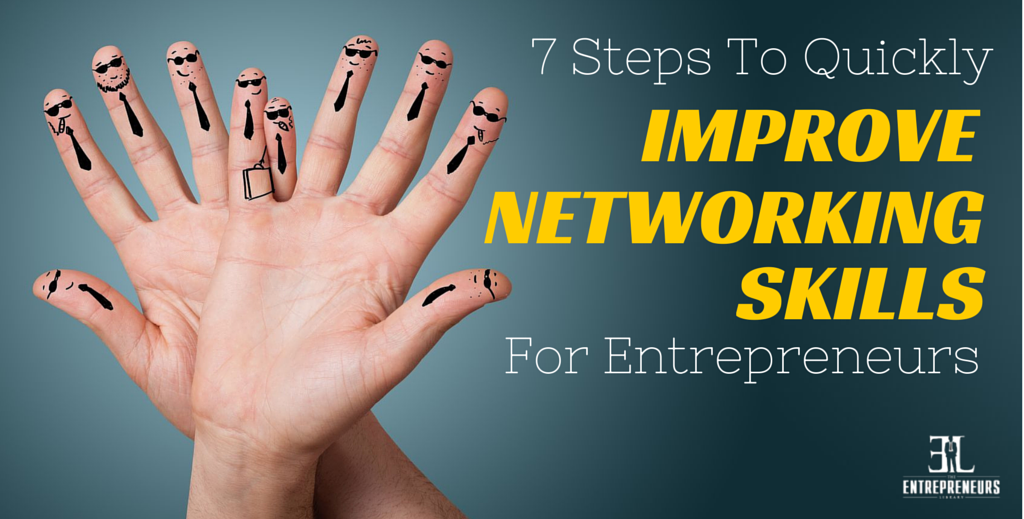 7 Steps To Improve Networking Skills For Entrepreneurs
Underestimating the power of networking is sure to be disadvantageous for an entrepreneur. But why do many entrepreneurs care less about this? It is their idea of networking that adds to the trouble. If you think that it is simply about meeting new people and collecting business cards, you are mistaken.
Business networking skills are something every entrepreneur needs to acquire and improve on. And it doesn't imply collecting business cards only – it requires much more than that. It is about building and nurturing meaningful relationships in the entrepreneurial world that will aid your success as an entrepreneur.
How can an entrepreneur improve networking skills? Let's outline the steps to become successful at it:
Step 1: Identify opportunities. Which events do you attend? Well, every industry event is a big opportunity to make new relationships. Be it a trade show, a conference or a workshop, if it is a relevant place with the relevant people, attend it. Also, check the calendar of events at your local chamber of commerce; their events present good opportunities to network with other business-minded people.
Step 2: Plan ahead. Who do you want to meet? How do you approach them when you meet? What do you want to come up as a result of a meeting? Determine the answers to these questions before you take a step. Set smaller attainable goals – such as 'I will meet 3 new individuals at this week's events' instead of 'I will sign three deals with my contacts.'
Step 3: Pay attention to appearance and manners. Just as you prepare your pitch before a meeting, focus on what to wear and how to behave too. A first impression of an entrepreneur matters. So, dress appropriately for the do. And don't make your pitch all about hard-selling – it won't work for your first attempt at networking.
Step 4: Step out of your comfort zone. It is easy to keep talking to the people you know at an event where you don't know the majority. But if you did this, you fail the purpose. The focus needs to be on how to create new contacts. And while you are at it, don't waste your time on forming a hundred casual contacts; instead, focus on a few solid ones.
Step 5: Make it a two-way thing. A meeting is essentially a conversation. And it won't be so if you monopolize it. Talk, but listen too. Ask questions, understand answers and keep a note. Make it about how you can be of help to the other; not the other way around. Don't let one monopolize your time; and don't do it to others either.
Step 6: Get the right mix. Exchanging business cards is alright; just don't put them somewhere and forget all about them. Feed the details into your mobile device. Initiate conversations with the right contacts – both in the real world (you can meet them for a coffee) and on social media (you can email them a helpful resource).
Step 7: Most importantly, stay in touch. The basic idea of networking is simple – you create and nurture relationships with the right people to boost your business. And you need to maintain this to serve its purpose. This doesn't mean you have to pester them with emails every day, just keep it meaningful – so they know you haven't forgotten them.
Networking skills can help an entrepreneur land new business. It can also help you avoid a tunnel vision of meeting and keeping in touch with the people in your industry alone. Just don't treat it like work. You don't do it when you converse with your personal contacts; don't do it for your business contacts either.
The real person behind the business is what matters most when it comes to networking.
Do you want more tips and advice to improve networking skills? Here are some books featured on The EL that I recommend:
The Entrepreneur Mind by Kevin D Johnson | Listen to Kevin give a deep dive here
What's Next by Michael Price | Listen to Michael give a deep dive here
The Seven Levels of Communication by Michael J Maher | Listen to Michael give a deep dive here
Body Of Work by Pamela Slim | Listen to Pamela give a deep dive here
Lean Branding by Laura Busche | Listen to Laura give a deep dive here