A Preview of What's Next with Michael Price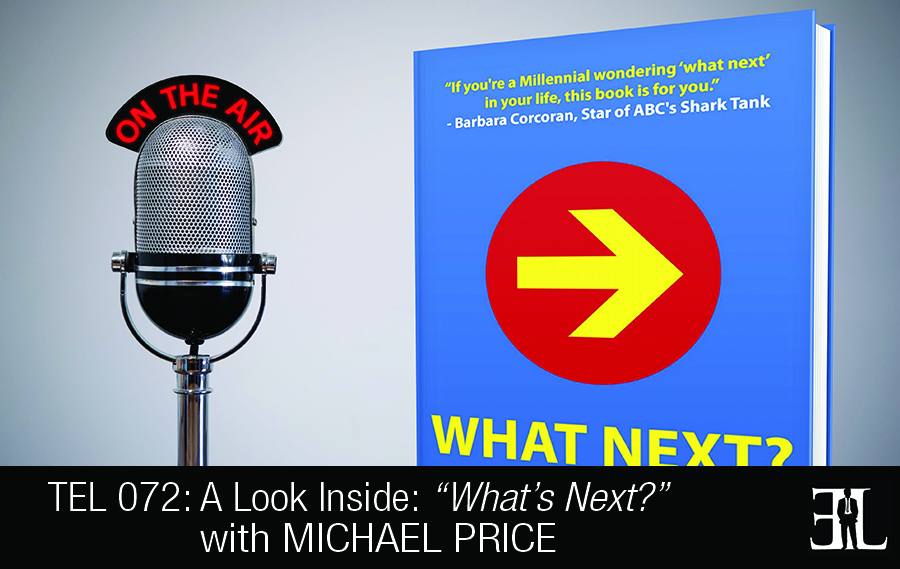 A summary of things you should know about What's Next? according to Michael Price:
Introduction
In this episode Michael Price takes a deep dive into his book, What's Next, where he gives you a guide for surviving and thriving in the real world.
In his book, Price teaches you how to decide if college is right for you, how to escape Corporate America and pursue your passion, and how to use the Internet for continuing education, networking, building a business, and turning your passion into profit.
This book is perfect for aspiring entrepreneurs between the ages of 15 and 33 who are seeking an all-inclusive guide to finding the right education and entrance into the world today.
The Book's Unique Quality (4:40)
The book is tailor-made for millennials and a more comprehensive book. In addition to entrepreneurship it touches on a lot of other topics like education and employment. This has personally worked for me and I see it becoming a trend working for a lot of others.
The Best Way To Engage (6:00)
It depends on the age level and the station of life the reader is in. The reader can jump in and pick up from where they are in their life in that particular point of time. The age group of a millennial is between the ages of 15 to 33.
The Reader's Takeaway (19:46)
I would want the reader to really understand the impact of the world that we live in today and most importantly the world that we are going to live in tomorrow.
A Deep Dive Into The Book (7:51)
The book opens up in chapter one titled Welcome to the Real World. I believe that millennials are extremely unprepared for the real world and I think it's largely consequence of the way we were raised and the society we were brought up in. You can have all the opportunity in the world but if you don't have a large sector of people that are willing to embrace that opportunity and know what to do with it, you have a big issue. We have the most highly educated generation in history but at the same time they are also the most unemployed generation in history. A lot of these issues are covered in the book and help break down the history of that.
Chapter two explores the notion of the internet age, social networking, real world networking and how to build business. This chapter helps people understand this phenomenon that we are seeing.
Chapters three and four discuss education. These chapters help the reader really understand what education is and what it's not. These days there are so many different ways to educate yourself in terms of learning whatever it is necessary to get you to the next point in your life. The reader will get a lot of insight into that and alternative solutions should they not be able to or desire to go the traditional route of education.
In Chapter five we get involved in the brand building component of business and entrepreneurship. This book takes the reader down this path to entrepreneurship but it focuses very heavily making sure that they survive and thrive in their career as an employee. I believe that employment is the new training ground for entrepreneurship.
Chapter six is titled Surviving Corporate America and has 15 of the best pieces of advice that I could provide working in the corporate environment at a very high level for several years.
And chapter seven is titled Escaping Corporate America. This chapter helps give real insight to what you can expect when you take the plunge to quit your job and to go all-in as an entrepreneur.
In chapter eight we discuss some basic financial literacy skills which sadly aren't taught in schools but its key for success in the real world.
The book closes out in chapter nine by providing a message to parents who have already raised a millennial or are currently raising a millennial.
NOTE: That was just a summary. To get the full deep dive, play the audio clip at 07:51
Notable Quotes From The Book (21:38)
"My fellow millennials, are you prepared for the real world?" – Michael Price
The Credibility/Inspiration Of The Author (0:37)
I am an entrepreneur, an author and a millennial. I also founded I Can Be Society.
After explaining my unhappiness with my job at the time to my dad he suggested I write a book. I knew I had the ability to write a book and as I looked back on my life from the ages 15 to 28 I wanted to show how education and career fit together.
Other Books Recommended By The Author (22:40)
Think and Grow Rich by Napoleon Hill
More Information About This Book and The Author
Buy What's Next? by Michael Price on Amazon today
Visit MichaelPriceless.com to learn more about Michael and his book
Visit ICanBeSociety.com to learn more about Michael's platform to help inspire people
Follow Michael Price on Twitter and Facebook
More Information About This Episode
Download the full transcript here (coming soon)
Listen on iTunes, Stitcher , and SoundCloud
Related books:
The New Entrepreneurz by Ronen Gafni and Simcha Gluck
The Freaks Shall Inherit the Earth by Chris Brogan
Freedom After the Sharks by Geoff Hudson-Searle
Relevant advice and tips:
7 Signs That You Have What It Takes To Be An Entrepreneur
7 Unique Styles Of Entrepreneurs
What did you like and not like about this episode? Fill out this one minute survey here.
What do you think about Michael Price's book, What's Next? Share your review in the comments below: