A Preview of Conquering The Seven Summits of Sales with Susan Ershler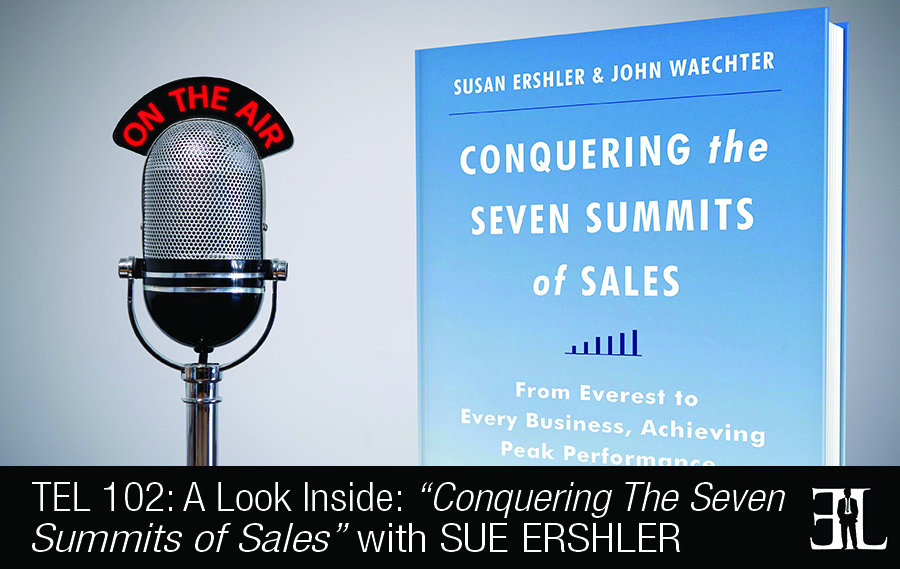 A summary of things you should know about Conquering The Seven Summits of Sales according to Sue Ershler:
Introduction
In this episode Sue Ershler takes a deep dive into her book, Conquering The Seven Summits of Sales, where she examines what it takes to achieve sales success based on the techniques used to climb the highest mountains in the world.
In her book, Ershler shares her grueling journey climbing up the seven summits of Mount Everest and draws on her experiences to inspire sales professionals to achieve the highest performance. The goal of the book is to help you clearly define goals, build the right team, commit to a vision, manage your time effectively, and track your progress properly.
This book is perfect for entrepreneurs who possess a high amount of determination and are looking for a uniquely, inspirational guide to achieving the highest achievement in sales.
The Book's Unique Quality (2:11)
There are a couple other books out there but they are based on research and a lot of times on theory. This book is based on real life experiences and the strategies and skill sets that we learned from actually working in the corporate fortune 500 world.
The Best Way To Engage (2:51)
I would start at the beginning and read all the way through. However at the end of each chapter I have a summary so you can quickly look at that if you need to.
The Reader's Takeaway (11:18)
We need to break down these big objectives (dreams) into manageable bit size pieces.
A Deep Dive Into The Book (3:28)
The three phased in the book are project phase, the prepare phase and the persevere phase. Within these three phases there are the seven summits that we need to conquer to achieve peak performance.
The project phase is about projecting our future and having a very clear vision of where we are going. The second phase is prepare and we know that no big mountain is scaled in a single climb. And no big business objectives are achieved in a single day either. The third phase is to persevere and probably the most difficult phase. All great achievements are realized by committing to the goal and working relentlessly to retain it.
The first chapter in the book is about committing to the summit. It is so critical that we have a vision and that we are committed to the vision. It's important to have your vision written down because when we have our vision then it drives the right activity.
The second chapter is to travel light. This is so critical in business and in climbing. Today in this world we are all overloaded so this chapter is how to make sure that we keep our vision in front of us.
The third chapter is plan the route and this is about putting a plan together which is the who, what, when, where and how.
Chapter four is about guiding your customers to success and by doing that you will be successful.
In chapter five we talk about building your team. In this chapter we have two sections; one is building our internal team and the other is building the outside network. The top leaders and entrepreneurs are not experts in everything but they build an outside network where when they need to do something that they don't know how to do they go in to their network and find the expert.
The sixth chapter is about executing the route. In this chapter we have a lot of graphs and information that we can use to execute our route. We need to study the route at all times because we have got to educate our customers.
The last chapter is about the persevere phase and its titled Stand on Top. We stress this a lot because we are only going to get one opportunity. We need to dream big and take our corporation to the next level.
Notable Quotes From The Book (13:14)
"Surround yourself with people who won't let you quit." – Phil Ershler
The Credibility/Inspiration Of The Author (0:39)
I was a business corporate executive for over two decades and also a mountain climber for over two decades. I am an author, public speaker and most recently an entrepreneur.
While I was advancing my career and climbing the corporate ladder we were climbing the seven summits, the highest mountain on each one of the seven continents. It is amazing the skill sets that are parallel between climbing the sales ladder and also climbing the seven summits. The reason I wrote the book was because I wanted to help others. We achieved these objectives and now I like to help others reach success in their business and their personal life.
Other Books Recommended By The Author
Seven Summits by Dick Bass
More Information About This Book and The Author
Buy Conquering The Seven Summits of Sales by Sue Ershler on Amazon today
Visit ReachingNewHeights.com to learn more about the book
Follow Susan Ershler on Twitter
More Information About This Episode
Download the full transcript here (coming soon)
Listen on iTunes, Stitcher , and SoundCloud
Related books: High Profit Selling by Mark Hunter | Hyper Sales Growth by Jack Daly | Profit First by Mike Michalowicz
Relevant advice and tips: 7 Reasons Why Your Sales Skills Suck
What did you like and not like about this episode? Fill out this one minute survey here.