A Preview of Crazy Is A Compliment with Linda Rottenberg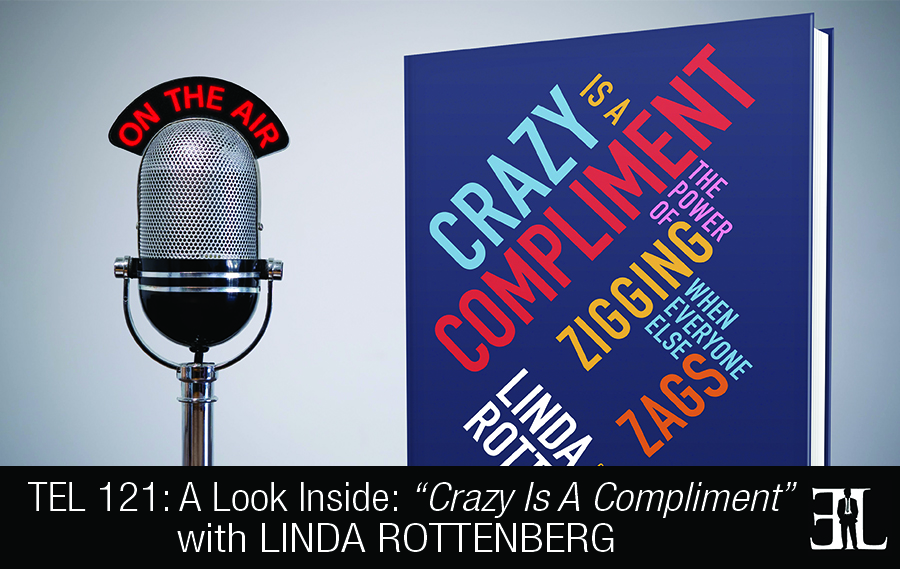 A summary of things you should know about Crazy Is A Compliment according to Linda Rottenberg:
Introduction
In this episode Linda Rottenberg takes a deep dive into her book, Crazy Is A Compliment, where she highlights the proven techniques to achieve your dreams.
In her book, Rottenberg combines inspiring stories, original research, and practical advice to create roadmap for starting a new venture. The goal of the book is to teach you how to think bold, execute smart, and be adaptive to the market through the most iconic entrepreneurs that she has advised from all over the country.
This book is perfect for CEOs, small business owners, or aspiring entrepreneurs who have a dream, but don't know how to turn their dream into a marketable business plan.
The Book's Unique Quality (4:32)
A few things make it different. Number one is I look at the entire journey of the entrepreneur; I divide it up in to three sections, get going, go big, and go home. I think a lot of people look at just the startup phase and I look at not only the startup but the scale up. I also really wanted to showcase lots of different examples. I feel like so many of the books and lessons about entrepreneurship feature the same companies and I tried to showcase so many different stories. It's really about how entrepreneurship today is a skillset and a mindset and it's not just my own journey but it's the journey of thousands of people I've lived and worked with around the world.
The Best Way To Engage (6:05)
This book is meant for jumping in and jumping out. I write like I talk so I imagine myself having a coffee conversation with the reader. I also have an audio tape so you can hear me talk it out if you would rather download it. It's about meeting you wherever you feel you are stuck and giving you the inspiration and tools to get unstuck.
The Reader's Takeaway (35:39)
It would be that any dream can be made possible if you give yourself permission to think big and take the initial risk and then spend the rest of your time de-risking that risk.
A Deep Dive Into The Book (7:27)
What I've learned working in 22 countries around the world where I personally thought that the biggest barriers to getting going with an entrepreneurial idea would be financial, structural or cultural. And I was wrong on all three counts. The biggest barrier to getting going and being an entrepreneur is psychological. We hold ourselves back and don't give ourselves permission to launch our ideas because we are worried about what other people will think. It turns out that the first person we have to convince to move forward is the hardest one and it is ourselves. So I tell a lot of stories about how people can overcome their own fears.
I think eventually you have to go all in but not at the beginning. I think some of the best entrepreneurs are the ones who keep their day job for a while until their ideas take off. I found that some of the biggest mistakes people make are that they rush to the boss and rush to create a business plan or they rush to build a power point too quickly. The people that I studied who were successful at launching a new product or new initiatives inside companies went stealth, committed maybe 10 or 20% of their time, didn't do it with very much money at all and they started amassing proof points. So the lesson there is stop planning, start doing. I think that the beginning phases are about not letting the best ideas die in the mind but rather giving yourself permission to move and then moving pretty quickly but also figuring out how to minimize your risks as you go. The next real phase in the book is about bumping into walls. I've come to believe that stability is really the friend of the status quo and if entrepreneurship is about disrupting the status quo than actually some chaos is what we need.
From there I move into the Go Big phase which is really what my organization Endeavor is known for. We focus on scale ups, not start ups and at the scale up phase I have a lot of sections about knowing your entrepreneur personality. This is really important because what I found working with entrepreneurs is that as they make the shift from startup to scale up they have to move from being a startup founder to building a team and being a leader. Those are very different skill sets and I think that often people try to model themselves after Steve Jobs or iconic entrepreneurs and it's a mistake. Really what they need to do is know themselves, know what their own strengths are and also what their own weaknesses are. I have found that if you can uncover that, you can build a team around you that accentuates your strengths and also covers for some of your weaknesses. I spend a lot of time talking about that and lessons on leadership. I think most leadership books are written for corporate titans.
That leads to the third part of the book which is about going home. So many people I meet today want to have thriving professional lives that last but want to combine that with the people we love. I really believe that the best companies of the future are going to be those that allow people to balance their family as well as being producers.
I dedicated the last chapter of the book to my twin daughters. And they gave me the best advice I'd ever got which is that you can be an entrepreneur for a short time but you are a mommy forever. I think that's really important because I think that sometimes we talk about entrepreneurship as if we are only dealing with one side of a person. I think that being able to combine our dreams and passions with going home are what really aligns people's passions and values.
The reason my book is called Crazy is a Compliment is because I think that every dreamer I know at one point has been called nuts. If you are not being called crazy you are probably not thinking big enough.
Notable Quotes From The Book (36:29)
"Stalking is an underrated startup strategy." – Linda Rottenberg
"You don't need a hoodie to be an entrepreneur." – Linda Rottenberg
The Credibility/Inspiration Of The Author (0:53)
I grew up in Newton Massachusetts and I would say I grew up in a pretty traditional household. My parents met as high school sweethearts in Rhode Island and my dad went on to be a lifelong lawyer, my mom raised three kids. I went to Harvard and Yale for law school. I arrived at law school and pretty quickly realized that I had no interest in practicing law. That search for something different and that I would find something more fulfilling set me on this journey that I'm on now. Close to 18 years ago I cofounded an organization called Endeavor that supports high growth or what we call high impact entrepreneurs around the world. We are not based in New York City but operate in 22 countries. We've screened over 40 thousand entrepreneurs and selected 1,000 entrepreneurs from over 650 companies and helped them grow their businesses and today they are generating over 7 billion dollars a year. It's been my lifelong passion to work with entrepreneurs and to help them get unstuck whenever they get stuck.
I mentioned that I work with over 1,000 entrepreneurs in 22 countries and so part of the inspiration was just the idea that I've seen the same patterns and pitfalls of entrepreneurs. Not necessarily at the startup phase but at the scale up phase and what I call the go big phase. Part of the inspiration was trying to see if I could sit down and capture all the lessons. I didn't just want to write for people who were involved in high growth companies because I started realizing that everybody needs to think and act like an entrepreneur today. I wrote this idea because I feel like we all have dreams but we all hold ourselves back. Beyond anything else Crazy is a Compliment is sort of this manifesto for how we can give ourselves permission to go forward with our own crazy dream.
Other Books Recommended By The Author (38:26)
Wonder by R. J. Palacio
Personal History by Katharine Graham
More Information About This Book and The Author
Buy Crazy Is A Compliment by Linda Rottenberg on Amazon today
Visit LindaRottenberg.com to learn more about Linda and her work
Visit Endeavor.org to learn more about Linda's company
Follow Linda Rottenberg on Twitter and Facebook
More Information About This Episode
Download the full transcript here (coming soon)
Listen on iTunes, Stitcher , and SoundCloud
Related books: Zero to One: Notes on Startups, or How to Build the Future by Peter Thiel and Blake Masters | Vision To Reality by Honoree Corder | The Innovator's Method by Nathan Furr
Relevant advice and tips:5 Important Things That Every Entrepreneur Needs To Know About Starting a New Business | 5 Steps to Promote Innovation in the Workplace
What did you like and not like about this episode? Fill out this one minute survey here.
What do you think about Linda Rottenberg's book, Crazy Is A Compliment? Share your review in the comments below: