A Preview of Let's Stop Meeting Like This with Dick Axelrod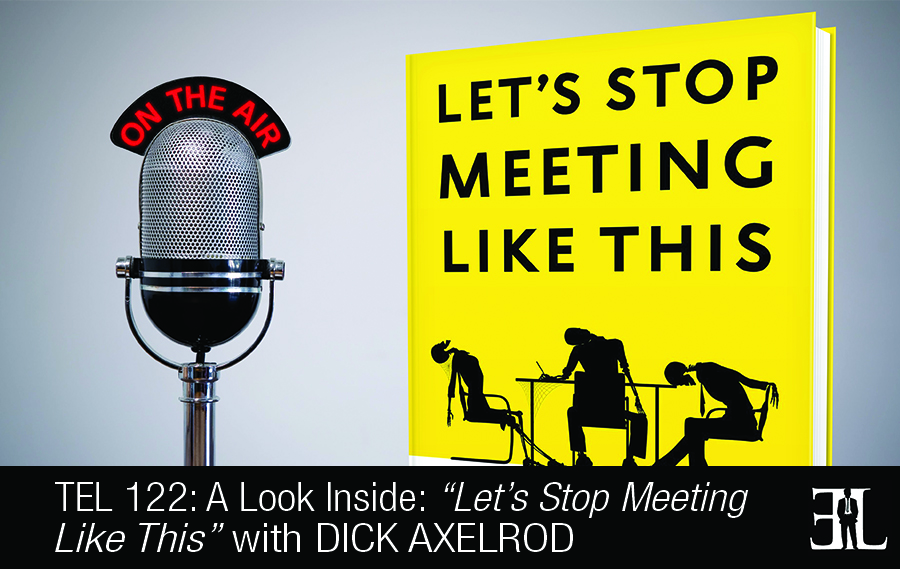 A summary of things you should know about Let's Stop Meeting Like This according to Dick Axelrod:
Introduction
In this episode Dick Axelrod shares his book, Let's Stop Meeting Like This, where he outlines a flexible and adaptable system used to run truly productive meetings no matter the organization.
In his book Axelrod shows you how to design every aspect of a meeting from the way you greet people to how you wrap up the meeting at the end. The goal of the book is to help you create meetings that create concrete plans, accomplish all tasks, build deeper connections, and move projects forward.
This book is perfect for entrepreneurs or small business owners who run an organization and are struggling to achieve productive results from company meetings.
The Book's Unique Quality (3:53)
So we thought we had something to say that was different. We had a model that was different and our clients were asking when we were going to write a book about it.
The Best Way To Engage (5:13)
We would like the reader to read from front to back but we realize that for most time is an issue. If there is a particular chapter that is more pertaining to your situation you can jump to it without reading the others first.
The Reader's Takeaway (13:50)
I would like the reader to begin to think of meetings as work experiences. If you are the leader you must think about how to make that time a time well spent and a productive work experience for everybody present in the group.
A Deep Dive Into The Book (6:24)
We start with this notion that meetings are places that you can get work done. So the first chapter is about how to get your work done in meetings. And there we talk about the concepts of autonomy, meaning, challenge, learning, and feedback and we ask the reader to think about those when they design their meetings.
Then we have a chapter that introduces the meeting canoe which is our major framework for the design of meetings. The canoe consists of six parts about how you welcome people, how you connect people to each other in the task so these first two parts are about creating environments for productive work. And then we have two parts that we talk about, one about discovering the way things are and listening to people's dreams. What we found is that decision rules for a meeting really need to be clear and upfront in advance. And the last piece is about how to bring closure to a meeting so that it's a good experience.
We got an overview of the meeting canoe and then we've got a chapter each devoted to welcome connecting each to each other in the task, discovering the way things are, a listening people's dreams, deciding, and then attending to the end and what makes a good ending for the meeting.
And then we have a chapter called Meeting Basics. And in meeting basics we are talking about the things you need to do ahead of time. The basic question you need to ask yourself is if this meeting is really necessary and worth bringing this number of people together for the amount of time planned.
From there we ask the readers to ask themselves what's going to be different and what you're trying to create as a result of bringing people together. When you're clear about your purpose then a lot of others things tend to fall into place. Once you got your purpose we need to figure out who needs to be in this meeting so that we have the right people present. These are the basic thing that people need to think about when they are conducting a meeting.
The last chapters are devoted to leaders and what leaders can do to be more effective. One thing we talk about is as a leader you must use your power wisely. It's important to make sure that everyone's voices are heard and no particular person dominates the meeting.
The last chapter is what we call our Hand off To You which is where we say ok we've said all that we can say and now it's up to you to take this and run with it.
Notable Quotes From The Book (14:24)
"How people enter a space and how people leave a space is as important as what happens in a space." – Unknown
The Credibility/Inspiration Of The Author (1:04)
I teach crisis leadership at the University of Chicago and my wife and I have a consulting firm where we specifically focus on high participation organizational change. I'm also an author and written several books on organizational change.
One of the inspirations behind this book was our son who happened to be a professional ski instructor in Breckenridge Colorado. One day he called to say that he had been using our meeting canoe technique as a framework for his ski lessons and he was now the most requested instructor on the mountain. Between my son and other client's success with using this framework I decided I should write a book about it for others to learn from and use.
Other Books Recommended By The Author (16:36)
Productive Workplaces by Marvin Weisbord
More Information About This Book and The Author
Buy Let's Stop Meeting Like This by Dick Axelrod on Amazon today
Visit AxelrodGroup.com to get more articles, resources, and videos
Follow Dick Axelrod on Twitter and Facebook
For questions contact Dick by email here
More Information About This Episode
Download the full transcript here (coming soon)
Listen on iTunes, Stitcher , and SoundCloud
Related books: The Best Place To Work by Ron Friedman | Scrum – The Art of Doing Twice the Work in Half the Time by Jeff Sutherland | Getting Things Done by David Allen
What did you like and not like about this episode? Fill out this one minute survey here.
What do you think about Dick Axelrod's book, Let's Stop Meeting Like This? Share your review in the comments below: