5 Most Popular Types of Startup Companies from 2014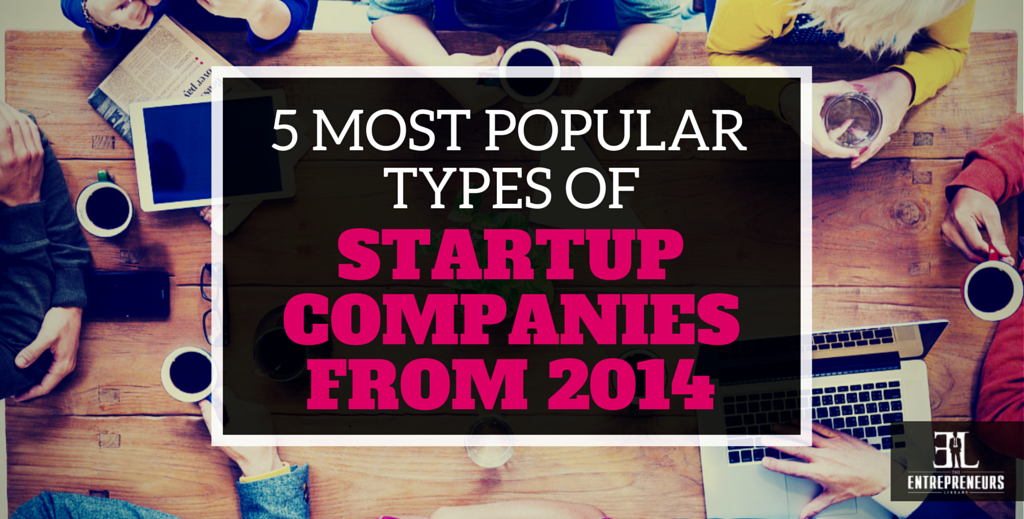 Unlike Google, not all businesses start their humble journey from their garages. You will find some types of startup companies operating from brick and mortar stores whereas some others maybe working from startup incubator centers.
Thanks to the massive development in the field of technology, we are surrounded by many different forms and types of startup companies that are consciously or unconsciously changing our perception of how a startup should work.
As we move into the new year, let us recap some of the most popular types of startup companies from 2014 –
1) SMALL BUSINESS STARTUPS
It is a fact that the vast majority of startups are still the same old small businesses. Travel agents, plumber, electricians, carpenters, storefronts, consultants etc are some of the types of startups that fall under this category. It is a fact that these types of small businesses struggle to hog the limelight of the popular media but the truth is that these small business owners work as hard as any other startups in the Silicon Valley. The good thing about these small business startups is that they mostly hire local talents and thereby contribute to the local economy. The purpose of these startups is to earn enough money to feed their families. Small business entrepreneurs rarely make it to the magazine cover but they do play a prominent role in the economic development of the country.
2) LIFESTYLE STARTUPS
We are now seeing an increasing number of startup companies who are blurring the line between passion and profession. For example, people, who are passionate about drawing, are launching Animation startup companies as it gives them the perfect opportunity to do what they do best. People who have some level of expertise in sky jumping are now offering sky jumping training as well; this is another form of lifestyle startup. Lifestyle Startup is all about pursuing ones passion and finding a way to earn money through it.
3) BUYABLE STARTUPS
The cost of designing and developing a mobile based or web based app has plummeted massively and this has given birth to the new breed of Startup Company known as buyable startup. Some of these startup companies are not even looking for traditional Venture Capitalists rather they are trying to raise money for their startups by opting for angle finding or crowd funding. However, this type of startup is generally sold to a third party after some time in return of a handsome amount of profit. This type of startup is gaining traction and is most likely to become more popular in coming years.
4) SOCIAL STARTUPS
Unlike other types of startups, social startups are not driven by profit rather they are driven by a powerful cause. Just because social entrepreneurs are fighting for a cause it does not mean that they are any less passionate about success or adverse to the idea of making profit. Unlike traditional startup companies, the goal of most social startups is to make the world a better place. However, there are some social startups who are into wealth creation as well.
5) SCALABLE STARTUPS
Scalable Startups are vastly different from small business startups despite the fact that they too have very humble beginnings. Unlike small business startups, scalable startups aim high. They believe that their ideas can change the world and the perfect examples are Facebook, Twitter, Skype and their likes. Scalable Startup revolves around a simple but powerful concept and they always look for financial investors to raise capital for their dream idea.
Recommended Books for Building a Startup Company
The Toilet Paper Entrepreneur by Mike Michalowicz | For a summary according to Mike CLICK HERE
Startupland by Mikkel Svane | For a summary according to Mikkkel CLICK HERE
Virtual Freedom by Chris Ducker | For a summary according to Chris CLICK HERE
Hooked by Nir Eyal | For a summary according to Nir CLICK HERE
Pocket Man by Scott Jordan | For a summary according to Scott CLICK HERE
What type of startup company have you created or plan on creating in 2015? Tell everyone about it in the comments below: