A Preview of Startupland with Mikkel Svane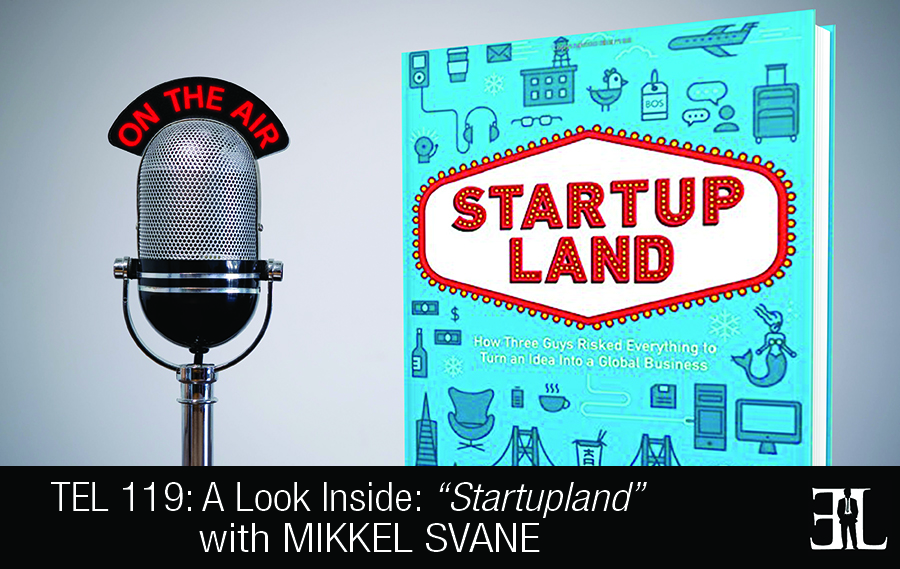 A summary of things you should know about Startupland according to Mikkel Svane:
Introduction
In this episode Mikkel Svane takes a deep dive into his book, Startupland, where he tells the inspirational story behind creating his tech startup, Zendesk.
In the book Svane shares how he and his friends bravely left secure jobs to start something on their own, how he almost went broke several times, how they picked up themselves and their families to travel across the world. The goal of the book is to debunk the myths about startups and inspire and empower you to follow your own dream to create your own success story.
This book is perfect for aspiring entrepreneurs who are new to entrepreneurship and are thinking about starting their own online venture, but worried about failure.
The Book's Unique Quality (3:58)
This is not a guide to how to build a startup but it's something that can give you some perspective and inspiration for your own journey.
The Best Way To Engage (4:57)
It's definitely designed to be read from front to back.
The Reader's Takeaway (11:56)
When you are in a situation to build a company like this you must understand what a privilege situation you are in because so few people actually get the opportunity to do that and to scale it. Make sure that you really appreciate what you're doing and try to enjoy it. Building real relationships with your investors, partners, and customers is so critical for how you can grow yourself but also how you can grow your company. We are a company that is all about the relationships and we have seen how critical is it that you build real relationships even with their community around them.
A Deep Dive Into The Book (5:27)
The book starts off by giving a little bit of my background of how I've had a startup before and even how I started working with software when I was a kid. I had a company in the .com days that unfortunately didn't turn out that well. It was during those days that I met my two co-founders for Zendesk. After some years the three of us got together and decided on building Zendesk. Two of us had some experience from the customer service software industry for a few years and was underwhelmed by that industry in general. By the lack of innovation and by how companies thought about customer service. We got the third founder involved and we tell the early days of us trying to build this product and all the difficulties there are with bootstrapping a company.
We then go on describing how we try to raise money and how that was a terrible thing to do in Denmark. We didn't have a lot of success with that and we were even very close to take money from somebody but realized that they were not the right people to take money from. We ended up doing a round of family and friends investing and they helped us get over the initial bump. Right after that we got a German angel investor and suddenly we had momentum to start building and taking things a little bit more seriously.
In 2008 the whole credit crunch happened and that changed the whole investment and environment a lot. We started pitching in the US at that point and I traveled back and forth a lot. I also describe some of the heartbreaking experiences we had during this time. I explain how traveling back and forth can be tough on you and it makes you grow older in a non-positive way. We were very lucky that suddenly we met this investor out of Boston and he really gave us a chance and helped us move to the US. Even though San Francisco is fantastic compared to any other entrepreneurial environment, when you come here and start to hire an organization that can be very challenging. We go on to describing some of the initial building of the company in the US which has been a fantastic journey.
Now we are in the process of building a new company, this is the beginning of a very new journey, and it's going to be very interesting too.
Notable Quotes From The Book (13:49)
"We still feel that we are just in the very early days of the company and we are still feeling that we are just in to a new part of our journey. We are not ready for any of it to be over yet and I am much more excited about what is in front of us than what is behind us." – Mikkel Svane
The Credibility/Inspiration Of The Author (0:53)
I am originally from Copenhagen Denmark and I moved to San Francisco five years ago. We moved my company Zendesk out of Copenhagen for two years before moving here and it's been a fantastic journey building and growing this company together with my two cofounders. I'm also married, I have a bunch of kids, and we are happily situated here in San Francisco.
In my role I met a bunch of entrepreneurs and it's always been hard for me to give advice but I found that they found some kind of inspiration in how we did things. I think that having something that tells the original founding story of the company is something that gives everybody a little bit of inside and confidence in our company.
Other Books Recommended By The Author (14:37)
The First $20 Million Is Always the Hardest by Po Bronson
More Information About This Book and The Author
Buy Startupland by Mikkel Svane on Amazon today
Visit Startupland.com to learn more about the book
Follow Mikkel Svane on Twitter and LinkedIn
More Information About This Episode
Download the full transcript here (coming soon)
Listen on iTunes, Stitcher , and SoundCloud
Related books: The Everything Store by Brad Stone | Zero To One by Peter Thiel and Blake Masters | Startup Mixology by Frank Gruber
Relevant advice and tips: 5 Important Things That Every Entrepreneur Needs To Know About Starting a New Business
What did you like and not like about this episode? Fill out this one minute survey here.
What do you think about Mikkel Svane's book, Startupland? Share your review in the comments below: