A Preview of The Accidental Entrepreneur with Gerry Murphy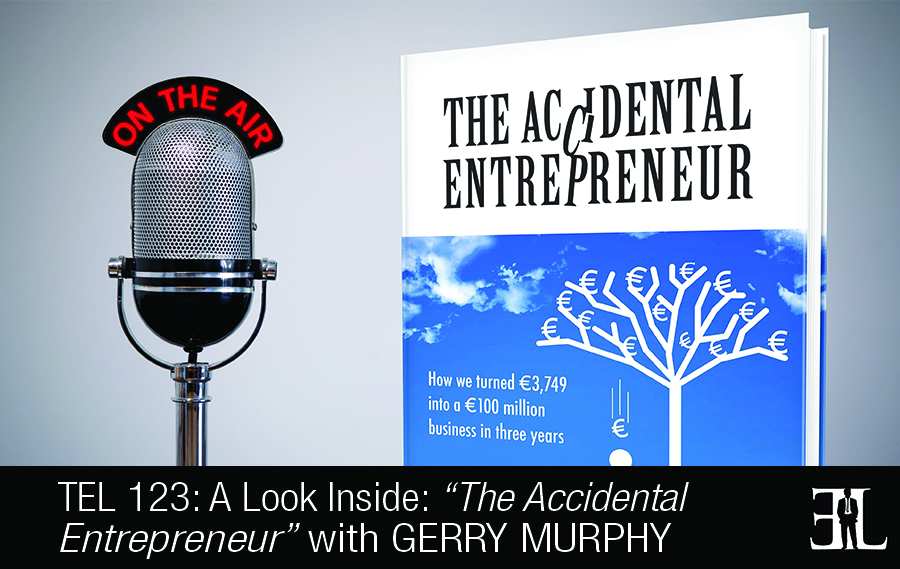 A summary of things you should know about The Accidental Entrepreneur according to Gerry Murphy:
Introduction
In this episode Gerry Murphy shares his book, The Accidental Entrepreneur, where he tells the fascinating story on how he became an entrepreneur and how, with a small team, he turned a relatively small investment into a multi-million Euro business.
In his book Murphy gives you a step-by-step manual for launching a startup and building your own successful business even if you have no capital or commercial experience. The goal of the book is to help you grow a new business with very limited resources through real-life case studies, invaluable checklists, and a wealth of inspirational advice.
This book is perfect for aspiring entrepreneurs who want to create a small investment business on the side or for established entrepreneurs looking for some insights on selling their startup to larger firms.
The Book's Unique Quality (2:52)
Mine is different in that it's presented based on my own life story.
The Best Way To Engage (3:45)
You have to read part one from front to back. My readers tell me that once they start reading part one it's sort of a page turner and they can't put it down but you can dip in and out of part two.
The Reader's Takeaway (13:31)
I believe that entrepreneurs need to work on their business not just in their business.
A Deep Dive Into The Book (4:27)
Part one is autobiographical and it tells the story of me growing up in my hometown of Churchtown in North Cork in Ireland and my dream to renew my home place and how that turned me into a commercial entrepreneur. The book starts with an introduction and then there are seventeen chapters in part one. I talk about when I was born in 1954 to 1972 and I have some beautiful childhood memories of long summer days of harvesting the hay, milking the cows, and going to local village festivals. I give a little flavor of that in the beginning of the book and then I recall my first business failure as a 10 year old when my latest project failed to deliver. From 1972 to 1977 I write about leaving Churchtown and getting a job out of high school. I got married in 1979 and my two children were born in 1982 and 1988. During that period I could see that the village was not doing well and I wanted to do something about it. Seventeen years ago in 1997 I saw an article in the national paper about how the local pub had been closed and the inside of it had been shipped to Vienna to feed an Irish team. I was appalled by the idea and I realized it was time that I must do something and try to get my hometown renewed. At 43 years of age I made a dramatic decision and decided to give up my job and start working as a social entrepreneur and to lookout for non-executive directorship roles. So I set up the Churchtown Village Renewal Trust and then I bought some property in the village and I reopened the bar/restaurant pub. In 1999 I realized that I needed to build some houses in the village, creating some life, and I bought a field and got the planning permission for 77 properties. So my field of dreams worked and families decided to live in the village and the population grew from 70 to 600. After opening the pub and building the homes in the village I saw that the small shop came up for sale and realized that it was very important for the village and there needed to be a bigger one. The only way I could achieve that was if I bought it myself. So by accident I became a shop keeper but of course I wasn't able to work in the shop on a day to day basis so it wasn't making any money. Shortly after that another shop came up for sale locally and it had a filling station and I bought that to try and spread the overhead.
Part two of the book has 16 chapters. In this part we talk about the joy of business, the benefits of testing and dry runs, that implementation is the key, the need to be able to scale your idea and multiply it, and the idea that you need to solve a problem and find a solution to create a customer base. And then I talk about the business plan and how you might write that, what should be in it, and the marketing plan. We look at the importance of design and creating a brand. And I make a big point about recognizing failure fast and moving on if it's not working.
Notable Quotes From The Book (14:19)
"When you don't know what to do, do nothing." – Gerry Murphy
The Credibility/Inspiration Of The Author (0:59)
I grew up on a farm in Ireland and I was born in 1954 so I am 60 this year. I got a job immediately after high school and I started working in a commercial bank called Bank of Ireland. I spent 17 year at Bank of Ireland then I left the bank and went to a savings called First National. In 1997 I took a big plunge and went out on my own as a social entrepreneur and by accident I became an accidental commercial entrepreneur.
There were three reasons why I wrote the book. The first reason was that I wanted to encourage others not to risk staying in an unfulfilling job and to consider creating their own employment. Secondly I really like books and I felt that I had learned a lot over the years and so I wanted to distill my own ideas and present them to others. I also wanted to tell the story of how I renewed my hometown in Ireland.
Other Books Recommended By The Author (14:55)
Bring Out the Magic in Your Mind by Al Koran
More Information About This Book and The Author
Buy The Accidental Entrepreneur by Gerry Murphy on Amazon today
Visit AccidentalEntrepreneur.me to learn more about Gerry, his book, and his websites.
Follow Gerry Murphy on Twitter and LinkedIn
More Information About This Episode
Download the full transcript here (coming soon)
Listen on iTunes, Stitcher , and SoundCloud
Related books:
Zero To One by Peter Thiel and Blake Masters
Unstoppable Entrepreneurship by Ilkka Lavas
6 Months To 6 Figures by Peter Voogd
Relevant advice and tips:
7 Important Things You Need To Know When Selling Your Business
7 Signs That You Have What It Takes to Be An Entrepreneur
What did you like and not like about this episode? Fill out this one minute survey here.
What do you think about Gerry Murphy's book, The Accidental Entrepreneur? Share your review in the comments below: