A Preview of 6 Months To 6 Figures with Peter Voogd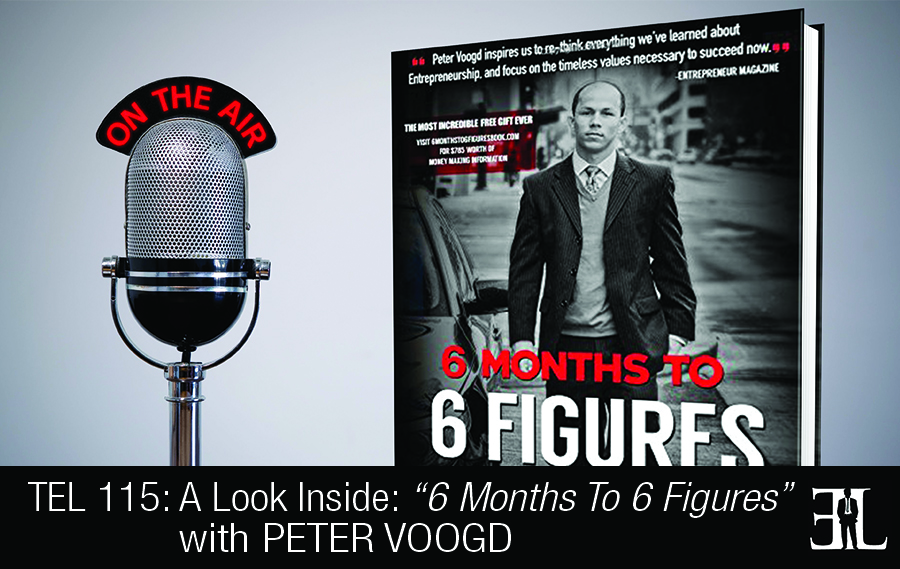 A summary of things you should know about 6 Months to 6 Figures according to Peter Voogd:
Introduction
In this episode Peter Voogd shares his book, 6 Months To 6 Figures, where he reveals the exact strategies he's used to go from dead broke to over 6 figures in 6 months in multiple industries.
In his book, Voogd gives you real world, tactical strategies to maximize your income, get large projects done in less time, and create the perfect lifestyle for you. The goal of the book is to help you enjoy higher levels of fulfillment, more passion, increased energy, and constant achievement.
This book is perfect for entrepreneurs who are tired of an inconsistent income, have low productivity, and don't have enough time to get things done, but are serious about becoming successful.
The Book's Unique Quality (6:23)
Everything is based on experience, results, and past succeed and failure. It's the no sugarcoating way to get to where you want to be. And it's real world tactical strategies from my 10 years of experience. I also have a real authentic and raw understanding of what it takes to motivate and inspire the millennials and leaders of today.
The Best Way To Engage (9:16)
This book is designed to help you create 6 figures in 6 months but every single chapter has questions and a worksheet that you can go through and fill out. Once you read each chapter I want the reader to implement the concepts, read the chapter again, and implement until you see results. Once you see results in your life and business then you can go to the next chapter.
The Reader's Takeaway (21:53)
You have to understand the power of focusing on mastery verses overload. Those who have more than three priorities really don't have any. People are so overloaded with information and the second you become overwhelmed you seek distraction. The number one reason why most people don't succeed is because they never have ever told themselves that now matters.
A Deep Dive Into The Book (10:57)
Since I already explained chapters one and two I will start with chapter three. Chapter three is the money mindset and what money really matters. So the big focus is getting in the right mindset to attract money and I go through eight very tactical strategies on how to make sure you're maximizing your income in the most efficient, intentional, and effective way possible.
From there I go to the actual six steps to six figures and I do a broad spectrum on my story and how I came about. The first must is absolute clarity. When I was broke and struggling I realized I need to get clear on who I was, who I wasn't, what my strengths were and what I wanted. It's easy to make decisions when you determine what your values are so I realized that I hated being broke and I knew I didn't want to settle for a normal job or work for someone else. In this part of the book I walk the read through a 90 day challenge where they pick their goals for the month and they figure out the most top 10 compelling reasons to hit those goals. I also talk about the power of reverse engineering. This is where you figure out your ideal six month outcome.
After you have absolute clarity, you got to increase your most important account which is your confidence account. Everybody has a confidence account inside them and based on that confidence account is what they've accomplished or haven't accomplished. So I go through the biggest tactics and comprehensive tips on how to build your confidence. I talk about the biggest thing you can do to build your confidence is choose growth in the moment.
The third aspect I talk about is shifting your circle of influence. I walk the reader through an activity I learned at a Tony Robbins business mastery event that made the whole event worthwhile. And I give away hundreds of thousands of dollar information in here. I also give the reader an outline e-mail on what you can send to millionaires and billionaires to reach out to and get a response.
After you shift your confidence you then want to make sure that you have consistent energy and motivation. I go through energy tactics and how to maximize your energy and motivations. Those who don't make time for exercise and energy will eventually have to make time for illness. I realized that no matter how successful you are, if you don't have energy, you have nothing.
Next is about peak performance secrets of the world's greatest. I've studied peak performance for 10 years and I've put my best 10 tactics in this section on 10 game changing productivity strategies that you can use right away to really help your results.
The next chapter is crafting your perfect result rituals. And what I've realized is the amount of stress people have in their life is in direct correlation to the lack of systems or rituals they have in place. So I literally go through how to create rituals to make sure you have topnotch habits.
Lastly I talk about how to continually grow and how to make sure you're becoming who you need to become to build a world class life. This is not just how to make six figures, it's how to sustain it year after year and how to build a champion type world class life that is inspiring for others as well.
Notable Quotes From The Book (23:57)
"Never let somebody who is giving up on their dreams talk you out of yours." –Peter Voogd
"Let your vision guide you not your current circumstances." – Peter Voogd
The Credibility/Inspiration Of The Author (0:40)
I am a serial entrepreneur and I have been running businesses since I was 15 when I started an eBay business. I wasn't always the best student or involved in school but I really had a niche in entrepreneurship and business. I got into direct sales when I was 20-21 and I did that for a while when I worked my way up to being a district manager where I was running a sales team. I actually had some pretty big failures along the way and learned a lot of my successes from my failures. I was able to go from dead broke and stressed to earning my first six figure income and do it over and over going.
It really came from experience and me training close to 5,000 young professionals and seeing where our society was heading and being in school not learning anything that really helped me in the real world. I began to realize that this was needed at the highest level. I realized that I had to take it upon myself to create a blueprint that an entrepreneur or a young person can read and have 100% clarity on how to be successful in this challenging economy.
Other Books Recommended By The Author (25:42)
Maximum Achievement by Brian Tracy
More Information About This Book and The Author
Buy 6 Months To 6 Figures by Peter Voogd on Amazon today
Visit 6FiguresBook.com to learn more about Peter's book
Visit GameChangersMovement.com to learn more about his academy
Visit RealVipSuccess.com to read more exclusive content
Follow Peter Voogd on Twitter and Facebook
UPDATE: If you're looking for a more engaged experience with other readers of 6 Months to 6 Figures, be sure to join Peter's group on Facebook
More Information About This Episode
Download the full transcript here (coming soon)
Listen on iTunes, Stitcher , and SoundCloud
Related books: The Greatness Zone by Jay Forte | Make Money, Live Wealthy by Austin Netzley | Three Feet From Gold by Greg Reid
Relevant advice and tips: 10 Bad Habits That Successful People Avoid
What did you like and not like about this episode? Fill out this one minute survey here.
What do you think about Peter Voogd's book, 6 Months To 6 Figures? Share your review in the comments below: