A Preview of Getting Results the Agile Way with J.D. Meier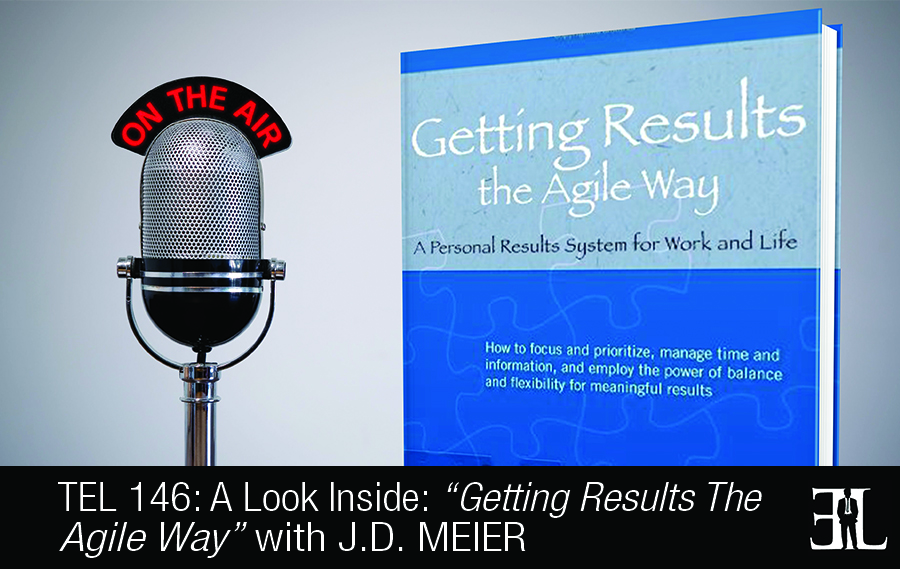 A summary of things you should know about Getting Results the Agile Way according to J.D. Meier:
Introduction
In this episode J.D. Meier takes a deep dive into his book, Getting Results the Agile Way, where he shares a simple, effective guide for achieving long-term and short-term personal goals.
In his book Meier provides a very flexible, step-by-step time management system that offers you enough planning to get you going, but simple enough to change it up as need be. The goal of the book is to help you prepare your life from daily to yearly, find your true motivation, improve upon your productivity, and feed your energy with daily habits to move you forward every day.
This book is perfect for entrepreneurs who sacrifice their personal life for their work life, constantly live with to-do lists, and are looking for a way to make their daily lives less stressful yet more meaningful.
The Book's Unique Quality (3:16)
It's a couple of things. I think that it's the fact that it's about simplicity; I really wanted to create a system that was easy to fall off but then very easy to get back on. I didn't want people to feel intimidated by the system but I also wanted to be more than just a doing task kind of a system. I wanted it to be a system that focused on us as a person.
The Best Way To Engage (4:32)
This book is designed that you can read it all the way through but I also wanted it to be a really quick reference book. I know that people are starved for time and looking to get quick insights so I also made it so that you can dive in and just get the pieces that you need.
The Reader's Takeaway (19:10)
If there is one thing to walk away with it's the idea of thinking in three wins; thinking in terms of three win for your day, three wins for your week, three wins for your month, and three wins for your year. When you think about winning it adds the fun factor and brings you alive.
A Deep Dive Into The Book (5:16)
In the making of Getting Results the Agile Way the idea was to have it been more than just a book, I wanted to create a system for people and it's a simple system.
In the first part of the book it introduces you to the system in a very simple way by stepping into the values, the principles, and the practices. It's about giving you the foundation so that when you look at it you are not trying to break yourself against the system. Instead what you are doing is learning how to tweak the system and make it work better for you.
There are three key things upfront that the book lays out that are the big ideas which are the idea of the rule of three, the idea of hotspots, and the idea of a pattern that I call Monday Vision Daily Outcomes and Friday Reflection. I really focused on the idea that if you could get a day right, you could get a week right and if you could get a week right you could get a month right and if you can get that right you can get your year right. The idea of The Monday Vision Daily Outcome Reflection is meant to be very simple. It's about focusing on what we could do with the time we've got, the energy we got, and the results that we want to accomplish. When you get to Friday you want to be able to list the three things that are going well and the three things that need to improve on.
So that's the system in a nutshell when you look at it from a week's standpoint but I wanted to dig a little bit deeper. People can get that very simple frame but I wanted to help them design a day, design a week, design a month, and design a year. So when I designed the day the idea was that you don't have to design your day every day, instead you have to look for the patterns. The idea in designed your day was to improve your startup routine, your shutdown routine, and find the better times in your day where you might be more productive or creative. In designing your week it was a similar idea but in this case we look at what we actually want out of that week and design accordingly. In designing your month we have a lot of opportunity for course correction so we need to step back and figure out what the three wins we want are and target those wins. I find that designing a month can be a really powerful way of getting a big block of time that ends up working in our favor. When it comes to designing the year I find that it helps to first step back and know the three wins that you want out of it.
The whole middle part of the book is about becoming the whole architect of your life. It's about what you want your days to look like, your weeks to look like, your months to look like, and your years to look like.
Towards the end of the book it gets pretty hardcore and it's more of a drill down. Now that you know what your want out of your days, weeks, months, and year, we drill down into some of the key results, patterns, and strategies, the things that we can do that help us spend our time more effectively.
NOTE: That was just a summary. To get the full deep dive, play the audio clip at 05:16
Notable Quotes From The Book (20:01)
"Where the life is a bowl of cherries and you get the pits or the world is your oyster and you look for the pearls, you decide. So choosing your mindset in metaphors is one of the most powerful things you can do to shape your everyday experience and ultimately your life." – J.D. Meier
The Credibility/Inspiration Of The Author (1:34)
I work at Microsoft and been here several years but what I'm really focused on is helping businesses change. I'm in the business of business change but I also help people thrive in work and life.
The big thing was that I saw too many people living in pain and not doing the things that made them come alive. I saw people that simply didn't flourish when I knew that they could and I want people to be all that they're capable of. I really wanted people to be able to think, feel, and do their best.
Other Books Recommended By The Author (21:17)
Work from the Inside Out by Nancy O'Hara
More Information About This Book and The Author
Buy Getting Results the Agile Way by J.D. Meier on Amazon today
Visit GettingResullts.com to learn more about the book and exclusive content
Visit SourcesOfInsight.com to check out J.D.'s work and life blogs.
Follow J.D. Meier on Facebook and LinkedIn
More Information About This Episode
Download the full transcript here (coming soon)
Listen on iTunes, Stitcher , and SoundCloud
Related books:
Getting Things Done by David Allen
Procrastinate on Purpose by Rory Vaden
Do Less Better by John R. Bell
Relevant advice and tips:
7 Morning Routines of Very Wealthy People
10 Bad Habits That Successful People Avoid
What did you like and not like about this episode? Fill out this one minute survey here.
What do you think about J.D. Meier's book, Getting Results the Agile Way? Share your review in the comments below: