A Preview of Never Chase Clients Again with Michael Moshiri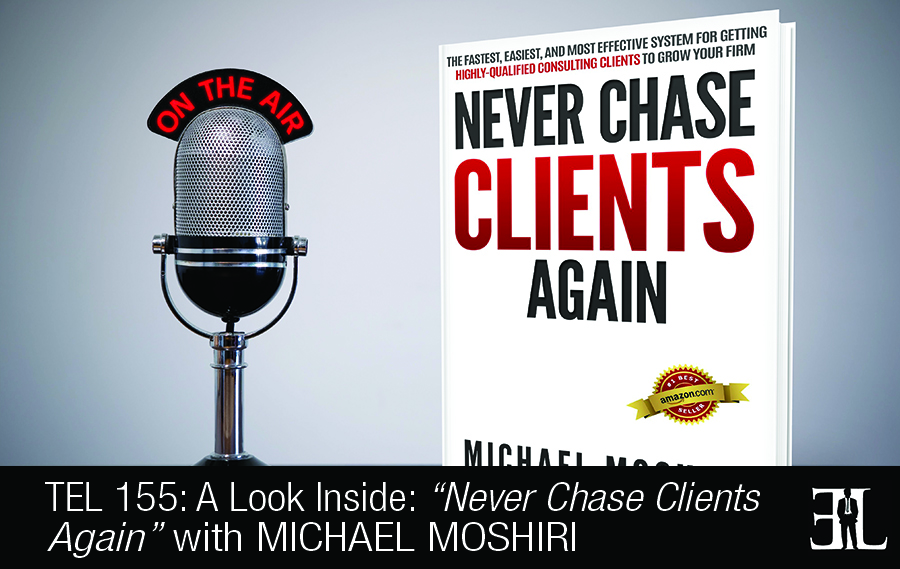 A summary of things you should know about Never Chase Clients Again according to Michael Moshiri:
Introduction
In this episode Michael Moshiri reveals all the insights on his book, Never Chase Clients Again, where he shares the fastest, easiest, and most effective system for getting qualified consulting clients.
In his book Moshiri provides his personal step-by-step principles for getting new clients along with the most effective lead generation tactics of the world's largest and most successful consulting firms. The goal of the book is to help you attract highly qualified leads with little effort, teach you the business development strategies that are ineffective, and how to build effective relationships with your clients.
This book is perfect for entrepreneurs who are in the business of consulting, have a small, limited budget and need help laying the foundation for an effective marketing plan that will bring quality leads.
The Book's Unique Quality (3:47)
This book takes a unique approach that requires not social media campaigns, not content marketing and it has no online lead generation or practices in it. At the same time it's presenting a reliable, predictable, and repeatable system for finding, reaching, and connecting with consulting clients in any industry. I wrote the book to share a system that I've developed for finding highly qualified clients by leveraging that fact and not simply trying to circumvent it with the hottest methods that are out there. I bring in that tried and true system to offer people an alternative to the hottest method of the day.
The Best Way To Engage (4:20)
This book has three parts and the way to approach it is to look at it in parts. Part one of the book provides a foundational knowledge that anyone who is in consulting needs to ensure their success in implementing the system. Part two provides them with a five step system for finding, reaching, and connecting with those highly qualified clients. And lastly, part three builds on part one and two to help you become more effective and efficient in implementing this system, strategies, and principles. Read the first part of the book, skim through part two, and then review part three so that you know the key areas that you need to be focusing on.
The Reader's Takeaway (17:03)
It would have to be walking away with the knowledge that business is not geometry. The shortest path to highly qualified clients isn't a direct route. The shortest path to ideal clients is through someone else who knows them better than you do.
A Deep Dive Into The Book (5:37)
This book is packed with a lot of powerful information and I am going to highlight some of that information so that you can decide whether this is a book that you should read or not.
The chapters in Part One will help you to learn five reasons why many consultants fail in their efforts to find, reach, and win highly qualified clients. Then I go into the three core qualifications that any consultant has to demonstrate in order for their prospects and clients to really trust them and want to do business with them. The three core qualifications that are highlighted in that chapter are character, commitment, and competence.
The chapters in Part Two outline the system. The very core step, the one you have to start with first, is establishing your criteria and the main objective in this step is to develop a clear definition of who you consider to be your highly qualified perspective clients.
And in Part three you get to apply at of what you've learned and become better at it.
NOTE: That was just a summary. To get the full deep dive, play the audio clip at 05:37
Notable Quotes From The Book (17:34)
"Consulting has always been and will always remain a business that is built on personal relationships." – Michael Moshiri
The Credibility/Inspiration Of The Author (1:08)
For the past 23 years I have spent my days working in the industry of consulting and I've worked with big firms such as Deloitte, EY, and PwC. I have built and raised from nothing, a national consulting practice and also worked with some midsize firms.
I have spent the majority of my career in the world of consulting and one of the things that is the most critical function for any consulting is finding highly qualified clients. In the time that I have spent in the world of consulting I recognize that there are two types of people. The first type people are the types that jump on lead generation strategies that are the most popular or the hottest at the moment. And then there are those who use tried and true methods that help them find highly qualified clients.
Other Books Recommended By The Author (18:33)
Click by Rom Brafman and Ori Brafman
More Information About This Book and The Author
Buy Never Chase Clients Again by Michael Moshiri on Amazon today
Visit NeverChaseClientsAgain.com to learn more about the book
Visit MichaelMoshiri.com to learn more about Michael and his services
Follow Michael Moshiri on Twitter and Facebook
More Information About This Episode
Download the full transcript here (coming soon)
Listen on iTunes, Stitcher , and SoundCloud
Related books:
Moving Targets by Gabriel Aluisy
The Seven Levels of Communication by Michael Maher
Lean Customer Development by Cindy Alvarez
Relevant advice and tips:
5 Simple Ways Entrepreneurs Can Attract Customers
What did you like and not like about this episode? Fill out this one minute survey here.
What do you think about Michael Moshiri's book, Never Chase Clients Again? Share your review in the comments below: