A Preview of Live Richer Challenge with Tiffany Aliche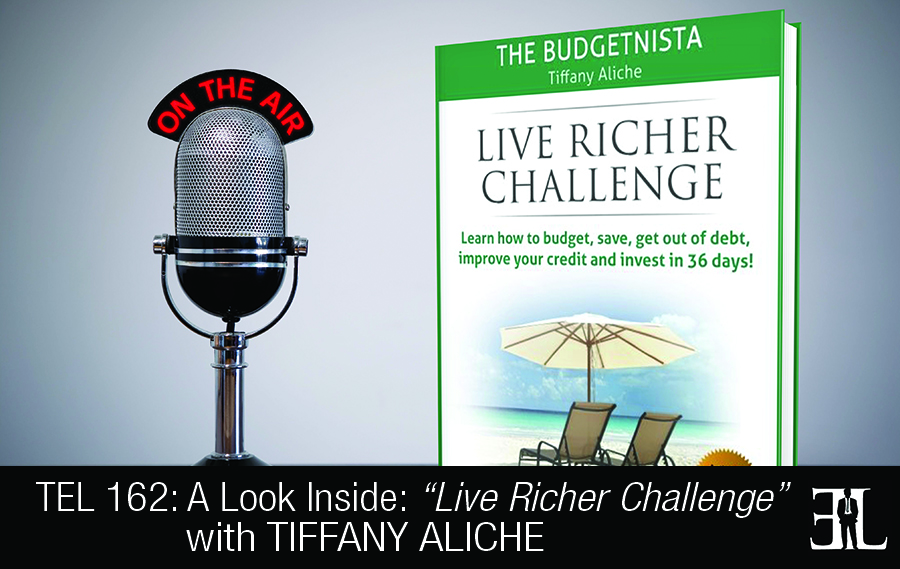 A summary of things you should know about Live Richer Challenge according to Tiffany Aliche:
Introduction
In this episode Tiffany Aliche, also known as "The Budgetnista," takes a deep dive into the Live Richer Challenge where she reveals her proven system that will pave a path to financial freedom.
In her book Aliche provides a step-by-step personal finance system that walks you through daily financial tasks over a span of five weeks and is guaranteed to help you handle your finances better. The goal of the book is to show you how to budget your money properly, create a solid savings, make smart investments, get out of debt, and build your credit rating.
This book is perfect for entrepreneurs who are struggling with their personal finances and need help pulling themselves out of debt and onto a healthier path to financial freedom.
The Book's Unique Quality (4:03)
What makes my book different is that one, sometimes you read these financial books and you think to yourself you have to have a master's degree in finance just to understand what they are saying. The fact that I have a teacher's background I can take complex things and break them down to really simple easy to understand steps. With this book there is also a built in community. I have this online forum that I created to help the women help each other and when you get the book I direct you to all of these online resources.
The Best Way To Engage (5:15)
As a teacher I am always thinking how everyone is a different type of learner so I made sure that if you read the book from beginning to end it totally builds on each other. But there might be sections of the book that don't apply to you so you can skip over it and not feel like you skipped a major section.
The Reader's Takeaway (9:13)
I would want that to be to get started! To me that is the number one thing that keeps people from achieving anything in life.
A Deep Dive Into The Book (5:49)
The way the Live Richer Challenge works is this; I have broken down seven specific financial goals into five weeks. Week one is Money Mindset, week two is Budgeting and Savings, week three is Debt, week four is Credit, week five is Insurance and Investing, and then I add an extra day to talk about what Live Richer really means and how to take all of these lessons to live a richer life. You don't have to know how anything works because the way the challenge works is that every day I give you one small easy financial task and collectively that task will help you accomplish that week's goal. I really try to take away what keeps people from moving forward financially which is fear and shame. It's a fun, easy read, I don't try to talk over your head, I use basic language, and within 36 days you really can have a different money mindset, a budget that works, a savings plan where you are actually saving, a clear get-out-of-debt plan, a credit plan that will show you how to make your credit score jump like Jordan, and a basic investing plan. Even bigger than all of that, The Live Richer Day, talks about abundance and how to activate your more abundant life using all these things you learn as a tool. What is it that you want as a result of mastering your money?
NOTE: That was just a summary. To get the full deep dive, play the audio clip at 05:49
Notable Quotes From The Book (10:51)
"It's more than money, it's a movement." – Tiffany Aliche
The Credibility/Inspiration Of The Author (0:40)
My name is Tiffany but I am much better known as The Budgetnista and I am a financial educator. I like to say that I am America's favorite financial educator; at least I'm striving to be. I started The Budgetnista brand about four or five years ago and it has grown into this amazing movement, especially as it relates to women and empowering them to master their money.
The inspiration behind Live Richer Challenge was really the challenge itself. So outside of the book the Live Richer Challenge is a financial challenge that I started to help 10,000 women master their money in 36 days. About this time last year so many women were reaching out to me via social media and my inbox asking for financial help. I wanted to figure out a way that I could help the maximum amount of women in the most efficient way possible. I designed an online financial challenge that just started January 5th and as a result of the challenge I said I should make a corresponding book. We have over 10,000 women in 49 of the 50 states participating in this challenge and the book is a companion piece to that challenge.
Other Books Recommended By The Author (12:09)
The Alchemist by Paulo Coelho
More Information About This Book and The Author
Buy Live Richer Challenge by Tiffany Aliche on Amazon today
Visit TheBudgetnista.com to learn more about Tiffany and her books
Follow Tiffany Aliche on Twitter and Facebook
More Information About This Episode
Download the full transcript here (coming soon)
Listen on iTunes, Stitcher , and SoundCloud
Related books:
The Financially Savvy Entrepreneur by Emily Chase Smith
The Millionaire Master Plan by Roger Hamilton
6 Months to 6 Figures by Peter Voogd
Relevant advice and tips:
5 Personal Wealth Management Tips For Financial Stability
What did you like and not like about this episode? Fill out this one minute survey here.
What do you think about Tiffany Aliche's book, Live Richer Challenge? Share your review in the comments below: