A Preview of The Opposite of Spoiled with Ron Lieber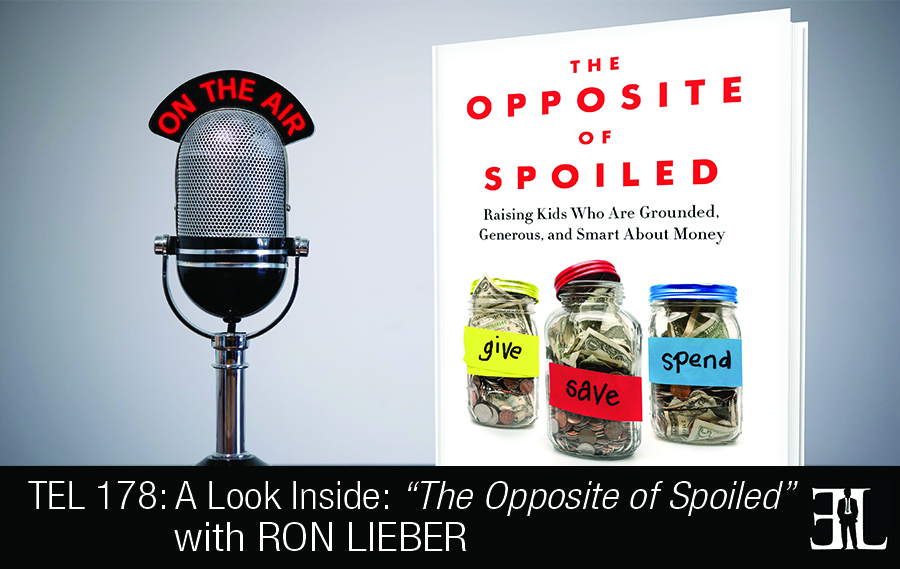 A summary of things you should know about The Opposite of Spoiled according to Ron Lieber:
Introduction
In this episode bestselling author Ron Lieber takes a deep dive into his book, The Opposite of Spoiled, where he reveals a parenting strategy that helps children become smart about money.
In his book Lieber delivers a practical guide packed with examples, strategies, and stories that help parents teach their kids the basics of generating money and why it's important for their future. The goal of the book is to help parents talk openly about money with children in order to ensure that their children grow up to be modest, generous, and financially smart in the future.
This book is perfect for entrepreneurs who have or are planning on having children and want a simple guide to start teaching them about financial responsibility in their earlier years of life.
The Book's Unique Quality (3:47)
There have been a handful of excellent books about kids and money in the past but the explicit connection that I was trying to make between money and values is the one that I think sets it apart.
The Best Way To Engage (5:42)
The book is designed to be read from front to back.
The Reader's Takeaway (12:53)
I want readers to understand that when the questions come about money that it is our job to stop what we are doing, turn away from the laptop, put down the phone, and really engage. Kid's sole job is to be curious and it's our job to answer their questions.
A Deep Dive Into The Book (6:24)
In chapter one I explain to readers just how it is that the book came to pass and why the book is timely right now. I explain why we need to talk about money, what it means to honor our children's curiosity about money, the fact that they are naturally curious about money and it's our job to answer them.
In chapter three I discuss allowance and the debates of the issue, whether you should pay for chores or expect kids to do chores as a matter of course. I think allowance is a teaching tool and tool for learning. I don't think you should take it away if the kids aren't doing their chores. I do think kids should do all sorts of chores but if they are not performing them adequately we should take away their privileges.
And then I offer up a chapter on all sorts of ways for kids to think about spending and I have an hour for fun per dollar test to apply to toys that they are thinking about buying. I give you examples of family rituals and things that you can do with your kids around spending and saving that help them understand what you value and hopefully imprint some lessons for them.
The next chapter is about materialism and how to spot it. I talk about everything from tooth fairies and the amount of money that gets spent on travel teams to what goes on in private schools and how some of them are making efforts to become more modest.
Then there is an entire chapter on giving, generosity, and gratitude. Gifts of everything from one dollar to a million dollars are covered and the families of all sorts who have given them.
The next chapter is about why kids should work, about the importance of paid work, and why every kid should work as a teenager.
The last chapter in my book is about tradeoffs, gratitude, and perspective on your place in the world.
NOTE: That was just a summary. To get the full deep dive, play the audio clip at 06:24
The Credibility/Inspiration Of The Author (1:12)
I am the Your Money columnist for The New York Times where I have been working since 2008 and I also contribute to our parenting blog which is called Mother Load.
The main inspiration was my own daughter; The Opposite of Spoiled is really a generational manifesto of a promise to our kids and to one another that we will do better at explaining all this money stuff to them.
Other Books Recommended By The Author (16:05)
The Behavior Gap by Carl Richards
More Information About This Book and The Author
Buy The Opposite of Spoiled by Ron Lieber on Amazon today
Visit RonLieber.com to learn more about Ron and his book
Visit NYTimes.com to read New York Times articles by Ron Lieber
Follow Ron Lieber on Facebook and Twitter
More Information About This Episode
Download the full transcript here (coming soon)
Listen on iTunes, Stitcher , and SoundCloud
What did you like and not like about this episode? Fill out this one minute survey here.
What do you think about Ron Lieber's book, The Opposite of Spoiled? Share your review in the comments below: