A Preview of Get Rich With Dividends with Marc Lichtenfeld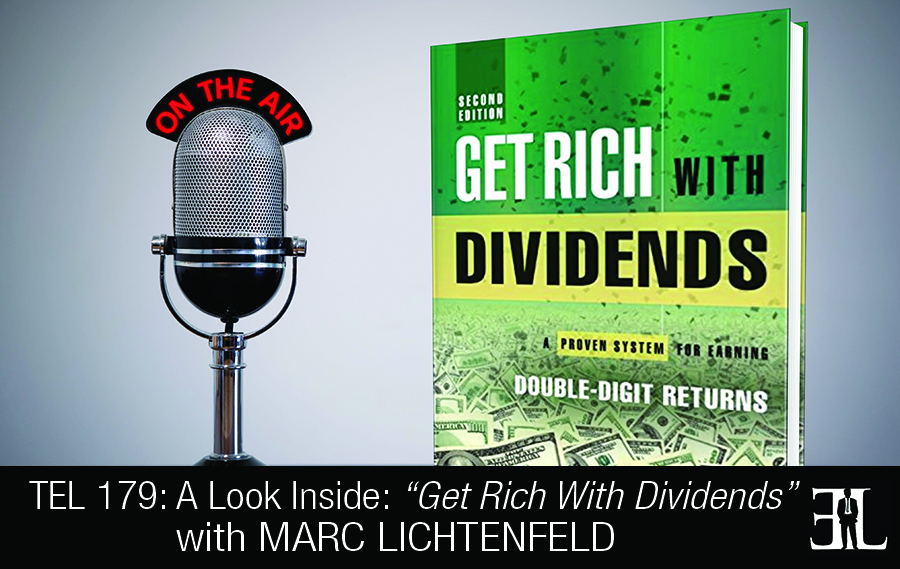 A summary of things you should know about Get Rich with Dividends according to Marc Lichtenfeld:
Introduction
In this episode Marc Lichtenfeld takes a deep dive into his book Get Rich with Dividends, where he shares his investing strategy for achieving double-digit returns.
In his book Lichtenfeld provides a systematic approach to finding stocks with high returns, structuring your investments for better financial security, and setting up your investments with little maintenance. The goal of the book is to help you achieve double-digit returns annually, become worry-free about your investments, and increase your returns even when the market is low.
This book is perfect for entrepreneurs who are interested in dividend investing, but are searching for low risk investments that require very little maintenance.
The Book's Unique Quality (4:10)
This book was really written for novice to medium level investors. If you are a very active investor and an expert in it, it will certainly open your eyes to some new ideas but it's really written for the person that doesn't have a lot of time. It gives you actionable items that people can take in order to setup portfolios that will keep up with and beat inflammation over the long-term.
The Best Way To Engage (6:03)
If you have the basic understanding of what dividends are and why they are important than you can start in the middle of the book where I talk about how to go over a portfolio and how to setup the system. The first part of the book is a basic understanding of dividends, landscaping, and how it all works.
The Reader's Takeaway (13:24)
It would be that if you invest in these stocks for the long-term using this strategy you are going to get to where you want to be financially. It's not just a theory but rather a system that works.
A Deep Dive Into The Book (7:50)
In the beginning of the book we start off talking about all you need to know about dividends. I talk about how much these stocks have outperformed over history. You are taking a long-term look at the stock market so it's not just 10 to 15 years but really looking back over almost 100 years. I give example stories of companies that have raised their dividend every single year no matter what is going on.
I also talk about how boring dividends can be but how they do consistently outperform the market year after year because they are increasing the dividend.
I talk about the system and the portfolio, how to setup, the kinds of stocks we are looking for, what the variables are for these stocks. You will know how to look at the market and different variables and find out if that particular stock will qualify for that system.
Towards the end of the book I go into other topics like dividends reinvestment plans and how you can do it directly through the company, foreign stocks, and taxes.
I also have a glossary for anybody who isn't too familiar with investing. But Like I said it's written for novice to medium level investors so it's not going to be too difficult even if you have very little experience in investing.
NOTE: That was just a summary. To get the full deep dive, play the audio clip at 07:50
Notable Quotes From The Book (15:17)
"A bear market can be your best friend." – Marc Lichtenfeld
The Credibility/Inspiration Of The Author (0:32)
I am the Chief Income Strategist at The Oxford Club and the Editor of The Oxford Income Letter. I am a former Wall Street Analyst, left the dark side and came over to work with subscribers and individual investors rather than Wall Street.
There were a few; one of them was the great reception in 2008-2009 and seeing people get hurt so badly in the markets. They were getting out at the wrong time and not getting back in at the right time. I wanted to help investors find a way that they could sleep at night even during difficult market periods and continue to make money. I also wanted to create a system where not only could they invest well but also find a way to ensure that their lifestyle that they worked so hard for does not deteriorate due to inflation.
Other Books Recommended By The Author (18:06)
Contrarian Investment Strategies by David Dreman
More Information About This Book and The Author
Buy Get Rich with Dividends by Marc Lichtenfeld on Amazon today
Visit GetRichWithDividends.com to learn more about Marc and his book
Visit OxfordClub.com to read all about the Oxford newsletter
Follow Marc Lichtenfeld on Facebook and Twitter
More Information About This Episode
Download the full transcript here (coming soon)
Listen on iTunes, Stitcher , and SoundCloud
Related books:
The 3% Signal by Jason Kelly
Buy, Hold, and Sell by Ken Moraif
Get What's Yours by Larry Kotlikoff
What did you like and not like about this episode? Fill out this one minute survey here.
What do you think about Marc Lichtenfeld's book, Get Rich with Dividends? Share your review in the comments below: