A Preview of Get What's Yours with Larry Kotlikoff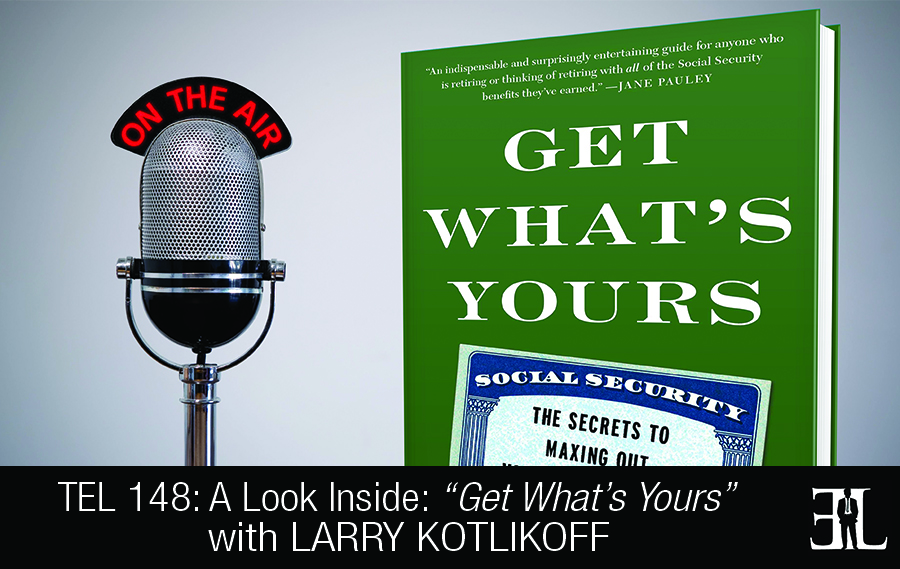 A summary of things you should know about Get What's Yours according to Larry Kotlikoff:
Introduction
In this episode Larry Kotlikoff takes a deep dive into his book, Get What's Yours where he reveals his secrets for maximizing your social security payments.
In his book Kotlikoff gives his expert advice on navigating the intricacies of social security, the benefit scenarios of retirement, the bad decisions that raise business taxes, and financial consequences of other investments. The goal of this book is to help you understand the rules and consequences that come with getting the most out of your social security, retirement, and investments.
This book is perfect for seasoned entrepreneurs who are beginning to plan for retirement or aspiring entrepreneurs who have little to no knowledge of their economic benefits from the government and your business.
The Book's Unique Quality (5:28)
We try to make this subject fun and say the same thing in different ways so that the reader can thoroughly understand.
The Best Way To Engage (11:00)
The first seven chapters are general and the rest of the chapters you can jump in and out depending on your situation.
The Reader's Takeaway
This is an asset that you need to optimize and get right. You need to understand exactly what you are doing and do not trust social security to give you the right answers. I believe that social security folks are giving bad advice about 45% of the time.
A Deep Dive Into The Book (11:20)
In the beginning we not just only talk about social security's provision but also about how to think about your lifetime benefits. Social security is not just another investment it's really an insurance policy. It's paying you benefits that continue until your die.
We discuss subject such as divorcees, widows and widowers, gay couples, and single individuals. Each of the chapters have relevance to all the readers; maybe not directly but indirectly for their friends and family. I think there is something here for everybody considering there are 10,000 people retiring every day. And I know from a lot of different sources that 10,000 people retiring a day are not making the right decisions and that's the reason why we wrote this book.
At the end of the book we have 50 different social security secrets listed; the biggest secrets we came up with in terms of how to maximize your benefits. There is another chapter called 25 Gotchas and it's a list of the 25 worst gotchas because social security is set up to trap people and if they don't get things exactly right they can use all this other money that would otherwise be theirs.
NOTE: That was just a summary. To get the full deep dive, play the audio clip at 11:20
Notable Quotes From The Book
"The regulations that require a notice for an initial determination contemplate sending a correct notification notice. We consider that an initial determination is correct even if we send an incorrect notice." – Social Security Rules. They are basically saying that if they send you the wrong information it's just too bad. They are above the law and above making mistakes.
The Credibility/Inspiration Of The Author (0:36)
I am a Professor of Economics at Boston University; I've been an Economist for a long time. I grew up in New Jersey, went to Penn College and got interested in Economics and then went to grad school at Harvard.
Well we have 10,000 baby boomers retiring every day and the social security system is about as complicated as one can imagine. I felt the need to help others get the best deal possible.
Other Books Recommended By The Author
Any straight forward economics textbook
More Information About This Book and The Author
Buy Get What's Yours by Larry Kotlikoff on Amazon today
Visit WhatIsYourWhat.com to learn more about the book
Visit Kotlikoff.net to learn more about Larry and his works
Visit MaximizeMySocialSecurity.com to access Larry's social security software
Follow Larry Kotlikoff on Twitter and Facebook
More Information About This Episode
Download the full transcript here (coming soon)
Listen on iTunes, Stitcher , and SoundCloud
Related books:
You Can Retire Sooner Than You Think by Wes Moss
Stuff I Wish I'd Known When I Started Working by Fergus O'Connell
The 30 Year Paycheck by Sander Biehn
What did you like and not like about this episode? Fill out this one minute survey here.
What do you think about Larry Kotlikoff's book, Get What's Yours? Share your review in the comments below: