A Preview of The 30 Year Paycheck with Sander Biehn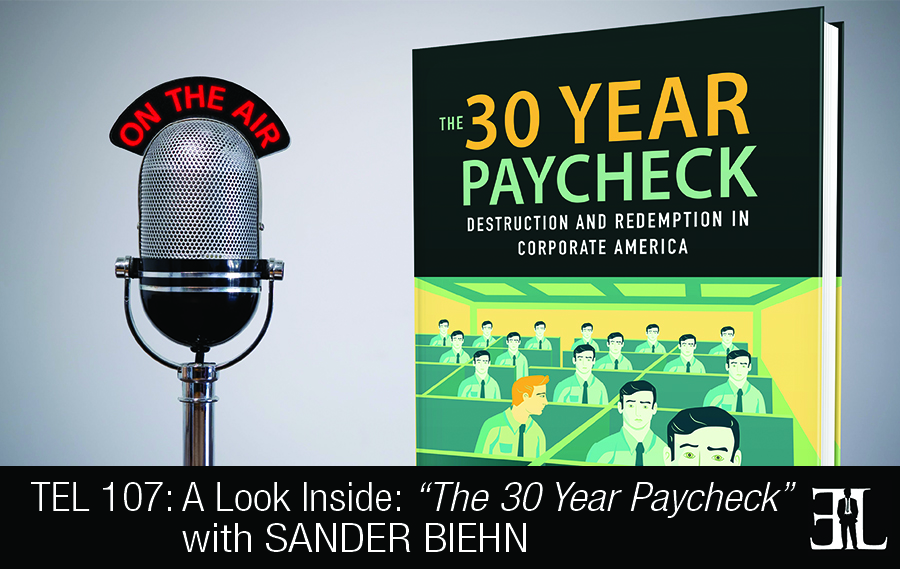 A summary of things you should know about The 30 Year Paycheck according to Sander Biehn:
Introduction
In this episode Sander Biehn takes a deep dive into his book, The 30 Year Paycheck, where he discusses what makes corporate America so demeaning and why employees put up with it.
In his book Biehn where he tells the story of the narrator who strives to avoid the 30 year paycheck, but faces a personal toll while trying to remain employed, raise a family, and save for retirement. The goal of the book is to teach you lessons that help employees, mid-level managers, and executives find a path needed to grow personally.
This book is perfect for aspiring entrepreneurs who are trapped in a full-time job and need a guide to help them work around the pressures that come with working in corporate America.
The Book's Unique Quality (3:22)
I put my book in a narrative format so that people could really approach it and read it like they would a piece of fiction but learn something from a business perspective. The advice and wisdom that you find in the book is really in between the lines a little bit. You watch this character as this character goes through a career and you learn from the mistakes that this character makes. You see the character change and see the character realize a path forward and I think that's a very powerful way for people to learn.
The Reader's Takeaway (9:51)
No matter who you are or what it is that you know how to do, you have the gifts to be enough and not only to be enough but to be superior at who you are. I believe it's in the heart of every person to be something amazing and to do something absolutely spectacular with their lives and career.
A Deep Dive Into The Book (5:05)
The book starts out with a young person who is in college and graduating with a degree in classical studies of philosophy. This degree doesn't have a lot of meaningful path forward as to what to do with it as you get out of school so this character falls into a career in sales. The question we are trying to answer is why does the character stay in this sales position that wasn't necessarily a dream job in the first place? This job is a safety net for the character and what we find is that when you stay in that safe spot you start to lose the innovation that's in your heart and the ideas that you have.
As this character moves through his career he starts burying the way he sees the world and starts to adopt seeing the world in the way that he thinks his superiors want him to. In the end we find that that doesn't serve him very well and it limits his career inside this large company. In the end of the book the character decides to go back to his roots and do things his own way.
He finds that large organizations really aren't suited for people marching to the beat of their own drum. People that have this entrepreneurial spirit, there are ways that they can innovate inside of organizations.
I talk about a number of things that organizations need to do to evolve and it concentrates on what we as individuals need to do to bring us back to our roots. In this case this individual decides he needs to move on and create his own thing. I think what's really important about this is it talks about the evolution and what happens to most people as they fall into a career. Very few of us end up actually going after what we really want to do straight out of college.
I talk about the best thing that we can do to not only be successful but also happy is to follow who we are and what it is that excites us. By not doing those things we start to limit ourselves and eventually it starts taking away from a piece of who we really are and enabling us to be the best that we can be.
Notable Quotes From The Book (11:25)
"I was trying to act like my boss but really I was just a cheap knockoff of who my boss was and I was totally forgetting who I was." – Main Character in the book
The Credibility/Inspiration Of The Author (0:37)
I have worked for about 20 plus years for a very large telecommunications firm in sales. I have always been in sales since I got out of college to almost up to the present. About a year and a half ago I left the company and decided to start my own business in social selling for business to business sellers.
I was doing a bunch of traveling as a sales person and I was hearing a lot of the same types of people complaining about things about their work. I was hearing these same kinds of complaints everywhere I went and I started realizing that I had some answers to these complaints which led to the book. The other thing that inspired me is that I wanted to write a different kind of business book. I wanted to make my book an overall good read and I felt that that was missing in the world.
Other Books Recommended By The Author (12:33)
For Whom the Bell Tolls by Ernest Hemingway
More Information About This Book and The Author
Buy The 30 Year Paycheck by Sander Biehn on Amazon today
Visit Thought-Horizon.com to learn more about Sander and his book
Follow Sander Biehn on Twitter and Facebook
More Information About This Episode
Download the full transcript here
Listen on iTunes, Stitcher , and SoundCloud
Related books: Stuff I Wish I'd Known When I Started Working by Fergus O'Connell | You Can Retire Sooner Than You Think by Wes Moss | The Art of Resignation by Steven Feiner
What did you like and not like about this episode? Fill out this one minute survey here.
What do think about Sander Biehn's book, The 30 Year Paycheck? Share your review in the comments below: