A Preview of Happywork with Chris Reimer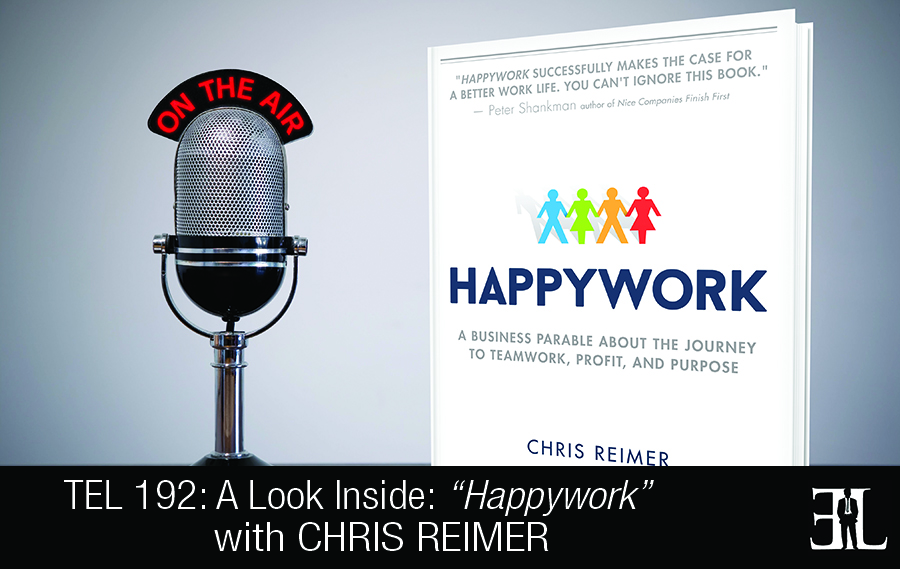 A summary of things you should know about Happywork according to Chris Reimer:
Introduction
In this episode Chris Reimer takes a deep dive into his book, Happywork, where he shares a business parable about the journey to better teamwork, profit, and purpose.
In his book Reimer embraces the everyday unhappiness at work and provides real advice on how to transform any workplace into a motivationally positive environment. The goal of the book is to help you overcome workplace negativity, bring the best out of your employees, streamline your business processes, prioritize your employee tasks, and eliminate human emotions from the workplace.
This book is perfect for entrepreneurs who want to improve their management skills and ensure that their business workplace runs efficiently and effectively in the absence of negative attitudes.
The Book's Unique Quality (3:30)
My book is a story and I believe that is how we learn best.
The Best Way To Engage (4:58)
This book is a front to back read.
The Reader's Takeaway (18:51)
We too often overlook our own fulfillment and our own happiness at work. I want to enjoy my job and what I do and I don't think it's too much to ask.
A Deep Dive Into The Book (6:19)
My story starts with a man named Dick Vunorri who is the second generation owner of a manufacturing company called Vunorri Inc. Dick learns that this company is on the ropes and 30 days away from foreclosure because they can't pay their bills. And so Dick decides that he is going to call a turnaround specialist named Sam. Sam tells Dick that he needs to tear the place down to the studs to figure out what exactly is wrong with it. From there Sam meets a man named Charlie who is an older man who works in the mailroom but has some wisdom that's beyond his job title. Charlie comes forth and really challenges Sam which is surprising to Sam. Sam then goes about studying the company and he first encounters the CFO named Neil who isn't a lot of fun. Neil is not very good at his job but he's found a way to proverbially lock himself in his office and not get a lot done. After meeting the rest of the team Sam gets to a point where he gets progressively more down each day. Each day he comes on this four week assignment he doesn't want to be there. As he is interviewing each person in the company to figure out what's going on he gets a chance to interview Charlie and its then that Charlie turns the table on him and challenges him on everything he knows about business. Sam starts to realize that the thing that this company is missing is team work, productivity, and very few employees that are fulfilling any of their human needs. Through his experience with Vunorri Sam realized that happiness in work is actually very important. Eventually Sam goes back to Dick and gives him the full rundown of why the company isn't working and what needs to be done to fix it.
NOTE: That was just a summary. To get the full deep dive, play the audio clip at 06:19
Notable Quotes From The Book (20:08)
"Why use fear and intimidation? Why do you have to scare us? This isn't a haunted house." – Chris Reimer
The Credibility/Inspiration Of The Author (0:35)
I am based in St. Louis Missouri and I am a Marketing Communication Strategist. Previous to that I spent a little over 15 years as a CPA and CFO of organizations around St. Louis.
This books inspiration came from my own work experiences. I've never had a job that was absolutely horrible but I've had some pretty colorful job experiences. The other inspiration would be my mother and what she went through working a 30 plus year career for the US government.
Other Books Recommended By The Author (21:44)
The Go-Giver by Bob Burg
More Information About This Book and The Author
Buy Happywork by Chris Reimer on Amazon today
Visit HappyworkBook.com to learn more about the book
Visit ChrisReimer.com to learn more about Chris
Follow Chris Reimer on Facebook and Twitter
More Information About This Episode
Download the full transcript here (coming soon)
Listen on iTunes, Stitcher , and SoundCloud
Related books:
The Best Place to Work by Ron Friedman
The Culture Engine by Chris Edmonds
The Hidden Leader by Scott Edinger
Relevant advice and tips:
5 Steps To Promote Innovation At The Workplace
What did you like and not like about this episode? Fill out this one minute survey here.
What do you think about Chris Reimer's book, Happywork? Share your review in the comments below: