A Preview of The Outside Edge with Robert Kelsey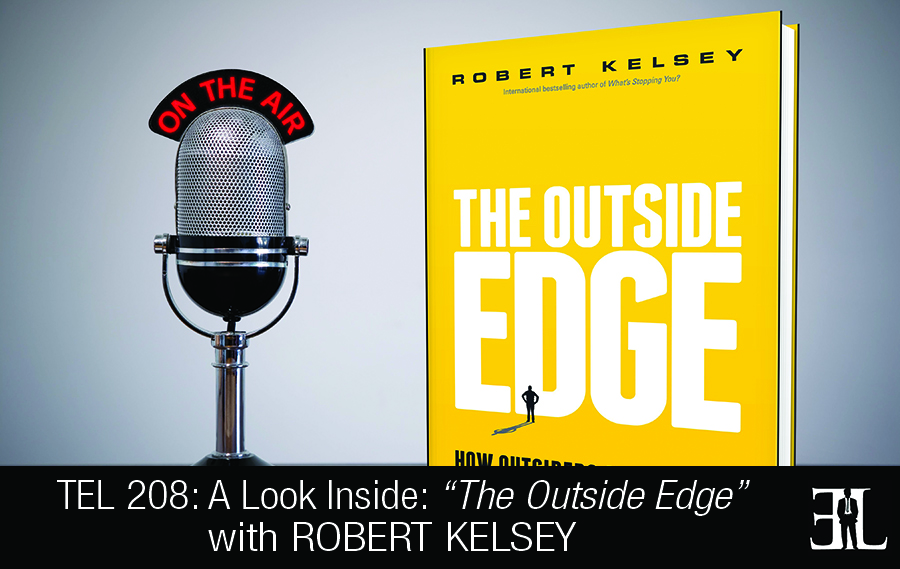 A summary of things you should know about The Outside Edge according to Robert Kelsey:
Introduction
In this episode Robert Kelsey gives an in-depth look inside his book, The Outside Edge, where he discusses how outsiders can succeed in a world made by insiders.
In his book Kelsey provides a practical guide that explains the ins and outs of getting your voice heard when it comes to being an original thinker and helps remediate the insecurities of unappreciated creativity. The goal of the book is to help you accept yourself for who you are, motivate yourself to harness your creativity, and acquire the skills needed to get your ideas heard.
This book is perfect for entrepreneurs who possess a unique ability to create new ideas and need help overcoming the feelings of awkwardness when it comes to finding work.
The Book's Unique Quality (7:47)
I think because of my personal experience of being an outsider myself I come at it in a very different way and write based on that.
The Best Way To Engage (10:50)
I write my books to be read from beginning to end and because of that it has a very strong structure to it that will act as a good reference guide.
The Reader's Takeaway (13:05)
The one word that it all comes down to in the end is the word insight. I want an outsider to understand who they are and the reason why they think like they do. Lastly, I want the outsider to accept who they are so that it stops being disabling for them.
Notable Quotes From The Book (17:48)
"Focus on the second reaction and if you do that you'll find that everything lines up in a much more constructive way." – Robert Kelsey
The Credibility/Inspiration Of The Author (0:57)
I am British and lived most of my life in London. I am someone that has always considered myself an outsider and didn't fit my environment and ended up becoming an entrepreneur. What I've realized since then is that most entrepreneurs feel the same way I did and that's often the reason they became an entrepreneur.
I realized that I had a mental disconnect from other people and it turned me into someone that felt like an outsider and I felt like it was important to write about. The real catalyst for me was reading Malcolm Gladwell's book, David and Goliath, where he spent 200 or more pages saying that outsiders and misfits had an enormous advantage. I couldn't believe what I was reading because I always felt outsiders were disabled from their mental blockages and sometimes they don't even see it. What Gladwell was describing to me were not outsiders that had an advantage, they were eccentric insiders and they were using their advantages that they had inbuilt in them in order to succeed. My book at first looks like its accepting Gladwell's premise but it's not, it's absolutely rejecting it. Ultimately I make the point that outsiders do have some attributes that they can employ to their advantages but they've got to learn to employ them.
Other Books Recommended By The Author (20:38)
Man's Search for Meaning by Viktor E. Frankl
More Information About This Book and The Author
Buy The Outside Edge by Robert Kelsey on Amazon today
Visit Robert-Kelsey.co.uk to learn more about Robert, his book, and blog
Follow Robert Kelsey on Facebook and Twitter
More Information About This Episode
Download the full transcript here (coming soon)
Listen on iTunes, Stitcher , and SoundCloud
Related books:
The Seven Sins of Innovation by Dave Richards
The Innovative Entrepreneur by Daniel Spluber
The Freaks Shall Inherit The Earth by Chris Brogan
What did you like and not like about this episode? Fill out this one minute survey here.
What do you think about Robert Kelsey's book, The Outside Edge? Share your review in the comments below: