TEL 234: Doing Good by Doing Good with Peter Baines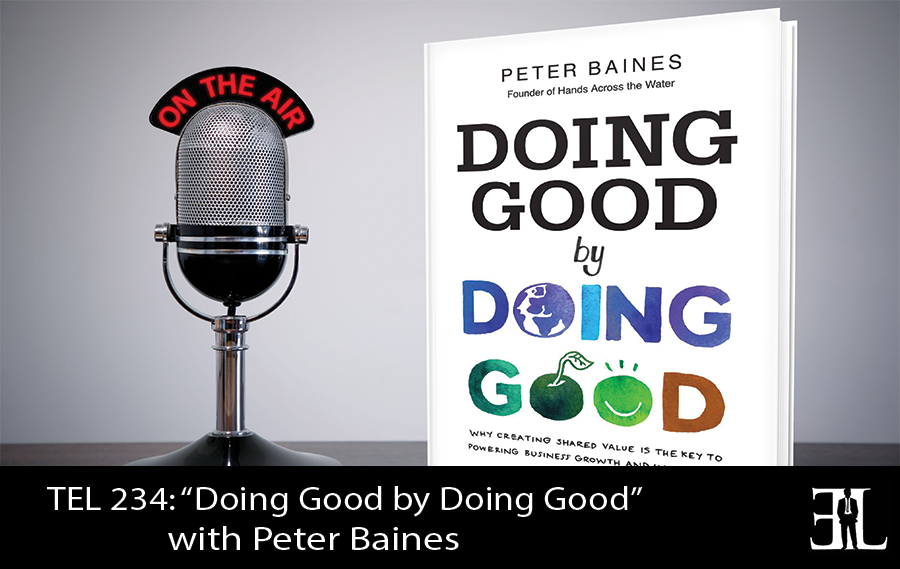 A summary of things you should know about "Doing Good by Doing Good" according to Peter Baines
Introduction (0:31)
In 2005 while working in Thailand, Peter met a group of children who had lost their parents and their homes to the tsunami. He formed a charity called Hands Across the Water to help build them homes. The charity has gone on to do great things and is quite unique in its operating model and its value of experiences. He started sharing those experiences with corporates of different sizes and that led to the path he is on now providing advice around corporate social responsibility and how to make that a real profit center back to the business.
The Book's Unique Quality (3:10)
This book comes from a result of what I've done with building the charity and focuses on the value of shared experiences and it's what has been so successful for us. It's a real practical guide of how to implement a program and make it simple but ensure you get the return.
The Best Way To Engage (4:26)
It depends upon the interest of those that are reading. It is really structured for a couple of groups – one for those that have CSR within their business and they want it to be more effective. And the second part of the book is written with the charity leaders in mind.
The Reader's Takeaway (17:00)
That your giving should be a positive return back to you, either as an individual or as an organization. And that can be a bit confronting for people, they will tell me "I don't do it for myself, I do it for the right reason," but here's the magic, if you do it in a way that you benefit either personally or as a company it's more likely that you will do more of it and you'll do it more often.
A Deep Dive Into The Book (6:22)
It's really aimed at four groups of readers: those that are already in business, the philanthropists, the charity sectors, and to those that might have a program but want to do it more effectively. So what I do is explore through the book the various stages of implementing a program.
The book starts with the concept of why just giving money alone is not the best in order to bring the return back to the business. As a business if you just do this, often the leader will carve off part of their profit which with be reported about the business but they don't really see the return or enjoy the experience. So we talk about how to align more closely with charity partners by putting in place a set of guiding principles and building a relationship. We examine some important issues that businesses should consider before engaging with a charity and we look at the model of giving to fewer for longer. If you reduce your giving down to international, national, and local and you select three charity partners and there's a commitment for a longer period of time then we start to bring about some stories. The stories are so important to build this level of engagement and create this level of experience.
We look through a number of case studies that support this idea and I'll quickly take you through one of them. They built a program for a hotel in Thailand that as a guest you have the option to donate one dollar as they check out of the hotel. So my question to the manager was "how do you think these guests feel about making that donation?" And he said, "well there's no feeling at all, it's just a dollar, it doesn't really impact them." Then I asked about the hotel employees that receive and process the dollar and how they felt and he said, "well the same, there's no impact upon them." I then asked about the impact in the local community and he said there was none that he knew of. I then asked about the overall impact and he said that several tens and millions of dollars had been raised throughout the life of this program, so it's certainly effective but there's no engagement and there's no shared experience. So we looked at the hotel guests and his frequent hotel guests were staying there between two and three nights per visit and a total of 8-10 times per year. Most of these people were business people with expertise that some might not even have recognized so I had them survey the guests and through invitation we invited them to be a part of a mentoring program where they would then mentor a charity leader from within that local area in business development. We invited the guests that were willing to participate in the program to stay an extra half day per visit. So the immediate return back to the hotel was that these guests were now staying an extra night so their spend per stay went up 50-100% each time they visited the hotel. In return, while they're traveling to the hotel to stay, what they're most excited about is this mentoring program. And then as they're sitting there they begin to tell the person next to them on the flight about the program and that person says "I would like to be a part of that but I stay at a different hotel." So then it is attracting new business while also maintaining the loyalty of the guests staying at the hotel. All the while there is no cost to the hotel outside of running the mentoring program. So then we went to the staff and asked if they would like to be a part of the program by volunteering one day per month to facilitate the program and of course they wanted to because it was making a difference for their local community. So this was an example of a program where it was a highly effective corporate social responsibility program but it didn't involve any money from the hotel to the community but the difference it made was hugely sustainable and measurable.
The final part of the book is sharing in some way this concept of shared value and it's a concept that was originated out of the states that focuses on engaged giving. I think that's what this book is really about is being more engaged in the entire process.
NOTE: That was just a summary. To get the full deep dive, play the audio clip at 06:22
Notable Quotes From The Book (18:35)
"If we do nothing then nothing will change" – Peter Baines
The Credibility/Inspiration Of The Author (2:16)
The publishers wrote to me and asked if I would be interested in writing the book. They saw that I had a unique view on corporate social responsibility and who to make it a win back to the organization. When considering writing the book I thought it was of real value to share some of the learning from case studies that were hugely successful and that were consistent with the messages that I was writing about so putting a book together made sense.
Other Books Recommended By The Author (19:51)
Dead Aid by Dambisa Moyo
More Information About This Book and The Author (21:14)
Buy on Amazon today
Visit peterbaines.com.au to learn more about Peter and his book
More Information About This Episode
Download the full transcript here
Listen on iTunes
What did you like and not like about this episode? Fill out this one minute survey here.
What do you think about AUTHOR's book, Doing Good by Doing Good? Share your review in the comments below: