10 Noteworthy Podcasts For Entrepreneurs From 2014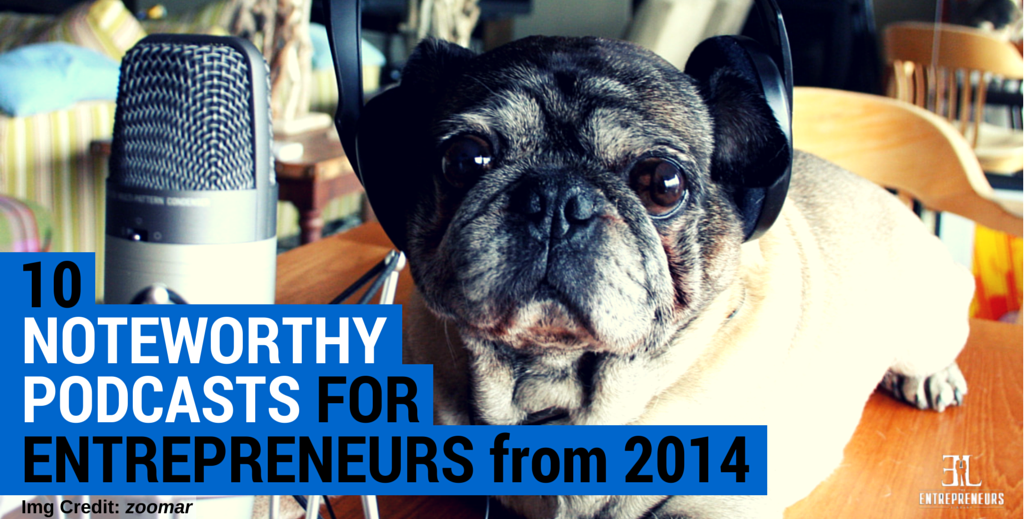 10 Noteworthy Podcasts For Entrepreneurs From 2014
Podcasts are and have always been one of the most effective marketing and learning tools for most entrepreneurs especially for all of us here at The Entrepreneurs Library. Since it is virtually impossible to meet with great people with even greater ideas in person or attend every single conference, it makes sense that busy entrepreneurs listen to some great podcasts to learn new ideas and to keep pace with the latest developments in the world of entrepreneurship.
The way I see it, podcasts bring fresh, innovative ideas to the table conveniently without leaving the comfort of the home or office. Podcasts are simple and convenient; all you have to do is to plug in your earphones or connect your smartphone with your car and there you go. Free golden nuggets of innovation, tips, and advice start pouring in.
Like any other year, 2014 saw some amazing growth with podcasts for entrepreneurs making rounds in the business space because of their ingenuity and remarkable ideas. Since there are thousands too many, it might take some extensive searching for you to narrow them down to a top 10 or 15. To help you out, not in any particular order, here are my personal top 10 podcasts for entrepreneurs from 2014:
This podcast is going to help those people who are still having teething problems while managing their start-ups. Hosted by Leslie Samuel, this podcast will take you through the personal journey of Leslie as an entrepreneur. Be it marketing or leadership issues, this podcast is going to help you out. You have to listen to this podcast if you want to get some really useful tips on how to make your first website go live.
Have you had the feeling that you are surrounded by too many competitors and there is no way you are going to standout or look different? Well, this happens with most entrepreneurs these days and therefore, you need to listen to Annemarie Cross's podcast. She gives great tips that will help you standout tall amidst crowd.
Let's accept the fact that some of us struggle while leading a business from the front because most of us lack some serious leadership skills. So, if you are one of those people who lack some serious leadership skills, you need to listen to this podcast by Michael Hyatt. "This is Your Life" teaches you basic leadership skills and also educates you how to enhance your public relation skills.
This podcast is hosted by Pat Flynn and it teaches you how to use different marketing techniques like blogging, content marketing and other marketing schemes to increase profits of your organization. Overall Pat Flynn's content is beyond expectations for anyone trying to make money on the side or simply wanting some motivation for becoming an audacious blogger, but my favorite part about Pat is how personal he makes each and every episode.
Those are in the media sector and want to make it big, should listen to this podcast by David Garland. David knows very well how difficult it is to get to the top in this sector and therefore, he offers practical and feasible solutions to the problems that media people often face.
This podcast is for those creative folks out there who don't want to choose between professional life and their creative aspirations. In some episodes, you will get to listen to the advices of some well established creative professionals. You will get to learn how they have made it big in their respective professions.
This podcast is hosted by legendary Kevin Rose, the founder of Digg. This podcast features stories of people who have made it big in the business circles by daring to walk on a different path. You will get to know their inspirations, the problems that they have faced and how they have overcome those problems. It is a truly inspirational series that you must listen.
8) Mixergy by Andrew Warner
This podcast is hosted by Andrew Warner and it features interviews of renowned entrepreneurs. By listening to this podcast, you will come to know about their struggles and also you will get pro tips to succeed in your endeavor. It is really helpful to listen to someone who has faced similar situations and overcome those issues successfully.
Bored with all those uninteresting interviews and serious talks? In that case, you are going to love this podcast. This podcast makes you believe that marketing is all fun. The host Andrew Lock makes the podcasts sound awesome by adding his wits and humor every now and then. Very practical information and actionable tactics come from every episode of Andrew's show.
This podcast is hosted by the famous Sloan Brothers and they try to help small business owners thrive by offering practical solutions to seemingly complex problems. Since they have firsthand experience of entrepreneurship, Startup Nation podcast contains some amazing suggestions as to how to succeed in your endeavor.
Cute Img Credit: Flickr (zoomar) Roscoe the podcast pug
What was your top podcasts for entrepreneurs from 2014? Share with everyone in the comments below: