5 Lessons Entrepreneurs Can Learn From David Allen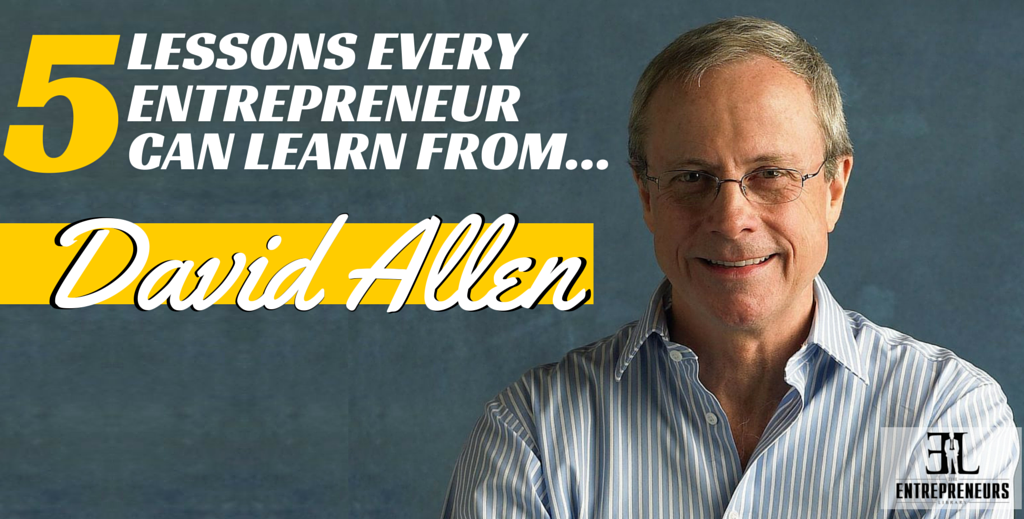 Who is David Allen and what you can learn from him:
David Allen claims that he has had 35 professions by the age of 35. These include: a waiter, magician, travel agent, vitamin distributor, gas station manager, karate teacher and another 30 more.
Obviously he didn't succeed or master all of these professions. Nonetheless today he's one of the world's most renowned productivity experts and his book Getting Things Done: The Art of Stress-Free Productivity has sold well more than 600,000 copies globally.
Besides being an author, David Allen is also a successful businessman who consults Fortune 500 companies. In the online arena, he's known as the "The Godfather of Productivity."
What entrepreneurship lessons can be learned from David Allen?
Don't settle for one role in life
A lesson from one failed endeavor can be transferred to the next
According to Allen, "Anxiety results from a lack of organization, preparation, control and action."
Here are five thought-provoking lessons that entrepreneurs can learn from him and his book.
1. Take the Bottom-Up Approach
David Allen writes that it makes intellectual sense to start your business mission on a high note, but if your daily tasks are distracting, you may end up failing to focus on the bigger picture. Taking care of your inbox first and gaining full control of that will free up your mind to think bigger. If your home is what you are talking about, the equivalent of your in-box may be the laundry room calamity, the mail that piles up or the clutter which gets in the way of your bigger plans for your family and household.
2. Foresake the Daily To-Do-List
David Allen mentions that in the face organizational, it will benefit you to do away with the list making habit, although he swears by it. Rather, he recommends having a calendar that is kept free of miscellanea with the following types of listings:
Time sensitive actions – these include appointments and other things that have a set time and date to it.
Day-sensitive actions—these include tasks and appointments that don't have a specified time on the date like deadline to register for camp or school picture day and so on.
Day-sensitive information—this may include directions and your appoint location or event details.
Eliminating your daily list will give you ample time and flexibility to attend to more urgent things, and better yet you won't feel bad for not striking some items off the list and moving them to the next day.
3. Design a Rapid Fire Filing System
In his book, Allen writes that your filing system should be simple and easy to navigate through such that if you need to file something, you can pick it from your mail stack or email print and place it in the proper file within a minute. He further on explains that if your filing system is easy, fun and current, you will procrastinate and make the clutter worse.
He recommends having an A to Z filing system which will reduce search time, and must be within arm's reach. He also states when your filing system reaches ¾ full, shred or recycle what's outdated and consider digitalizing some.
4. Four Prong Method To Figure Out What to Do
Whether you are stay a at home mom, self-employed, retired or in the workforce, there are certain things you must do. Allen proposes a four criterion analysis to determine what you should do with your time.
Context—can you complete a task where you are? If the case, focus on another criteria. Of not, then move a different potential task.
Time available—can you complete a task within a set time? It's better to complete two shorter tasks in 10 minutes than leave a longer one incomplete.
Energy available—consider your physical and mental energy. Analytical and creative tasks require a clear, focus mind while physical tasks require a more energetic approach.
Priority—if your tasks fit the above criteria, go for one that ensures the highest returns in terms personal or work productivity.
5. Saying "No" to More Things and More Often
Although this little nugget is buried deep in Allen's book, it is however possibly one of the best pieces of advice. He explains our tendency to become overbooked for both our personal and work lives. He writes, "You will have to say no to more things and more often to stay comfortable and afloat."
For this he recommends a section called 'The Weekly Review' where you put aside an hour or two to reflect on what you did the past week, what needs to be done the following week and if there's anything that went by without being attended to. The review will help you view how you managed to commit yourself to different tasks and what you can do about your level of commitment in the future.
To conclude, would-be entrepreneurs can employ some of these tips if not all to ensure productivity and efficiency which will eventually lead to quicker project completion times and higher revenue.
More Information About David Allen
Buy Getting Things Done on Amazon today
Get a behind-the-scenes look at Getting Things Done with David Allen himself
Visit GettingThingsDone.com to learn more about David, his book, and exclusive content
Follow David Allen on Twitter and Facebook