5 Questions Entrepreneurs Should Ask Before Exiting A Business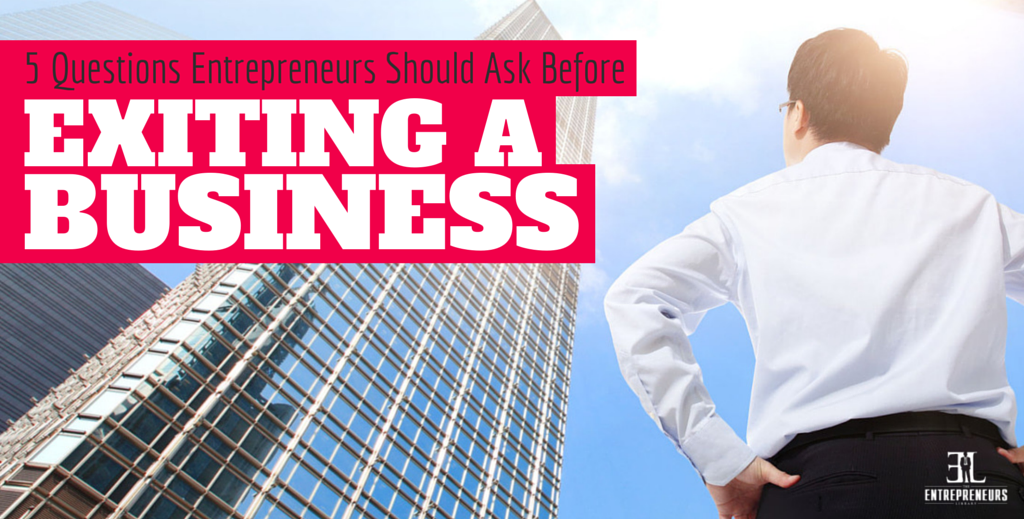 Once an entrepreneur has become established and they have built their business to a point where it can become self-sufficient or the infrastructure is strong enough to withstand a transfer of power, there are many questions that should be asked. Exiting a business that you have built is not a decision that should be made quickly, so take a moment to ponder the following questions before making a choice that could adversely affect your destiny.
Here are the top questions some authors on exit planning suggest entrepreneurs ask before exiting a business:
1. Is The Business Ready For My Departure?
Entrepreneurs often make the mistake of stepping away from their business too quickly, before the business has had a chance to grow to a point where exiting is feasible. Most business experts recommend taking at least two years to properly evaluate the marketplace and their business' place in the landscape. Business trends that can torpedo everything you've built can emerge seemingly overnight and scuttle even the best laid plans.
In order to get the best sale price for your business or pass it down to the next person in line, you need to be able to show all of the correct paperwork. Entrepreneurs will often try to execute a rapid transfer, but you need a great deal of time to ensure that your exit goes smoothly. If you are planning on being able to exit your business within a month or two, you should reconsider this plan.
Putting together the correct plan for exiting your business takes years of careful preparation. Do not allow yourself to be swayed by those who present you with plans that entail walking away in a more expeditious fashion.
2. Who Is On My Team?
Before you exit your business and pass it on, you should know what members of your current team are going to remain in place after the transition has been made. You will also need a team that can help you through the transitional period. This means hiring experienced business attorneys, accountants and appraisers. If you are inexperienced in these matters (and even if you aren't), you should bring in a consultant to provide valuable advice.
Having a team to guide you through the process of exiting your business gives you the help you need in avoiding a variety of common pitfalls. You should also know which members of your current team wish to remain on board after the transition period has been completed. Some team members may wish to exit as well, in order to pursue new opportunities. Others may decide that they wish to remain a part of the company, but may be concerned about potential changes to their role.
3. Is The Timing Right?
In the business world, certain periods are much more tumultuous than others. As a result, the timing may not be right for you to step away from the business that you carefully shepherded through its infancy and watched grow into what it has become. A lot of entrepreneurs choose the wrong times to sell their business or hand it down to the next person in line.
If you are trying to exit your business during a period of decline, don't. In order to think like a true entrepreneur, you must strike when the iron is hot. The best time to exit your business is when things are on an upswing. Stepping away when you are at the peak of your powers is incredibly difficult, but necessary.
When you decide to remain at the helm during a period of prosperity, this is thinking with the mind of a business owners, not the mind of an entrepreneur. Make sure the timing is right before handing your company off to the next person.
4. Can The Business Continue To Thrive In My Absence?
Is whoever you are passing your business down to ready to handle the responsibility? Is there a strong infrastructure in place that will allow them to succeed, even after you are gone? A business that has become entirely too dependent on its owner is one that is doomed to failure, should they ever decide to exit.
The best businesses are the ones that can still run at maximum efficiency if the owner is not there. Take a moment and consider times in the past when you decide to step away. When you have gone on vacation, was the company able to run properly or were there a variety of hiccups? Or were you never able to go on vacation because you were worried about potential complications?
No one wants to see everything they have worked for crumble the moment they step away. So make sure you know for certain that the business can continue to thrive and grow without your constant presence.
5. Can I Stay On If Needed?
After control of the business has been transferred over, the new executive or executives may need your help to ensure that the transition goes smoothly. Are you willing to remain on board, albeit in a smaller, more advisory type of role? The person who you are handing the company down to could want your help and they may have a certain level of trepidation during the early going.
Before exiting your own business, be sure that the new regime has the ability to hit the ground running. If not, then you may need to stay attached for a little while so that the transition period is not as rocky. Staying on and becoming a consultant can help ease the growing pains for whoever you are passing your company down to.
Recommended books on exiting a business:
Finish Big by Bo Burlingham
The Exit Strategy Handbook by Jerry Mills
Sell Your Business for More Than It's Worth by Michelle Seiler-Tucker
Final Act of Onwership by Jerry Baltus
The Art of Resignation by Steven Feiner
What questions do you wish you asked yourself before exiting a business? Share yours in the comments: