6 Practical Tips to Become an Effective Entrepreneur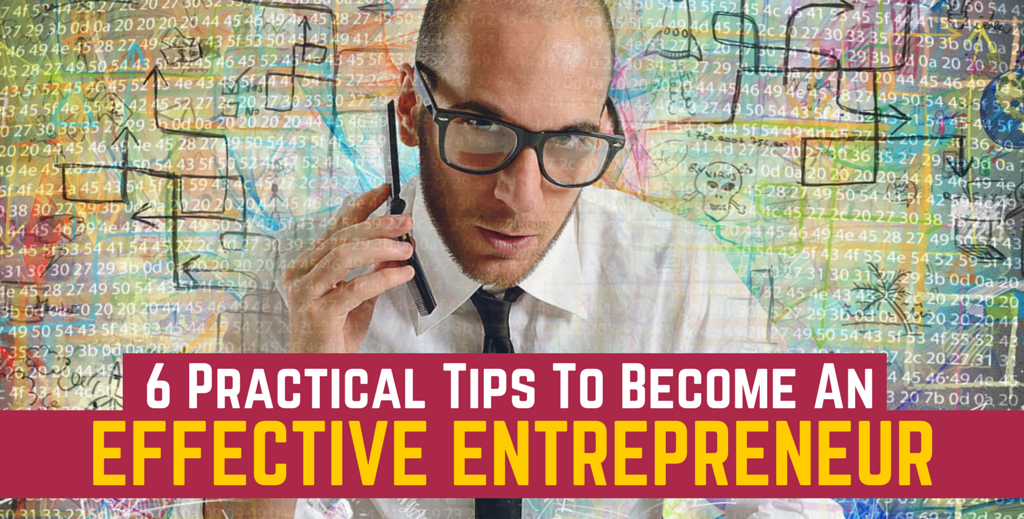 6 Practical Tips to Become an Effective Entrepreneur
When you start on your entrepreneurial journey, you are sure to hear one important piece of advice – you need to maintain a work-life balance. But what exactly does it mean? Does it imply that you divide your day into two equal parts – one dedicated to work and the other to life? Not really!
Work-life balance implies that you put equal emphasis on the two. But it's easier said than done. It can be difficult to think of your life separately when you have to juggle numerous roles and handle numerous responsibilities. So, what do you do?
Here are a few tips that can help you become an effective entrepreneur:
Tip 1: Remember why you decided to be an entrepreneur.
If you started because you loved what you did and wanted to do what you loved, work will never feel as a burden. And while it can take up most part of your day, especially when you are just starting out, it will not make you feel as if you have wasted it.
Tip 2: Schedule your day.
Not just the work portion, but every part of it. And try to stick to your routine. There will be times when you have to reschedule a meeting or attend your child's ballet recital. But otherwise, you need to plan out how you will spend the day. This way you can avoid the fear that something you wanted done won't be on done on time.
Tip 3: Don't set yourself up for failure.
Setting a big goal for the year isn't a good idea. Instead, focus on smaller goals that you need to achieve within a week, or may be a month. It will make you feel good when you achieve these smaller goals. And it will also help you attain the bigger goal you want to achieve in the long run.
Tip 4: Don't neglect your health.
While you may love to handle every little detail for your business, if this means that you skip your breakfast, miss your exercise or don't get enough sleep, it isn't really the best thing for you. Eat healthy, exercise regularly, and get enough rest; and you'll see what a difference this little things make in your life.
Tip 5: Set aside some 'me' time.
Taking care of your physical health isn't the only thing you need to do. You need to refresh and re-energize your mental and spiritual self too. Go on a date, indulge in a spa break, plan a vacation, or do whatever you feel like. And switch off your Smartphone and leave your laptop behind on these occasions.
Tip 6: Remember your family and friends support.
Be grateful every day for how everyone in your circle of life helps and supports you. It may be your spouse helping with housework or a business associate chalking out a financial plan. Say thank you whenever you feel; expressing your gratitude always makes you feel better.
Being an entrepreneur doesn't necessarily mean losing sleep or finding no time for it altogether. If you love what you do, you can build your business into your lifestyle. And this way, you will be able to achieve the right balance between work and life.
Also, don't stress about balancing your work and life. It will only mess up things even more. Instead, focus on what you need to do to stay healthy and happy. And when you love your work as an entrepreneur and be part of your circle, you will find that the work and life portions works out on their own.
Recommended books to help you become an effective entrepreneur:
The One Thing by Gary Keller and Jay Papasan
Grow A Pair by Larry Winget
Procrastinate on Purpose by Rory Vaden
The Energy Bus by Jon Gordon
Virtual Freedom by Chris Ducker
What other books have you read that helped you become an effective entrepreneur? Share with everyone in the comments below: