A Preview of The One Thing with Jay Papasan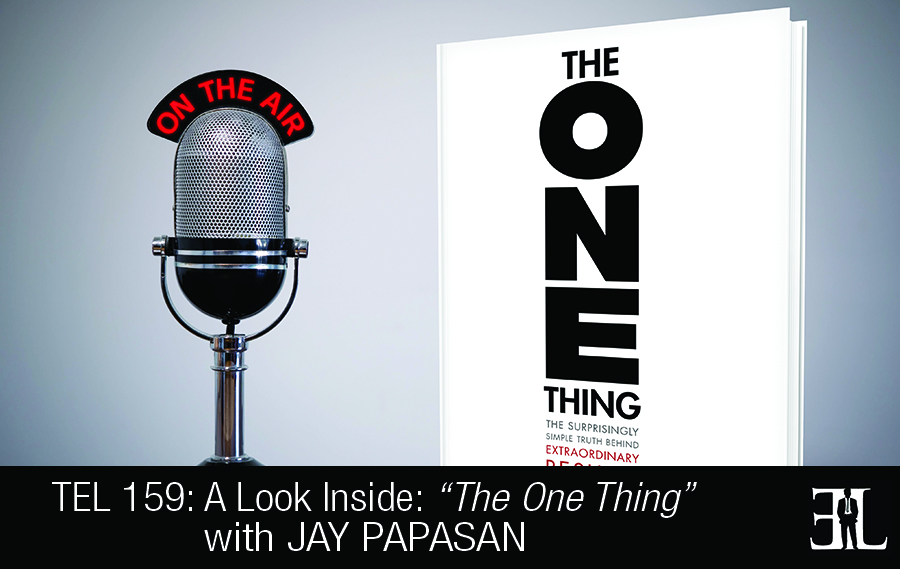 A summary of things you should know about The One Thing according to Jay Papasan:
Introduction
In this episode Jay Papasan reveals all his insights on his and Gary Keller's national bestseller, The One Thing where they reveal the surprisingly simple truth behind achieving extraordinary results.
In their book Papasan and Keller provide you with a simple yet effective approach to improving the results in every area of your life including your work, personal health, relationships, and inner spirit. The goal of the book is to help you be more productive, become healthy and fit, increase your paycheck, boost business sales, build a career, and nurture stronger relationships with others.
This book is perfect for entrepreneurs that are tired of living mediocre lives and need an actionable system that will help them achieve results they never thought possible.
The Book's Unique Quality (3:54)
I think the combination of the way I write and the way Gary thinks is we are both very practical. I think we have a proven system and our ways to implement it is what makes all the difference.
The Best Way To Engage (4:48)
We organized the book as teachers and coaches by what they needed first.
The Reader's Takeaway (21:50)
I want people to internalize this idea of the focusing question. I think a lot of times we are not appropriate in our moments because we are not really clear about where we are going. When you know what your one thing is you need to hold on to it because that allows you to say no to stuff.
A Deep Dive Into The Book (6:14)
I think that we are living as business people in a time through technology, through a connected flat world, where we have unlimited opportunity. The things that we can say yes to in terms of business opportunities, people, and networking opportunities, are really crazy and we haven't evolved to having an understand of what we really need to say no to.
There are six lies that we believe that we think makes sense but in reality they don't. One of the six lies is that everything matters equally. That in a world of too many choices, too many obligations, and a to-do list that get too long, in our rush to do everything we end up treating everything as if it's equal. The first big lesson of the book is taking the idea of priority and applying it to our to-do list. Take your list of all the things you could do and identify the things that you should do, and do those first.
The next big thing that gets in the way is when people try to do two things at once and call it multitasking. Research shows that when you try to do two things at once you lose time and efficiency.
In the heart of the book is a very humble question we call The Focusing Question. And if there was one habit we wanted people to take away it's this idea right now of knowing your number one priorty. And we want them to say this question… What's the one thing I can do, such that by doing it everything else will be easier or unnecessary? This question was formed through years and years of consulting with entrepreneurs.
When you identify your one thing, the best way to get people to do it is to make an appointment with themselves to do it. In our research the most successful people use their calendars primarily not to meet with other people, but to schedule time for themselves to do their most important work. So identify your one thing, you make an appointment with yourself to do it on a regular basis, and then you let that lead your results.
What we saw is that a lot of people would have the appointment show up but they would not have a place where they could effectively work. So we teach people to build a bunker, find a place in your life that you can really get focused and be able to give your full attention to the things that matter most. Also, store provisions, once you have that place you need to make sure that you have everything that you need to work. You also want to turn off any electronics that could possibly distract you from your one thing. And lastly you want to enlist support. People always underestimate how much the people in their environment will come and help them if they will just tell them why keeping this time is important.
NOTE: That was just a summary. To get the full deep dive, play the audio clip at 06:14
Notable Quotes From The Book (23:04)
"You need to be doing less with more effect instead of doing more with side effects." – Jay Papasan
The Credibility/Inspiration Of The Author (1:16)
I live in Austin, Texas. My wife runs a highly successful real estate team here called The Papasan Property Group and we have two kids, Gus and Veronica. In the big picture I grew up in Memphis Tennessee, spent about 20 years in publishing before settling with my family here in Austin to be a writer.
My Co-author is Gary Keller and he founded Keller Williams Realty which is now the largest Real Estate franchise company in the world. In the course of working on an education piece for the company I was writing with him on some real estate books and he wrote an essay called The Power of One and I had a ah-ha moment. From that I realized that this is Gary's one thing. So as soon as I read that eight page essay we dug in and spent about five years researching and trying to identity exactly his techniques and how they lined up with other successful entrepreneurs.
Other Books Recommended By The Author (26:15)
Managing Oneself by Peter Drucker
More Information About This Book and The Author
Buy The One Thing by Gary Keller and Jay Papasan on Amazon today
Visit The1Thing.com to learn more about the book and the tools that complement the book
Follow Jay Papasan on Twitter and Gary Keller on Facebook
More Information About This Episode
Download the full transcript here (coming soon)
Listen on iTunes, Stitcher , and SoundCloud
Related books:
Mindset: The New Psychology of Success by Carol Dweck
Getting Results the Agile Way by JD Meier
Inside Job by Mark Sephton
Relevant advice and tips:
8 Resolutions For Improving Your Health And Happiness
10 Bad Habits That Successful People Avoid
What did you like and not like about this episode? Fill out this one minute survey here.
What do you think about Jay Papasan and Gary Kellers' book, The One Things? Share your review in the comments below: