A Preview of Four Seconds with Peter Bregman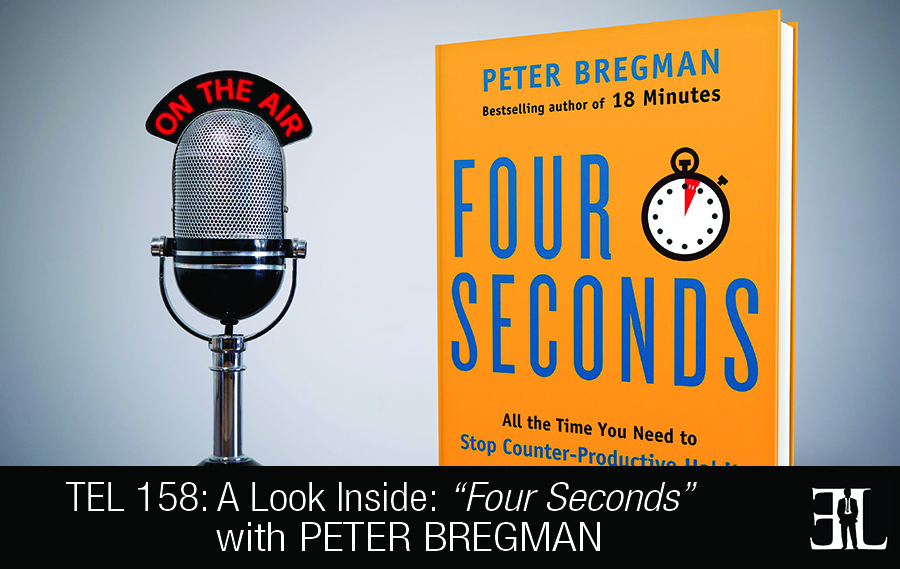 A summary of things you should know about Four Seconds according to Peter Bregman:
Introduction
In this episode bestselling author Peter Bregman reveals all his insights on Four Seconds where he reveals a strategy to eliminate counter-productive habits from your daily routine.
In his book Bregman gives you simple and practical solutions that can be used every day, take very little time to accomplish, and will help you produce results you never thought you would see. The goal of the book is to help you overcome habits that attract stress, leverage listening to change someone's mind, disengage from problematic situations, and take responsibility for your team's failure.
This book is perfect for entrepreneurs who are working on multiple projects and are having a hard time organizing their routine in order to see more effective and productive results.
The Book's Unique Quality (3:36)
One of the things that make this book different is the writing style. The book is written in a style and way and with a goal that would help people impact their life, relationships, and business.
The Best Way To Engage (6:47)
You can absolutely jump in and jump out.
The Reader's Takeaway (21:09)
Slow down. Just slow down and take a deep breath and before you act in any situation ask yourself what you want the outcome to be.
A Deep Dive Into The Book (8:39)
The book is broken up into three parts: Change Your Mental Default, Strengthen Your Relationships, and Optimize Your Work Habits.
The first part talks about ourselves, our habits, and the habits we get into. It's based on a general premise and the science behind it is that there are events that happen in our lives and ways we respond to those certain events. I also talk about goal setting and why goal settings are gut reactions and how to rethink them. I have a chapter about motivation and follow through; how generally when we are not doing something we think our problem is motivation. There is a chapter about the urge to be perfect which for an entrepreneur is completely destructive; we cannot be successful as entrepreneurs if we are striving for perfection. You can only build new ideas by making mistake after mistake.
The second part of the book, strengthening your relationships, is all about the kneejerk reactions that we have in relationships to other people. We talk about the importance of boundaries as entrepreneurs and why we end up burnt out in a lot of ways.
The third part of the book is about optimizing work habits which is about leadership. There is a chapter called Complaining with the Complainers about neutralizing negativity. There is a big chapter about letting people fail which is very hard for us as entrepreneurs. We have a chapter about sharing the glory and a chapter about the importance of being helpful instead of nice.
NOTE: That was just a summary. To get the full deep dive, play the audio clip at 08:39
Notable Quotes From The Book (22:03)
"What if we chose not to miss an opportunity to be inspired? If we gossiped about things that people did that energized us without fixating on the things that disappointed us, if we took sparks that ignited our enthusiasm and induced our good will and if we allowed those sparks to light our fires of passion." – Peter Bregman
"Learning anything isn't about doing it right, it's about doing it wrong and then adjusting. Learning isn't about being in balance, it's about recovering balance." – Peter Bregman
The Credibility/Inspiration Of The Author (0:55)
I am the CEO of Bregman Partners; it's a company that strengthens leadership in people and in organizations. We do leadership programs, coaching, and I work as an advisor to CEO's. I do a lot of writing and thinking about human behavior and the things we do that get in our own way that either help us or prevent us from being successful.
The inspiration was my own consistent failure. I find that there are habits that I am in and when I look around I find that I am not alone. These habits are things that we do intuitively and are counterproductive. When I saw the impact of uncovering my own blind spots I wanted to share it with others and decided to write a book about it.
Other Books Recommended By The Author (24:21)
Mindless Eating by Brian Wansink
A Year with Rumi by Coleman Barks
More Information About This Book and The Author
Buy Four Seconds by Peter Bregman on Amazon today
Visit PeterBregman.com to learn more about Peter, his book, and all his articles
Follow Peter Bregman on Twitter and Facebook
More Information About This Episode
Download the full transcript here (coming soon)
Listen on iTunes, Stitcher , and SoundCloud
Related books:
Overwhelmed by Brigid Schulte
Getting Results the Agile Way by JD Meier
Thoughts Are Things by Greg Reid
Relevant advice and tips:
10 Bad Habits That Successful People Avoid
What did you like and not like about this episode? Fill out this one minute survey here.
What do you think about Peter Bregman's book, Four Seconds? Share your review in the comments below: