A Preview of The Miracle Morning with Hal Elrod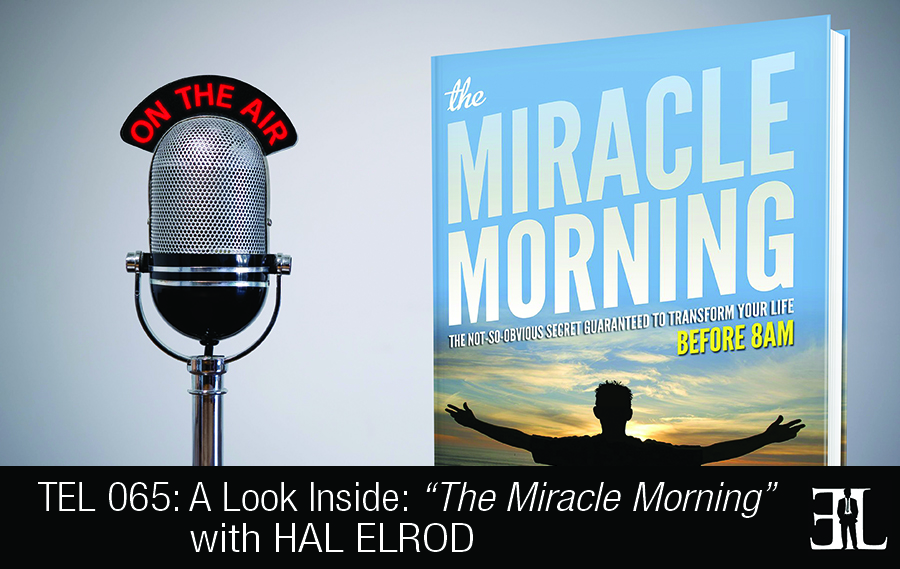 A summary of things you should know about The Miracle Morning according to Hal Elrod:
Introduction
In this episode, Hal Elrod shares his book, The Miracle Morning where he believes how you start the day sets the context for the rest of your day which sets the context for the rest of your life.
In his book, Elrod teaches you his ultimate morning routine that helped double his income within two months. The goal of the book is to provide you with a real life experience of success and the steps on how to wake up each day with more energy, motivation, and focus to take your life to the next level.
This book is perfect for entrepreneurs who want to change their lives, but have trouble waking up early in the morning and feel as if they are losing energy and motivation throughout the day.
The Book's Unique Quality (5:43)
The Miracle Morning is the highest rated book many, many times over both in terms of sales and five star reviews. After applying the concepts that I teach you in this book you immediately see extraordinary results.
The Best Way To Engage (7:56)
I suggest the reader read from front to back.
The Reader's Takeaway
The one concept that I would like the reader to take away is to wake up earlier than you have to because you want to, not because you have to. Because how you start the day sets the context for the rest of your day which sets the context for the rest of your life.
A Deep Dive Into The Book (9:40)
It starts out with the introduction which is my story and why yours is the one that matters. I share the details of my car wreck and the actionable lessons I learned from it.
Chapter one – it's time to wake up to your full potential – this just reinforces the idea that we are capable of so much more than we could have ever even considered for ourselves. This chapter is designed to really remind you of the unlimited potential that's in all of us.
Chapter two – The miracle morning origin born out of desperation – this is the in-depth version of the story of how I came up with the miracle morning.
Chapter three – The 95% reality check – it's essentially the reality check that 95% of our society will never live life on their terms.
Chapter four – Why did you wake up this morning – The purpose behind the miracle morning is the idea that most people wake up not because they want to but because they have to. When we hit the snooze button we are starting our day with procrastination which sets the tone for you to become the person that procrastinates in other areas in life. This also starts your day with a lack of self-discipline.
Chapter five – The five step snooze proof wake up strategy for the snooze-oholics – This is the most important chapter.
Chapter six – The life savers – Six practices guaranteed to save you from a life of unfulfilled potential.
S – Silence (meditation/prayer)
A – Affirmations
V – Visualization
E – Exercise
R – Reading
S – Scribing or Writing
Chapter seven – The six minute miracle morning – One minute for each of the life savers.
Chapter eight – Customizing your miracle morning to fit your lifestyle and achieve your highest goals and dreams – I give you all sorts of options on how to do your miracle morning. I allow you to make it your own so that it fits your lifestyle and achieves your goals and dreams.
Chapter nine – From unbearable to unstoppable – This is the real secret to forming habits that will transform your life in 30 days. I bust the myth that it takes 21 days to form a habit.
Chapter ten – The miracle morning 30 day life transformation challenge and fast start kit – After you learn how to effectively implement a habit, we break it down into a 30 day miracle morning life transformation challenge and I give you a 10 page challenge that allows you to customize it to fit your lifestyle.
NOTE: That was just a summary. To get the full deep dive, play the audio clip at 09:40
Notable Quotes From The Book
"The number one cause of unfulfilled potential of regret and of struggle is never deciding that now matters more than any other time in your life because it does." – Hal Elrod
The Credibility/Inspiration Of The Author (0:34)
I was a radio DJ until I got into sales where I was one of the youngest sales rep ever inducted into the companies' hall of fame. I broke a bunch of sales records and thought that I was going to do that forever. I was in a horrific car accident, died for six minutes, broke 11 bones and told I would never walk again. I bounced back from that and went on to write a couple of bestselling books, became a coach and a motivational speaker.
It was never intended to be a book, it was written out of responsibility to share my experiences with other people. I did research and created what seemed to be the ultimate morning ritual and within two months of doing it I more than doubled my income.
Other Books Recommended By The Author
Vision to Reality by Honoree Corder
The One Thing by Gary Keller and Jay Papasan
More Information About This Book and The Author
Buy The Miracle Morning by Hal Elrod on Amazon today
Visit HalElrod.com to learn more about Hal and his story
Visit MiracleMorning.com to learn more about the book and get 2 free chapters
Follow Hal Elrod on Twitter and Facebook
More Information About This Episode
Download the full transcript here (coming soon)
Listen on iTunes, Stitcher , and SoundCloud
Related books:
The Greatness Zone by Jay Forte
The Experiment by R. Michael Anderson
Habit Stacking by Steve Scott
Relevant advice and tips:
7 Morning Routines of Very Wealthy People
What did you like and not like about this episode? Fill out this one minute survey here.
What do you think about Hal Elrod's book, The Miracle Morning? Share your review in the comments below: