A Preview of Lead To Succeed with Chris Roebuck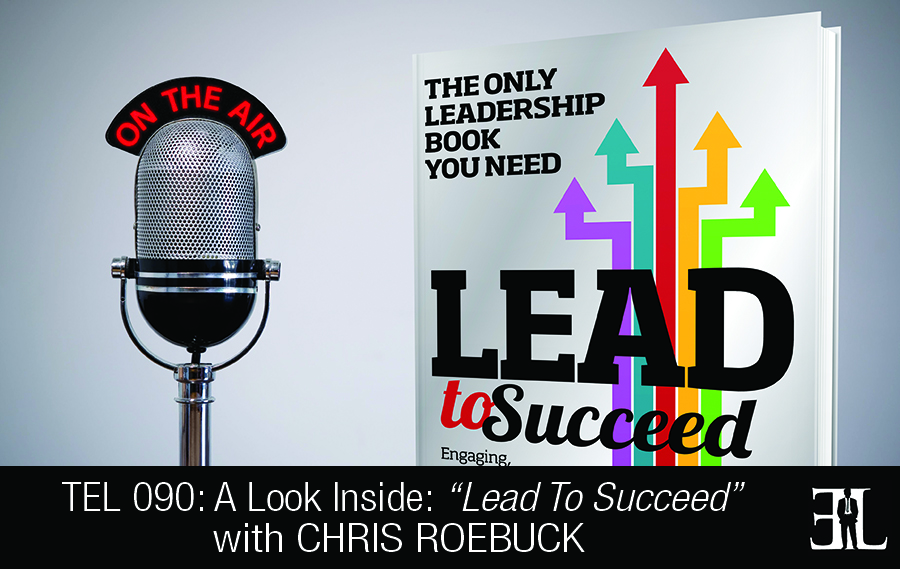 A summary of things you should know about Lead To Succeed according to Chris Roebuck
Introduction
In this episode Chris Roebuck takes a deep dive into his book, Lead To Succeed, where he gives you a guide for leading people and organizations at the speed of sound.
In his book, Roebuck delivers a roadmap for 12st century leadership with real life examples and practical advice for being successful. The goal of the book is to help you and your teams significantly improve performance quickly, simply, and effectively.
This book is perfect for entrepreneurs who need help creating a new leading edge system that improves work performance individually or as a whole team with no cost and little time.
The Book's Unique Quality (3:48)
I tried to do something new and something different. If you look at a lot of leadership books they tend to fall into two categories. You need to have both categories in line because when we are in organizations to some degree we are a bit of both. We have our people who report to us but there are others who we have to influence. It's the group of leaders to leaders who is nearly always forgotten in other leadership books. I believe so passionately that we have overcomplicated leadership and I wanted a book that was so utterly simple anybody could take those ideas in any size organization and make them work straight away.
The Reader's Takeaway (22:59)
Just go out there, inspire your people to give you their best and then focus that on what really matters.
A Deep Dive Into The Book (3:48)
The principle of Lead to Succeed is about how to get the best from our people and how do we then focus that onto what really matters to drive our organizations forward and service our customers.
The chapters flow by looking at yourself and how to get the best from your people as an individual leader. And if you are in a small or large organization you need to figure the things that you need to tweak to make that work for everybody, not just your own people.
I think the key is that people have lost track about what leadership is about. They have made it too complicated and we need to get back to the real basics how we make leadership work so it inspires people. To get our organizations of any size working well we have to accept that the world has moved on from where it was before the financial crisis. In many organizations there are fewer people having to do the same work due to job cuts. The complexity of the work that we exist in as leaders has dramatically changed. What that means is that we have to get every single ounce of effort out of the people who work for us through inspiration and leadership.
In the book I have a self-assessment for the leader to assess their work, see how they are doing and search for improvement. Once the leader does these things I give you the correct tools to help you with your assessment.
We know that if every leader in every organization told their people how what they do fits in to the bigger picture it could improve performance by over 30% in those people. If they are given day to day feedback on how they are doing that can improve performance by up to 39%. And if you just show you care that can have an impact of increasing performance by up to 25%.
The conclusion of the book is that if you get your people to really care about your organization by showing you really care about them they will do whatever is necessary to make you a success. If you show through inspirational leadership that you believe in them they will believe in you.
Notable Quotes From The Book (23:18)
"Leadership is about making a difference and transforming people's lives." – Chris Roebuck
The Credibility/Inspiration Of The Author (0:35)
I started off training as a Chartered Accountant in the UK and decided that wasn't the most exciting thing in life. I spent five years in the British Army as an officer then came out and set up my own business as an entrepreneur. From there I did an MBA and got involved with larger organizations such as London Underground, UBS and KPMG. Since finishing that role I've worked as an advisor for organizations as diverse as the UK National Health Service, investment banks and I speak around the world.
Over the 30 years or so that I've been experiencing organizations one of the things I've noticed is that there is a lot of people out who aren't really able to live up to the potential to do their best work. They aren't necessarily inspired to go to work but just doing it because they have to. It's only a fortunate few who are inspired by what they do.
Other Books Recommended By The Author (23:49)
Lone Walk To Freedom by Nelson Mandela
More Information About This Book and The Author
Buy Lead To Succeed by Chris Roebuck today
Visit Chrisroebuck.co to learn more about Chris and download the extract
Follow Chris Roebuck on Twitter
More Information About This Episode
Download the full transcript here (coming soon)
Listen on iTunes, Stitcher , and SoundCloud
Related books: Leaders Open Doors by Bill Treasurer | MOXIE – The Secret to Bold and Gutsy Leadership by John Baldoni | The Front-Line Leader by Chris Van Gorder
Relevant advice and tips: 5 Ways Entrepreneurs Can Overcome Business Failure
What did you like and not like about this episode? Fill out this one minute survey here.