A Preview of Get Big Things Done with Erica Dhawan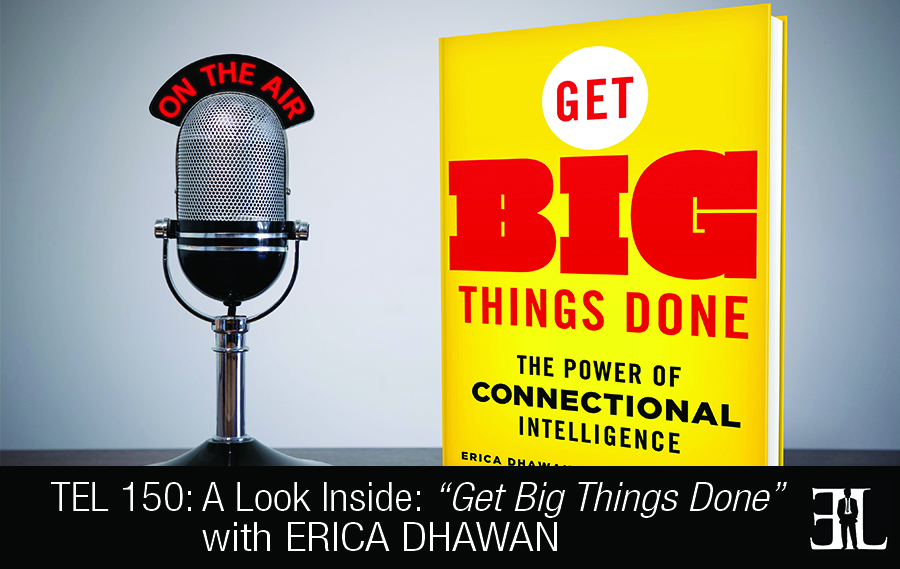 A summary of things you should know about Get Big Things Done according to Erica Dhawan:
Introduction
In this episode Erica Dhawan takes a deep dive into her book, Get Big Things Done, where she unlocks the 21st century secret to getting things done through the power of connectional intelligence.
In her book Dhawan teaches you what is connectional intelligence, how to develop it, and reveals the secrets of how many well-known leaders have used it to achieve their own professional goals. The goal of the book is to help you creatively gain more supporters, drive more innovation, develop solid strategies, and solve problems on a large scale so you can achieve better performance.
This book is perfect for entrepreneurs who have a growing network of connections and needs a guide for making the most use of their network by building actionable connections.
The Book's Unique Quality (4:07)
The idea in the book is a concept called connectional intelligence and it speaks to the quality of the connections we build rather than just the quantity of networks. It helps readers understand that networks don't easily translate into outcomes. This book teaches a game plan on why some people are better at mobilizing their web of relationships to actually get big things done. This book is about the human ability in a skill that we can all build that particularly 21st century innovators have to maximize all of our connections and put them to significant use.
The Best Way To Engage (6:25)
The book is written in a way where there is a set of stories that walk through how to use connectional intelligence in action across many different industries. But then we have a guide called Putting it All Together and that guide has a quiz, manger guide, and work plans to help you actually use it. So you can start in the end, the beginning or in the middle of the book depending on what your goals are and how to apply the ideas of the book.
The Reader's Takeaway (17:29)
There is one major concept that we decoded in our book that I think is incredibly important. That concept is that there are three types of people that use connectional intelligence and the three types of people are thinkers, enablers, and connection executors. These are people that have different types of traits and in the book we have a quiz that you can take to figure out which type you are. By reading this book you can learn not only whether or not you are a connecter and how to use connections but what type of connecter you are and how you can partner with the right people in your community to get big things done.
A Deep Dive Into The Book (7:31)
The book Get Big Things Done has 10 chapters and I'll give you a little walk-through of what each chapter encompasses and what it's all about.
The first chapter is called The Big Wave and it answers the question what is connectional intelligence and where do we see it in work at the world. Most importantly this chapter answers how to harness connectional intelligence to get to places that we all want to go.
The second chapter is called The Roots of Connectional Intelligence. In this chapter we explore the historical roots of connectional intelligence and we explore what some of the essential questions are that we want readers to think about that are at the center of connectional intelligence.
After the first two chapters we move into Part two of the book which is made up of a series of chapters that highlight a set of stories of connectional intelligence in action.
Chapter three is called How to Get Big Things Done a Primary and what this chapter does is it explores a typography of connectional intelligence in the modern world. We talk about stories like how a pumpkin farmer in Rhode Island is changing agricultural practices in Indian.
Chapter four is called Connect Intelligently and this chapter continues to walk through a set of stories but it really looks through how the ever changing digital landscape typically now favors the brave, the quick, and the connectional intelligence to get big things done. We have stories in there of entrepreneurs, small businesses, and large businesses.
The title of chapter five is called Courage Builds On Courage and this chapter is where we talk about how connectional intelligence isn't just about winning big in business or pursuing a big ambitious creative dream. Actually more and more people are using their own connectional intelligence to respond within minutes and hours to natural disasters, to violent aftermath of political events, and to tourist attacks. We look at powerful stories of connectional intelligence and we talk about how using courage is a key attribute of getting big things done.
Chapter six is called Connect and Make Change and in this chapter we talk about how you can use this idea to dramatically amp the reach and the influence of individuals. It's about how anyone and everyone can tap in to what they care about most.
Chapter seven is called Problem Solving in the Power of Play and it's all about how one of the most powerful forms of connectional intelligence is how individuals are designing problems in a way that actually attracts people to pitch in and solve them differently.
Chapter eight is called The Power of Difference and in this chapter we talk about one of the most important attributes of connectional intelligence and it's that it allows people to come together but also stands strong in what makes them unique. We talk about how connectional intelligence actually enables what we call those that might consider themselves an outsider.
Chapter nine is called Why not? Reimagining what's possible and in this chapter we have readers meet those who are changing the face of healthcare, education, and environmental change.
The final chapter is called Putting it All Together and it's called Your Get Big Things Done Handbook. This chapter discussed how to apply connectional intelligence to your own life as an entrepreneur, as an initiator of change, and as disrupter.
This book is for everyone and anyone that see's themselves as being able to use connectional intelligence in a way to get big things done.
NOTE: That was just a summary. To get the full deep dive, play the audio clip at 07:31
Notable Quotes From The Book (21:29)
"Take a dream, add connection, dream bigger, get big things done." – Erica Dhawan
The Credibility/Inspiration Of The Author (0:36)
I am the co-author of Get Big Things Done and I serve as a strategist for Fortune 500 companies, organizations, and small business owners, on accelerating the connectedness of their teams with their customers, their clients, and other stakeholders.
The inspiration starts with my personal story; I am a first generation daughter of two Indian immigrants here in the US and as you can imagine my goal since childhood was to check all the boxes of success. In the 2008 recession I witness firsthand confusion and burnout of my generation and I saw how many dreams and passions were being squashed every day. After the financial collapse I completely switched gears to find more meaning in both my work and to better understand how the next generation and leaders that wanted to stay in Corporate America could leverage our passion and purpose and all of the resources available to us. And what I found through that research was that many of the struggles were similar and the struggle was around how to work intentionally to get big things done. This is what led to me co-authoring research with a renowned business strategist named Saj-nicole Joni.
Other Books Recommended By The Author (22:38)
Choose Yourself by James Altucher
More Information About This Book and The Author
Buy Get Big Things Done by Erica Dhawan on Amazon today
Visit GetBigThingsDone.com to learn more about the book
Visit EricaDhawan.com to learn more about Erica
Follow Erica Dhawan on Twitter and Facebook
More Information About This Episode
Download the full transcript here (coming soon)
Listen on iTunes, Stitcher , and SoundCloud
Related books:
Getting Results The Agile Way by JD Meier
Procrastinate on Purpose by Rory Vaden
Do Less Better by John R Bell
What did you like and not like about this episode? Fill out this one minute survey here.
What do you think about Erica Dhawan's book, Get Big Things Done? Share your review in the comments below: