A Preview of Fairness Is Overrated with Tim Stevens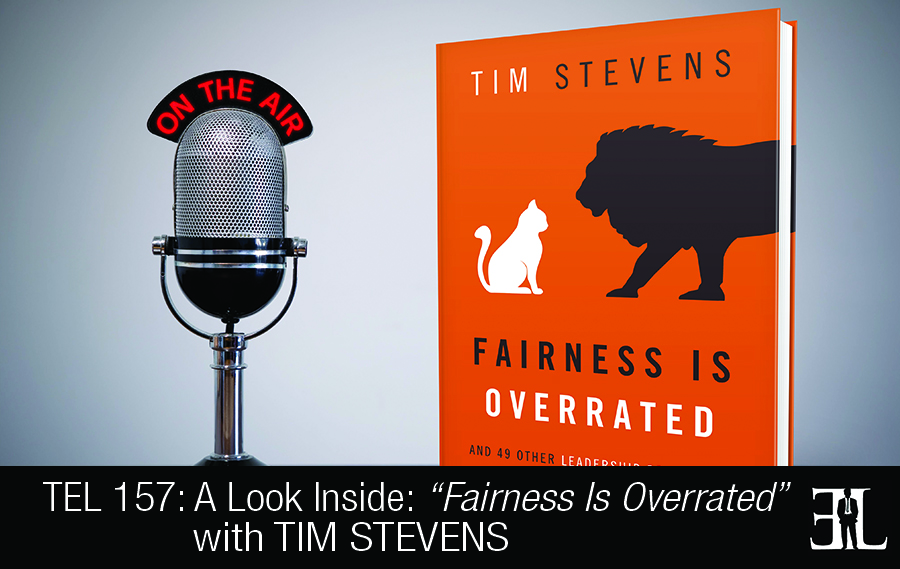 A summary of things you should know about Fairness is Overrated according to Tim Stevens:
Introduction
In this episode Tim Stevens takes a deep dive into his book, Fairness is Overrated, where he shares over 50 leadership principles that will revolutionize any workplace.
In his book Stevens provides you with a manual of tools, practical lessons, real truths, and relevant case studies that discuss the effective pillars of leadership that very successful leaders display. The goal of the book is to teach you how to increase your integrity, surround yourself with successful people, effectively manage a crisis, and develop a culture of true leadership at your organization.
This book is perfect for entrepreneurs who are building a public figure persona or manage a team of people at an organization and want to take their leadership to a stronger, empowering level.
The Book's Unique Quality (3:09)
One thing that makes this book different is that it's highly practical. I tried to make this book very reachable and easy to implement.
The Best Way To Engage (4:20)
This book can be read from front to back or you could use it as a reference.
The Reader's Takeaway (11:55)
It's possible to be a leader of any kind and not be an ego driven narcissistic leader. It's possible to be a humble leader and to be very effective.
A Deep Dive Into The Book (5:29)
I broke my book down into four big categories and these are big categories because they are the huge portions of what is involved in leadership.
The first section is Being a Leader Worth Following and to me that's where it starts. Because if you don't have a place of character of integrity from which you lead then good chances are it's going to unravel. In this section I talk about living a life with margins, just making sure that you build space in. I talk about being a lifelong learner and not getting to a place where you stop learning and stop growing. I talk about guarding your family, paying attention to your marriage, and your children. I think great leaders are those who not can manage their work life but also have a great marriage and manage their family life.
The second section is about finding the right people. The first chapter in this section is called A Resume is Worthless, and I break down and talk about the fact that resumes contain very little of what is important to me when I am hiring staff. One thing I don't think employers use enough is social media. This is where you take advantage of their 'social media scrub' and looking for things that are important that will determine their future productivity as an employee.
Section three goes into building a healthy culture. You can have the right people but if you don't pay attention and keep your eye on culture it can become toxic very quickly. As so there are 10-14 topics on building a healthy culture that I think are really important. One is as a leader you have to make a commitment to believe the best about your employees. Another one is that you have to let your leaders lead. You can just give them responsibility; you have to give them authority too. A lot of times, as leaders, we want them to do the work but we don't want them to make the decision, and that's dis-empowering.
The final section in the book is called Leading Confidently Through a Crisis. How we lead in those times is going to make concrete how we are remembered as a leader and how people follow us. So in this section I talk about dealing with resignation and how to let people go when they aren't right for the company. I talk about what to do when you have e-mails flying back and forth and you are upset and how to back down from that. I talk about the pain of growth and the stages of failure that we can go through.
NOTE: That was just a summary. To get the full deep dive, play the audio clip at 05:29
Notable Quotes From The Book (13:32)
"The success of a leader will rise or fall on the decisions that he or she makes about the people around him or her." – Tim Stevens
The Credibility/Inspiration Of The Author (0:35)
I spent my first nine years of my adult life working for a nonprofit organization and was able to stretch my leadership skills there. From there I went into a very small startup local church that had just began going and was meeting in rented space. I was able to jump on the team with five others and see it grow over the next 20 years. Most recently I have joined an organization called the Vanderbloemen Search Group and we get to come along side churches and nonprofit organizations and help them find staff.
One of the inspirations behind writing this book was my own leadership growth. Being able to pass along some principles that had served me well over the years that someone along the way passed to me. Secondly I wanted to help people address startups and adventures while maintaining their personal values and integrity. That is a tough thing to do and I don't see a lot of people writing on that particular subject.
Other Books Recommended By The Author (16:03)
Multipliers by Liz Wiseman and Greg Mckeown
More Information About This Book and The Author
Buy Fairness is Overrated by Tim Stevens on Amazon today
Visit FairnessIsOverrated.com to learn more about Tim and his book
Follow Tim Stevens on Twitter and Facebook
More Information About This Episode
Download the full transcript here (coming soon)
Listen on iTunes, Stitcher , and SoundCloud
Related books:
Lead to Succeed by Chris Roebuck
The Prosperous Leader by Jacob Engel
Winning The Long Game by Steven Krupp
Relevant advice and tips:
5 Characteristics of a Great Leader
What did you like and not like about this episode? Fill out this one minute survey here.
What do you think about Tim Steven's book, Fairness is Overrated? Share your review in the comments below: