A Preview of From Worry to Wealthy with Chellie Campbell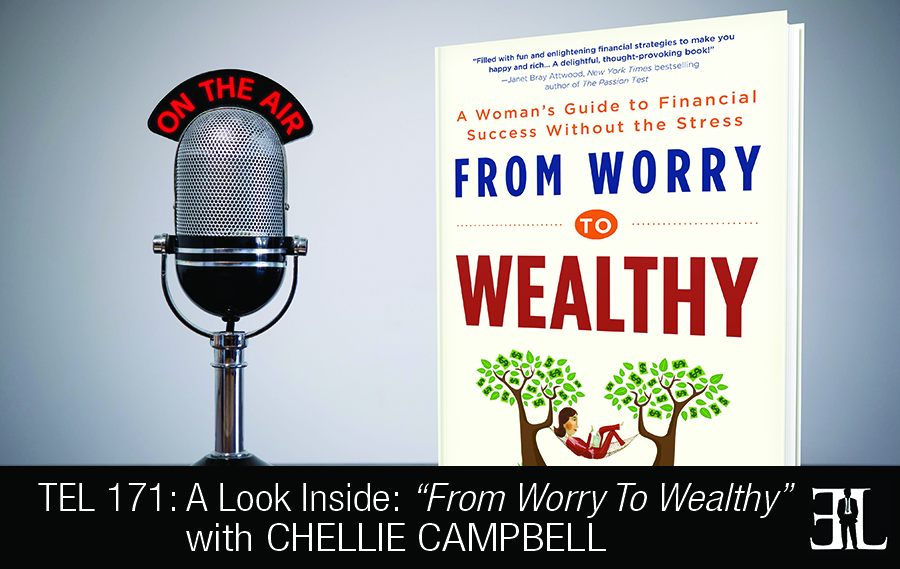 A summary of things you should know about From Worry to Wealthy according to Chellie Campbell:
Introduction
In this episode Chellie Campbell takes a deep dive into her book, From Worry to Wealthy, where she provides a woman's guide to financial success without the stress.
In her book Campbell gives you practical advice that lays out a simplistic roadmap for utilizing the right financial tools that will improve your financial security significantly. The goal of the book is to help you build your confidence when it comes to money, create a steady cash flow, learn relative lessons about business, and avoid the unnecessary consequences of bad personal finance.
This book is perfect for women entrepreneurs who have a working knowledge about business, but are having a hard time maintaining and developing a steady path to financial freedom.
The Book's Unique Quality (3:12)
Most financial books are targeted to the regular 9 to 5 worker bee and the advice you can give them is really pretty limited. I wanted to address everybody who had a dream and a calling that wants to help and those who didn't want to be squished into the 9 to 5 work model.
The Best Way To Engage (5:17)
The chapters are standalone chapters and you can jump in and out where needed.
The Reader's Takeaway (16:34)
Go for it! Every dream, goal, and desire can be yours if you just get started.
A Deep Dive Into The Book (6:15)
The first chapter is called Confidence, Charisma, Clients, Credentials, Competition, and Cash. A lot of it is about having to develop confidence in yourself and being able to be yourself. Charisma comes from the people who really love what they are doing and have such a good time doing it. From that you want to look for the clients that you want and credentials don't matter, you can credential yourself. There is no competition, you are the only you on this planet and there are people who are attuned to your voice and what you have to share and they need you to show up. And then the cash flows from all those other things and you have to be able to ask for it.
Chapter two, The Real Money in Life You Lose is the Money You Fail to Earn, what this means is you have got to be figuring out what is important for you. The number one attitude that will kill your business faster than any other is the 'I don't care about the money' attitude.
Chapter three, If You Don't Count Your Money Pretty Soon You Won't Have Any to Count, this chapter is all about making sure you are aware of what money you are making and how you're spending it.
Chapter four is titled Selling is Serving Somebody Needs Your Help. This is one of the things that stop the seller, we don't want to bother people or be aggressive, and we want people to like us. You have got to pick up the phone to talk to people but you are there to serve them. You don't sell them your product or service just because you want to make a living, that's part of it, but you need to look for the ideal person who really needs and wants what you have and help them.
Chapter five, it's not Cold Calling It's Gold Calling, this chapter is a step by step process of exactly how to make a warm call, how to be user friendly, how to ask about the other person first, and then turning it around to make a sell if you see them as needing what you have.
Chapter six, Growth Happens Outside Your Comfort Zone, this chapter is about taking risks.
Chapter seven is spousal support and this chapter is all about how men and women work together whether they are married or partners.
The last chapter in my book is called Creating a Life While Creating a Living. How do you put all the pieces together and take time off to play and be with your family? This is about enjoying life and seeking adventure while being successful.
NOTE: That was just a summary. To get the full deep dive, play the audio clip at 06:15
Notable Quotes From The Book (16:59)
"Living within your means is important but not as important as increasing your means." – Chellie Campbell
The Credibility/Inspiration Of The Author (0:37)
I have been teaching financial stress reduction workshops for the past 25 years. I used to own a bookkeeping service and I saw that a lot of my clients couldn't really read the reports that I give them. Most people don't have a really good financial education so I started consulting with my clients and three of them in the same week said I should teach this. So I started and never looked back.
I have written two other books for the general public, The Wealthy Spirit and Zero to Zillionaire. What happened then is I took a long break and working with people but there has been a lot since the 2008 crash of the economy and a lot of discussion of income and equality still comes up. I wanted to talk about woman having it all and still be nice and having a good time.
Other Books Recommended By The Author (17:56)
When I Say No I Feel Guilty by Manuel J. Smith
More Information About This Book and The Author
Buy From Worry to Wealthy by Chellie Campbell on Amazon today
Visit Chellie.com to learn more about Chellie and her book
Follow Chellie Campbell on Facebook and Twitter
Contact Chellie through email here
More Information About This Episode
Download the full transcript here (coming soon)
Listen on iTunes, Stitcher , and SoundCloud
Related books:
Live Richer Challenge by Tiffany Aliche
The Financially Savvy Entrepreneur by Emily Chase Smith
PACE by Jesse Mecham
Relevant advice and tips:
5 Personal Wealth Management Tips For Financial Stability
What did you like and not like about this episode? Fill out this one minute survey here.
What do you think about Chellie Campbell's book, From Worry to Wealthy? Share your review in the comments below: