A Preview of But Are You Making Any Money with Marley Majcher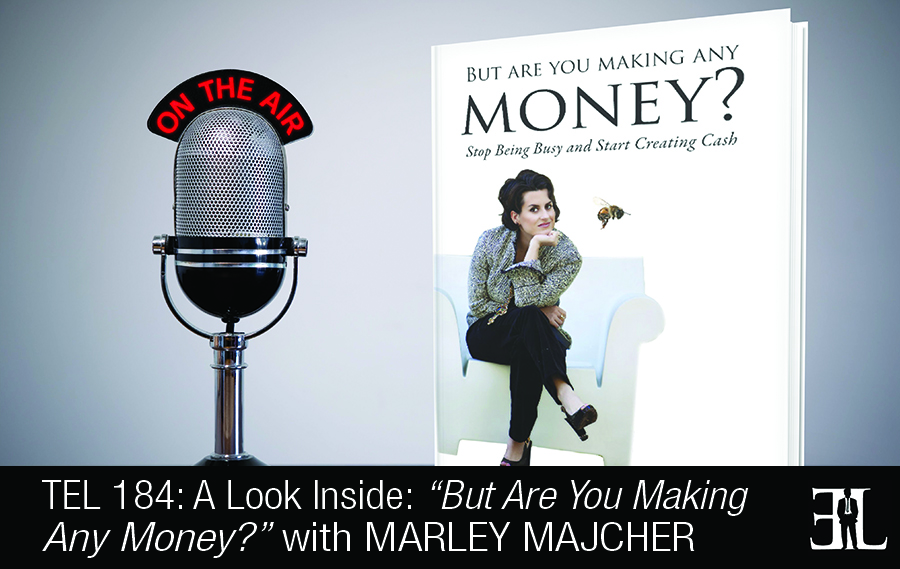 A summary of things you should know about But Are You Making Any Money? according to Marley Majcher:
Introduction
In this episode Marley Majcher takes a deep dive into her book, But Are You Making Any Money?, where she reveals a fun yet effective way to start making money in any industry.
In her book Majcher provides a profit generating roadmap that stems from her many years as an entrepreneur as well as a financially unstable individual. The goal of the book is to help you create a financially stable income all while learning effective tips and tricks for growing a business, doubling the profit on your sales, and doing things more efficiently.
This book is perfect for entrepreneurs who are having a hard time turning over a suitable profit in their small business and need a systematic way to easily double their income.
The Book's Unique Quality (6:32)
I think my book is very different for a couple of reasons. One of them is that I am very focused on the small business owner who is already overwhelmed. My book is very practical, simple and very easy to read.
The Best Way To Engage (9:07)
I suggest the reader read straight through once and then come back and look at each chapter independently.
The Reader's Takeaway (19:17)
I want the reader to know that their whole life is revealed when you begin to track your time. What happens is when you track your time you start seeing the problem. From there you replace your highest level of time sucker with the most important item on your list.
A Deep Dive Into The Book (10:57)
Part One of the book is titled Get Your Barings which is made up of four chapters that elaborates on the foundation that we are all busy. Every time I would hear a response of someone being busy I wanted to know what the hell they are so busy doing. Because if everyone was truly that busy we would all be very productive and have our houses paid off, no car payments, and out of debt. So somewhere there is a disconnect between all this motion and not a return on our activity. From there I talk about getting your financial longitude and latitude in order and really drilling down on where you are and being honest. At the end of Part One I give you your way out and show you how to commit to a new way of thinking.
Part Two I get into the nitty-gritty and I walk you through setting up a system. I walk you through the basics of what cost of goods sold are and get into the specifics of what those are exactly. I walk you through the four kinds of expenses which are traditional cost of goods sold, time, things forgotten, and overhead.
Part Three is when you really start coming up with exactly how much it costs to serve your clients or produce your product and you do that by retroactively taking three of your past products and/or clients and practicing.
profitfdPart Four I explain how you put it all into place and really use the principles and use them going forward to make a huge difference in your business.
NOTE: That was just a summary. To get the full deep dive, play the audio clip at 10:57
Notable Quotes From The Book (22:53)
"Stop being busy and start creating cash." – Marley Majcher
The Credibility/Inspiration Of The Author (0:37)
This book basically came out of the need to solve my own problems as a business owner. My core business is event planning and I currently run a company called The Party Goddess. We handle social and corporate events as well as weddings and travel all over. I wrote this book because my business life looked very glamorous but I was not making any money. I now run an online consulting company where I help small business owners.
The inspiration came out of frustration and the fact that I felt like I had a dirty little secret which was this glamorous business on the outside and in reality it was sort of a mess under the hood. I started researching for answers and ended up coming up with my own system that I wanted to share with others that were in the same trouble as I was.
Other Books Recommended By The Author (24:18)
The E-Myth Revisited by Michael Gerber
More Information About This Book and The Author
Buy But Are You Making Any Money? by Marley Majcher on Amazon today
Test your skills by taking the productivity quiz here
Visit TheProfitGoddess.com to learn more about Marley and her company
Follow Marley Majcher on Facebook and Twitter
More Information About This Episode
Download the full transcript here (coming soon)
Listen on iTunes, Stitcher , and SoundCloud
Related books:
Profit Hacking by Steven Daar
The Predictable Profits Playbook by Charles Gaudet II
The Startup Survival System by Kurt Won
Relevant advice and tips:
4 Common Reasons Why Startup Companies Fail
What did you like and not like about this episode? Fill out this one minute survey here.
What do you think about Marley Majcher's book, But Are You Making Any Money? Share your review in the comments below: