A Preview of How To Quit Working with Jeff Steinmann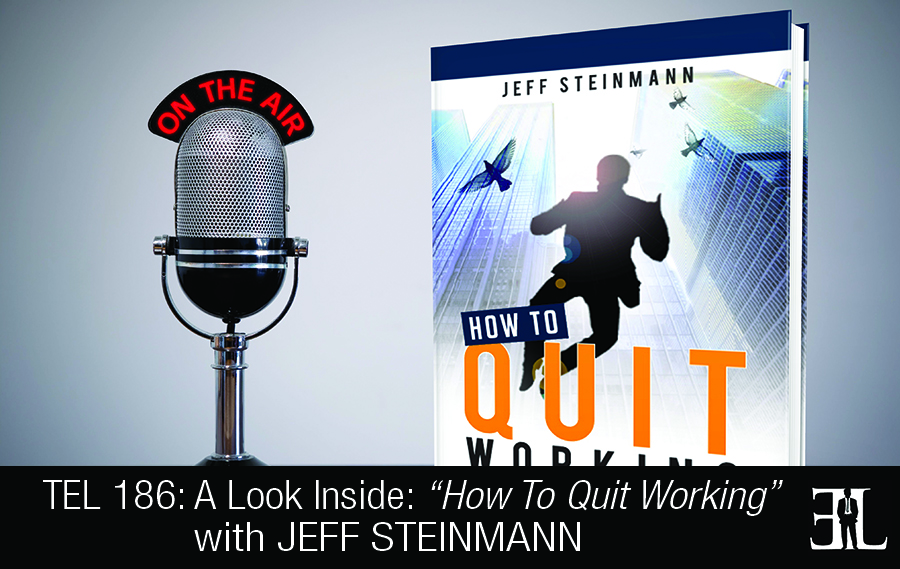 A summary of things you should know about How To Quit Working according to Jeff Steinmann:
Introduction
In this episode Jeff Steinmann reveals all his insights on his book, How To Quit Working, where shares a simple plan to leave your job for a life a freedom.
In his book Steinmann provides flexible strategies, examples, and step-by-step instructions on what it takes to create your own business with the smallest amount of repercussions as possible. The goal of the book is to teach you innovative strategies for becoming an entrepreneur, how to overcome typical marketing barriers, how to develop a business idea while working, and how to find your ideal market.
This book is perfect for aspiring entrepreneurs who are currently working for someone else and are ready to take their entrepreneurial journey to the next level.
The Book's Unique Quality (2:30)
I tried really hard to eliminate all of the business words and just talk in plain simple English. I try to be really practical and tailor all of the information in the book to someone who is working a full-time job and trying to get out and start their own business.
The Best Way To Engage (3:53)
I specifically designed the book to be read from front to back.
The Reader's Takeaway (12:13)
The concept that I want the reader to take away is to get away from this whole thought of success and failure. You have got to start to think about everything you do in terms of a hypothesis.
A Deep Dive Into The Book (5:01)
The most important thing for those working a full-time job and trying to quit and start a business is changing the way that you look at starting a business. You have to get away from what I call the idea mentality and the idea mentality is perpetuated by shows like Shark Tank. You have to get away from that idea and move towards the concept of figuring out what it is that people are already gravitating towards you for and that's where your business has to start if you want to be successful and remain sane. Once you come up with your idea you will need to get the word out via social media or bulletin boards or church groups or any other way you see fit. From there you will want to figure out what problems people have with that particular topic and find ways the meet those needs and fix those problems. Now that you have that hypothesis you need to go out and test it and the way you do that is by asking people if they want to pay you money to do it. Your hypothesis is not proven until someone offers you money and it isn't until then that you know you have an idea that is worth something.
NOTE: That was just a summary. To get the full deep dive, play the audio clip at 05:01
Notable Quotes From The Book (13:09)
"If social media is changing your life than you are on it too much." – Jeff Steinmann
The Credibility/Inspiration Of The Author (0:36)
I am kind of like everyone else in that I went to high school and college and I thought there was no better option but to get a job. So I fell into a career in technology and did that for about 15 years and tried many times to escape the gravity of the corporate world and was unsuccessful many of those times. April 15, 2012 I was finally successful and I have been doing business in marketing consulting, real estate investing, and also building this great platform around how to help people quit their jobs and start a business.
The inspiration was to share the difference in terms of mindset, approach, and all those different kinds of things when wanting to quit your job and start your own business.
Other Books Recommended By The Author (14:26)
Think and Grow Rich by Napoleon Hill
More Information About This Book and The Author
Buy How To Quit Working by Jeff Steinmann on Amazon today
Visit HowToQuitWorking.com to learn more about Jeff and his podcast
Follow Jeff Steinmann on Facebook and Twitter
More Information About This Episode
Download the full transcript here (coming soon)
Listen on iTunes, Stitcher , and SoundCloud
Related books:
The Art of Resignation by Steven Feiner
Lifestyle Entrepreneur by Jesse Krieger
Crazy is a Compliment by Linda Rottenberg
Relevant advice and tips:
7 Signs That You Have What It Takes to Be An Entrepreneur
7 Reasons Why You Should Quit Your Job
What did you like and not like about this episode? Fill out this one minute survey here.
What do you think about Jeff's book, How To Quit Working? Share your review in the comments below: